Field Operations in ArcGIS are enabled by the following apps: ArcGIS Workforce, ArcGIS Navigator, ArcGIS Collector, ArcGIS Survey123, ArcGIS QuickCapture, ArcGIS Explorer, and ArcGIS Tracker. These apps enable you to bring your maps into the field, so fieldworkers and office staff use the same authoritative data to reduce errors, boost productivity, and save money. Their Dev Summit 2020 technical workshop videos are now available online.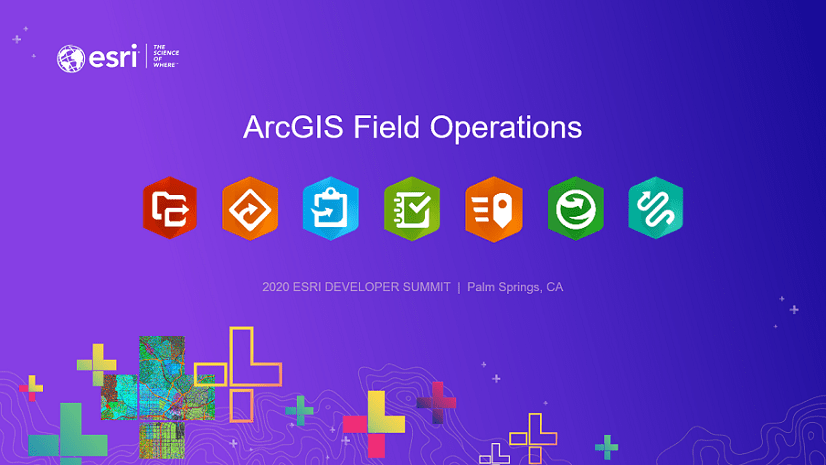 What's New in ArcGIS Workforce
Maximizing the efficiency of your field workforce is key to a successful mobile strategy. Using ArcGIS Workforce you can plan, monitor and streamline field to office workflows using the ArcGIS platform. Join us to learn what's new in the latest release of Workforce and how it can help you optimize your field workflows.
What's New in ArcGIS Navigator
Come see the ins and outs of ArcGIS Navigator. Get stops and routes directly into Navigator quickly, from your existing system and app. Then optimize those stops into the best order and have complete control over your route's stop list. Learn how any existing field workflow can be improved with fewer miles driven, by integrating Navigator into your field work. Join our workshop to learn what's new in recent releases of Navigator.
What's new in ArcGIS Collector
ArcGIS Collector provides an intuitive field data collection experience that makes it easy to capture and update accurate data from the field. Join our workshop to learn what's new in recent releases of Collector and also to get a glimpse of major new development coming later this year.
ArcGIS Collector: High Accuracy Data Collection
When collecting asset data, there is a required spatial accuracy that is higher than what your smartphone or tablet can acquire. Join this session to learn how you can connect directly to a GPS receiver using the concept of a location provider, capture data using GPS that is streamed to your device from a correction source with centimeter level accuracy using a location profile, and gain a better understanding of the collection methods and transformations applied when capturing high accuracy spatial data.
What's New in ArcGIS Survey123
A tour over the latest features added into Survey123: Feature reports, enhanced mapping capabilities, support for lines and polygons, photo watermarking, new user input controls, and more.
Advanced XLSForm Techniques
Join this session to learn how to build Survey123 smart forms.
Extending the Survey123 Field App
Join this session to learn how you can take the Survey123 field app to the next level: take control over user workflows, add your own custom functionality to it, etc.
Getting started with ArcGIS QuickCapture
ArcGIS QuickCapture is Esri's rapid field data collection app. In this session, you will learn how you can to enable at-speed and rapid data collection workflows in for your organization with this 'big button' app. We will demonstrate how to create new projects with the QuickCapture designer and share the new features added into the product since its first original release in July 2019.
What's New in ArcGIS Explorer
ArcGIS Explorer is a mobile app that lets you take your maps with you everywhere you go, even when disconnected. Interested in how Explorer has changed? Join our workshop to learn what's new in recent releases of Explorer.
What's New in ArcGIS Tracker
This session will introduce you to ArcGIS Tracker, a mobile solution that enables organizations to capture the tracks of their workforce in the field. With Tracker, you can monitor the current location of field staff and analyze where they have been. Included with ArcGIS Tracker is a mobile app to record tracks, a viewer to visualize and explore tracks, and an optimized feature service for storing tracks. ArcGIS Tracker can be used standalone or together with other ArcGIS field apps.
General Topics:
ArcGIS Apps: Taking Your Maps Offline
ArcGIS mobile field apps can work in both connected and disconnected environments. In this session we will discuss various ways Collector, Survey123, and Explorer work offline. Join us to learn tips, tricks, and best practices for taking data offline and ensuring mobile staff always have access to the maps and data they need.
Inter-app Communication with ArcGIS Apps
Esri Apps like Collector, Survey123, Explorer, Workforce, and Navigator all have the ability to communicate with one another via a technology called the app link. This powerful technology addresses many different workflows which involve multiple apps working together in complex real world workflows. 3rd party apps can also make use of this technology to create a whole host of native and web applications that can invoke Esri Native apps within the scope of a larger workflow. This session will focus on explaining this technology and give many examples of how you can augment your apps to call into other apps.
Mobile Device Management and ArcGIS Field Apps
Mobile Device Management (MDM) software is a class of software product used by many Enterprises today for managing mobile devices. Many Esri apps integrate with MDMs and in this demo theater, we will be taking a vendor agnostic approach to exploring the different ways MDMs can be configured to explicitly deploy and configure Esri's apps for the field like Explorer, Collector, Navigator, Workforce, and Survey123.
We hope you enjoy these videos and stay safe!