The December 2018 update to ArcGIS Online and the March 2019 release of ArcGIS Enterprise 10.7 introduced a new user type licensing model to better match team members with the capabilities and apps they need to complete their work. As you start planning your 2019 field season, consider how this new model will help you fine tune the capabilities you need and get the most out of the licenses you purchase for your field workforce.
Understanding User Types
Let's begin with an understanding of user types. User types replace member levels as a more flexible way to license capabilities and apps that align with the type of work they need to do. The following user types are now available and each user type includes access to specific apps and app bundles.

When an Administrator creates a new member, they choose a user type and assign that member a set of privileges through the concept of a role. There are default roles for each user type but you can create custom roles that are better tuned to the needs of your organization.
Let's take a look at user types by creating a new member for a new employee:
Amy Smith was recently hired by ACME Fire Department. One of her duties will include inspecting hydrants using the Collector for ArcGIS app. Amy will use the Navigator for ArcGIS app to get to the location of hydrants that need inspection. As the Administrator of the ACME Fire Department ArcGIS Online organization, Jason Jones, can add a new member for Amy setting the user type to "Field Worker" and role to "Data Editor". Jason can then assign a Navigator add-on license when setting member properties.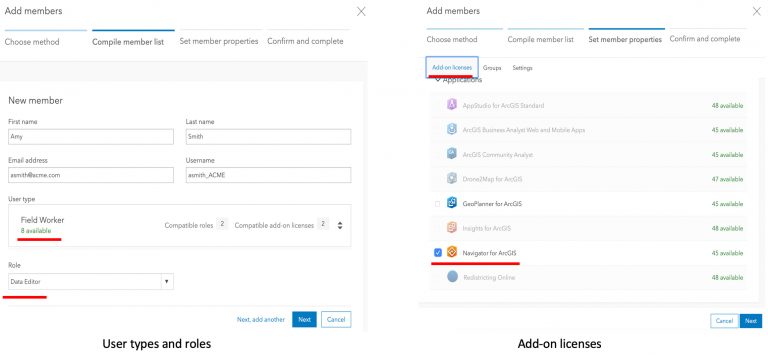 Amy requires a minimum of a Field worker user type with data editing privileges so that she can create new inspections records for hydrant features using the Collector app. Amy also needs an add-on license for the Navigator app so that she can get turn-by-turn directions to the hydrants she needs to inspect.
If you have an existing ArcGIS organization, know that all members previously assigned Level 1 and Level 2 accounts now have Viewer and Creator user types respectively.
To learn more about creating members, please read the User types topic in the ArcGIS Online help. If you are new to administrating ArcGIS organizations or looking for a refresher, check out this wonderful Administration Guide that was published by Molly Zurn.
Applying User Types to Field Workflows
ArcGIS field apps are used to complete a variety of field workflows and there are a number of people involved in supporting those workflows. Let's review the minimum required user types and roles necessary to complete field work through 4 different scenarios.
Locating utility assets
Operations engineers at the gas company need the latest infrastructure maps at their fingertips. They use Explorer for ArcGIS to view and query their gas network in support of planning and daily operations. Maps are created by the GIS staff, packaged and shared for use when disconnected in the field.
Minimum User types required:
Viewer – Operation engineers using the Explorer app are assigned a Viewer user type so that they have secure access to infrastructure maps that they can download, view and query.
GIS Professional – GIS analysts with access to ArcGIS Pro require a minimum GIS Professional user type, create, publish and package web maps within an organization. These maps and packages can then be shared with operation engineers for use in the field.
Capturing new crop data
Agrologist's with a seed company need to map plots and sample plant growth throughout the growing season. They use Collector for ArcGIS to map the plot boundaries and Survey123 to sample plant growth.
Minimum User types required:
Field Worker – Agrologist's can use Collector to capture the boundary of seeded plots and Survey123 to conduct sample surveys using a minimum of the Field Worker user type with privilege to edit features.
Creator – Supporting the work of the Agronomist, members with a minimum Creator user type can create new feature layers, maps, forms, and groups within the organization that can be shared with the Field Worker so that they can complete their field work.
Inspecting hydrants and valves
Operations staff within the Water District are need to maintain the health of the water network by inspecting hydrants, valves and other company-owned assets as well as respond to service calls throughout their day. They use Workforce for ArcGIS to manage their daily ToDo list and Survey123 for ArcGIS to complete their inspections.
Minimum User types required:
Field Worker – Operations staff can use Workforce along with Survey123 to maintain the water network. The Field Worker user type with a data editing privilege grants member access to use Workforce, Collector and Survey123 to complete their work.
Creator – Within the Operations Group, the Operations Supervisor, needs a minimum of a Creator user type to create new Workforce projects within their organization and integrate Survey123 forms into the project. As a Creator, they can author forms for use with Survey123. As a Creator, the Supervisor can create maps for use in monitoring apps like Operations Dashboard as well.
Editor – Dispatchers that create and assign work to the operations staff do not require the full set of capabilities that the Creator user type provides. Instead, they can be assigned an Editor user type, sign into the Workforce web app and manage field work assignments.
Please note that Survey123 will not support the Field Worker user type until the 3.2 release in Q1 2019. For more details, please reference this blog article.
Navigating to well pad locations
Petroleum operators hire contractors to deliver supplies to well pad sites and perform maintenance on equipment. They do not visit these sites often and navigating to them requires an app that includes private roads and well pad locations. Operators provide the Navigator for ArcGIS app for contractors to use so that they can get to the pad site in the most efficient manner.
User types required:
Viewer + Add-on Navigator license – within the Operator's organization, a contractor will need a minimum of a Viewer user type that is granted a Navigator add-on license so that they can download their map and navigate to well pad sites.
GIS Professional – a GIS Analyst within the organization will need a GIS Professional user type so that they can create mobile map packages and share them with contractors.
Knowing where your workers are and where they have been
Whether you are implementing one or more of the workflows above, simply looking to improve situational awareness, measure the level of service agreements you are with contractors, or needing to validate the location of mobile staff at the day/time they complete their work in the field, a new field app called Tracker for ArcGIS can capture and share location tracks from the field and store it inside of ArcGIS Enterprise (ArcGIS Online support coming in June 2019).
User types required:
Viewer + Add-on Tracker license – if you are simply interested in knowing where users are and where they have been, you can start with the Viewer user type and purchase/assign the add-on Tracker license. If you are using Workforce, Collector and/or Survey123 to complete field work you will need a Field Worker user type and may want to consider purchasing the Field Apps bundle to reduce cost.
The chart below provides a more comprehensive view for each ArcGIS field app.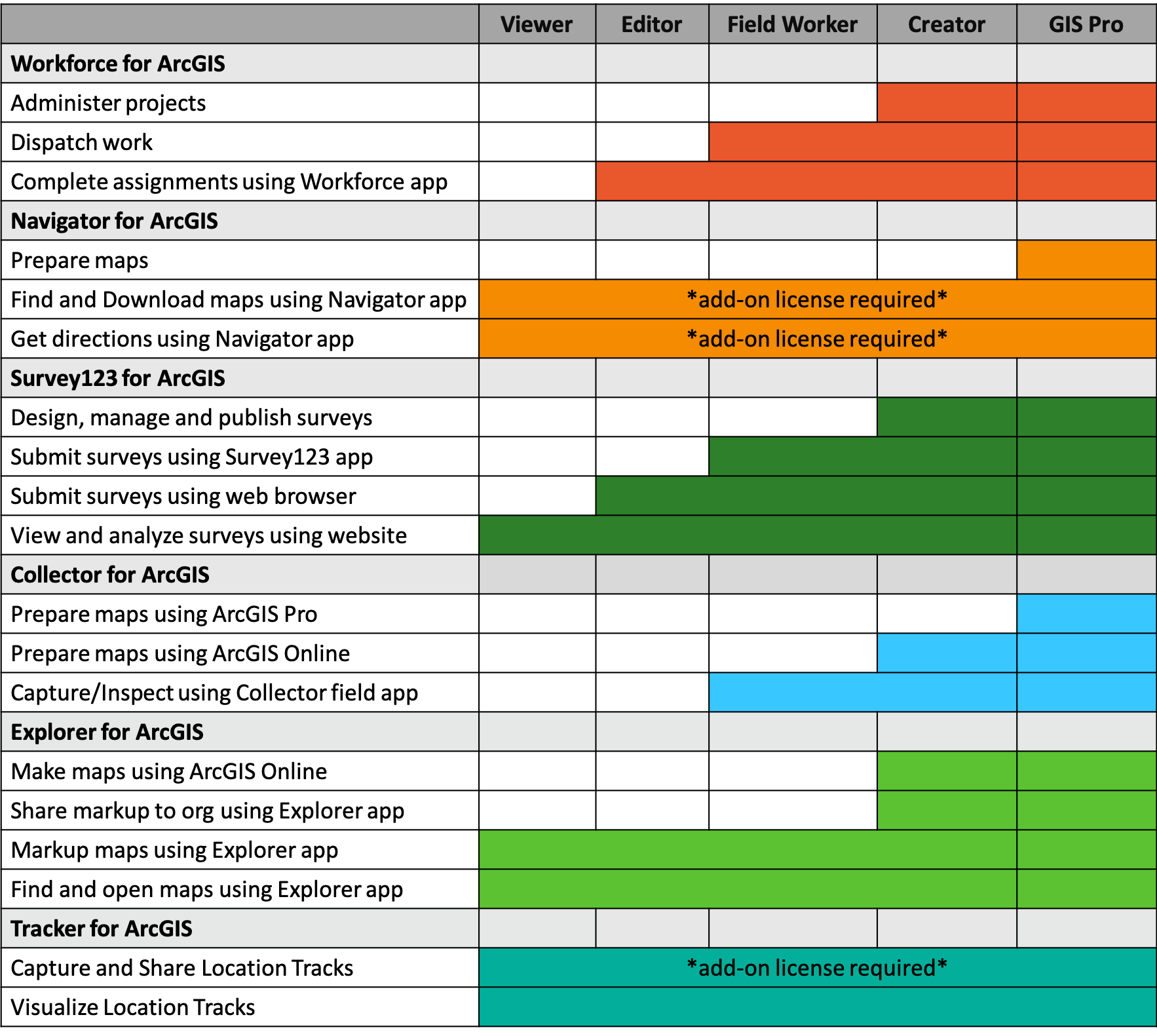 Hopefully the workflows above provide added context to your 2019 planning. However, If you are in the planning stages and have questions, please contact your local Esri representative for details on licensing and pricing so that you get the most out of user types.
Commenting is not enabled for this article.