To effectively reduce crime, modern police agencies use maps and data to understand where incidents concentrate and make daily operational decisions. This concept, called place-based policing, has been rigorously evaluated and operational responses that focus on crime hot spots have consistently proven to be effective at reducing crime.
Many agencies attempt to reduce crime by using place-based policing, but they struggle because inefficient data processes and static analysis products impede their ability to efficiently detect and respond to hot spots.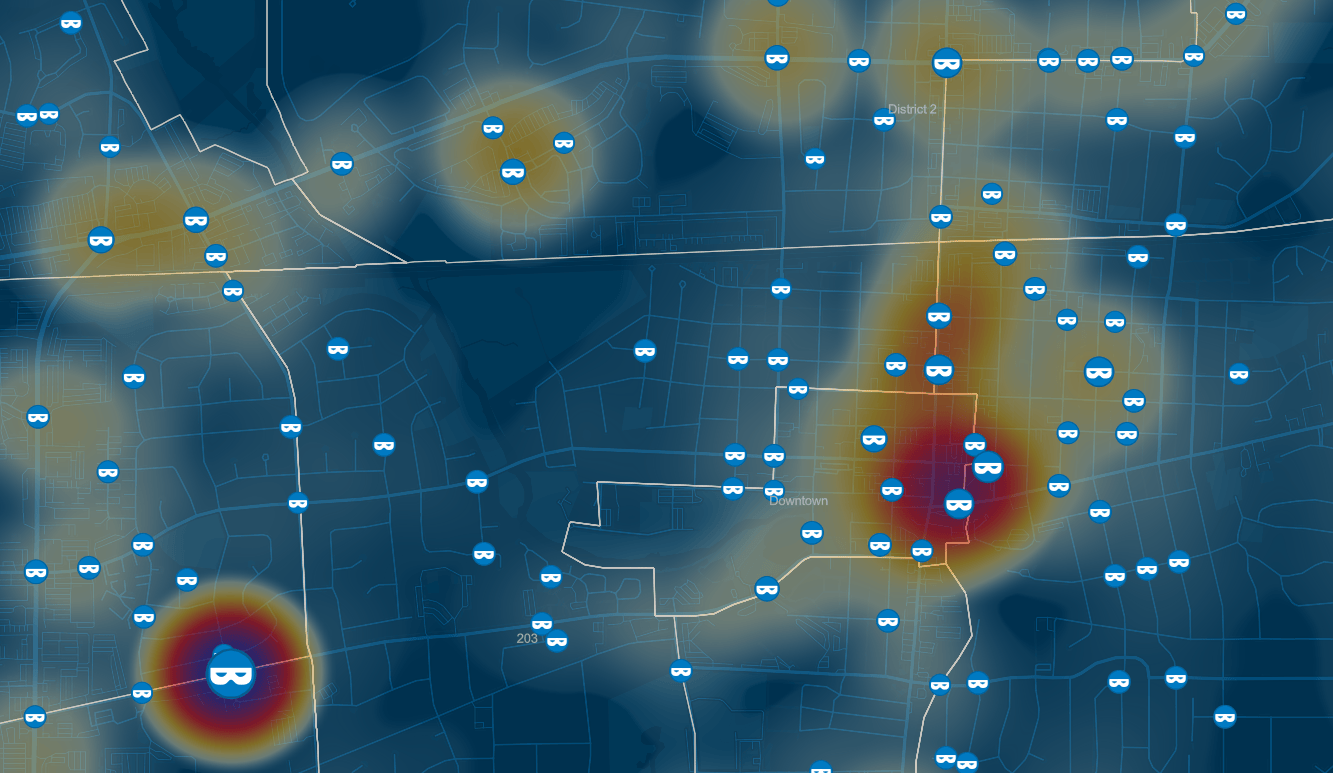 The Daily Activity Dashboard solution delivers a set of capabilities that help law enforcement agencies manage incident data, monitor daily activity, and identify current incident hot spots.
Monitor daily activity and accelerate hot spot analysis
Daily Activity Dashboard is used by police personnel to understand recent trends and visualize current hot spots in crime and calls for service, which helps personnel effectively allocate operational resources.
An overview page includes charts to help decision-makers rapidly understand recent crime and calls for service trends to support resource planning decisions. Filtering by beat or district enables decision-makers at any rank to gain operational awareness in their area of responsibility, and detail pages for crimes and calls for service, each displaying interactive charts and a map of clusters and hot spots.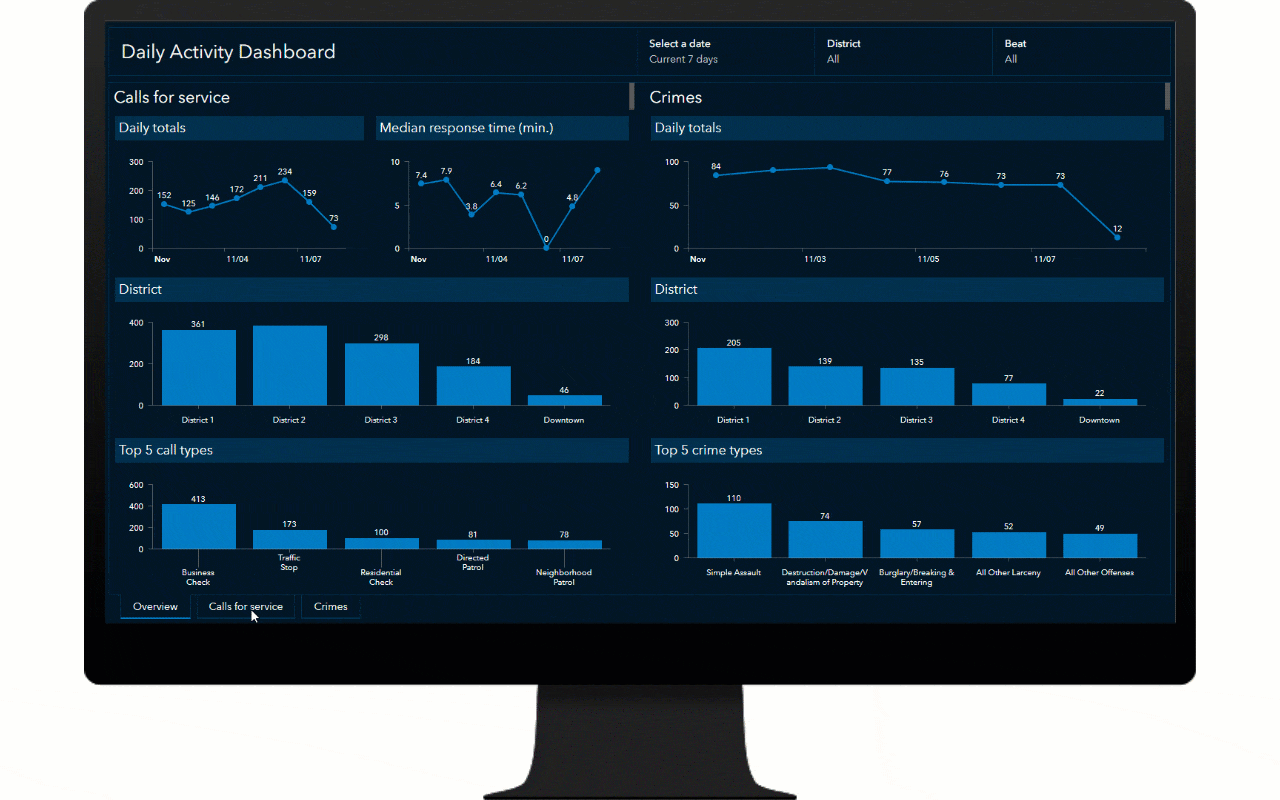 To learn more about a hot spot of interest, select it on the map, and all charts filter to display information for the incidents within the hot spot. This helps users to understand incident characteristics and plan a response for when the hot spot is most active. If a hard-copy record of incidents is required, a comma separated values (CSV) file can be downloaded from the list.
Streamline mapping of crime and calls for service data
The Daily Activity Dashboard solution also includes the Law Enforcement Data Management ArcGIS Pro project. It can be used by crime analysts to automate data imports from records management or computer-aided dispatch systems.
The project includes guided task workflow to help users load administrative areas, connect to your source crime and call databases, and publish crimes and calls for service data.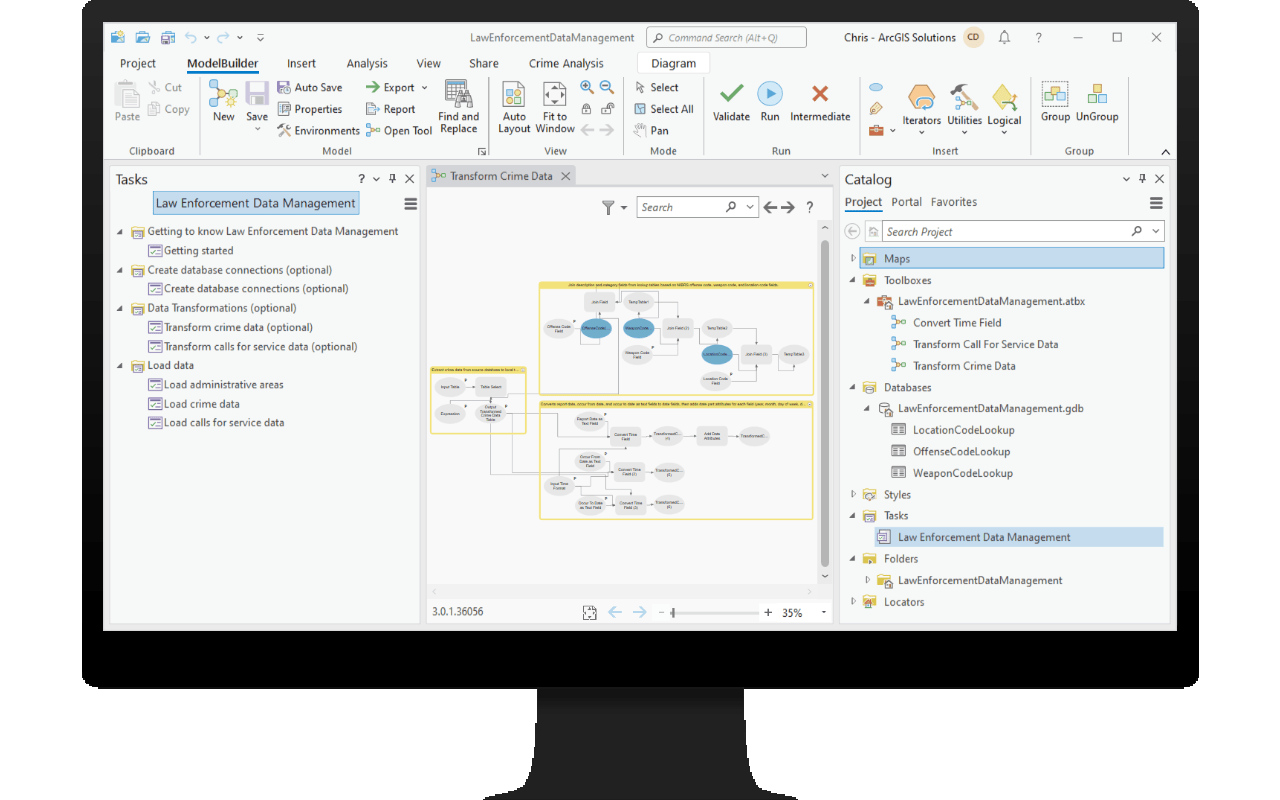 The ArcGIS Pro project also provides optional tools to perform standard data transformations (adding standard NIBRS fields for offense, weapon, and location categories, as well as transforming date fields in text form) to make your data more useful. All tools can be scheduled to run automatically using ArcGIS Pro and Windows Task Scheduler. These tools help remove the burden of daily manual data processing so dashboards remain fresh and staff can get right to work on their primary duties.
Daily Activity Dashboard is part of a collection of solutions for Law Enforcement, including Crime Reduction Statistics, Crime Analysis, and Police Transparency, that support crime reduction operations. Each of these solutions leverage common crimes and calls for service layers. For example, when you implement automated crime data loading for the Daily Activity Dashboard solution, subsequent solutions you deploy will leverage your existing Crimes layer in their maps and apps with no additional configuration required.
Additional resources
Learn more about Daily Activity Dashboard solution and how you can quickly deploy this solution on the ArcGIS Solutions site. For questions and feedback, chat with us on Esri Community or contact Esri Support Services.