After two years of virtual conferences, we are excited to be back in person in sunny San Diego, California, for the 2022 Esri User Conference! The Esri team can't wait to answer your questions and show you the newest capabilities available within ArcGIS, including our comprehensive spatial analytics system.
Spatial analytics uses location as a connective thread to help the world understand where things are happening, how they are related, and where patterns exist. During the Esri User Conference, join us in several sessions and engage with us in the showcase to learn how you can put data into geographic context to make decisions today and predict the impact of those decisions on tomorrow.
Discover how our comprehensive spatial analytics system supports spatial data science across your organization. Empower users to problem solve through familiar user experiences (ArcGIS Pro, ArcGIS Insights, ArcGIS Notebooks, APIs) that provide hundreds of analytical frameworks and methods. Integrate with the open science community (Python, R) to extend analyses. And, most importantly, data. Seamlessly access and connect to data, regardless of its form or source (raster, vector, text, tabular, graph, 3D, RDMS, data warehouse, etc.).
In the past year, dozens of teams at Esri have continued to advance the spatial analytics system in data engineering, visualization and exploration, spatial science (e.g., spatial and spatiotemporal statistics), GeoAI, big data analytics, graph analytics, and modeling and scripting. Check out the following list of technical workshops, demo theater presentations, and resources to dive deeply into many aspects of the spatial analytics system. And don't forget the Plenary on Monday!
If you haven't registered yet, check out your registration options here. Follow us on Twitter for the latest updates.

(All times PDT)
* Separate registration required
†Education Summit @UC – separate registration required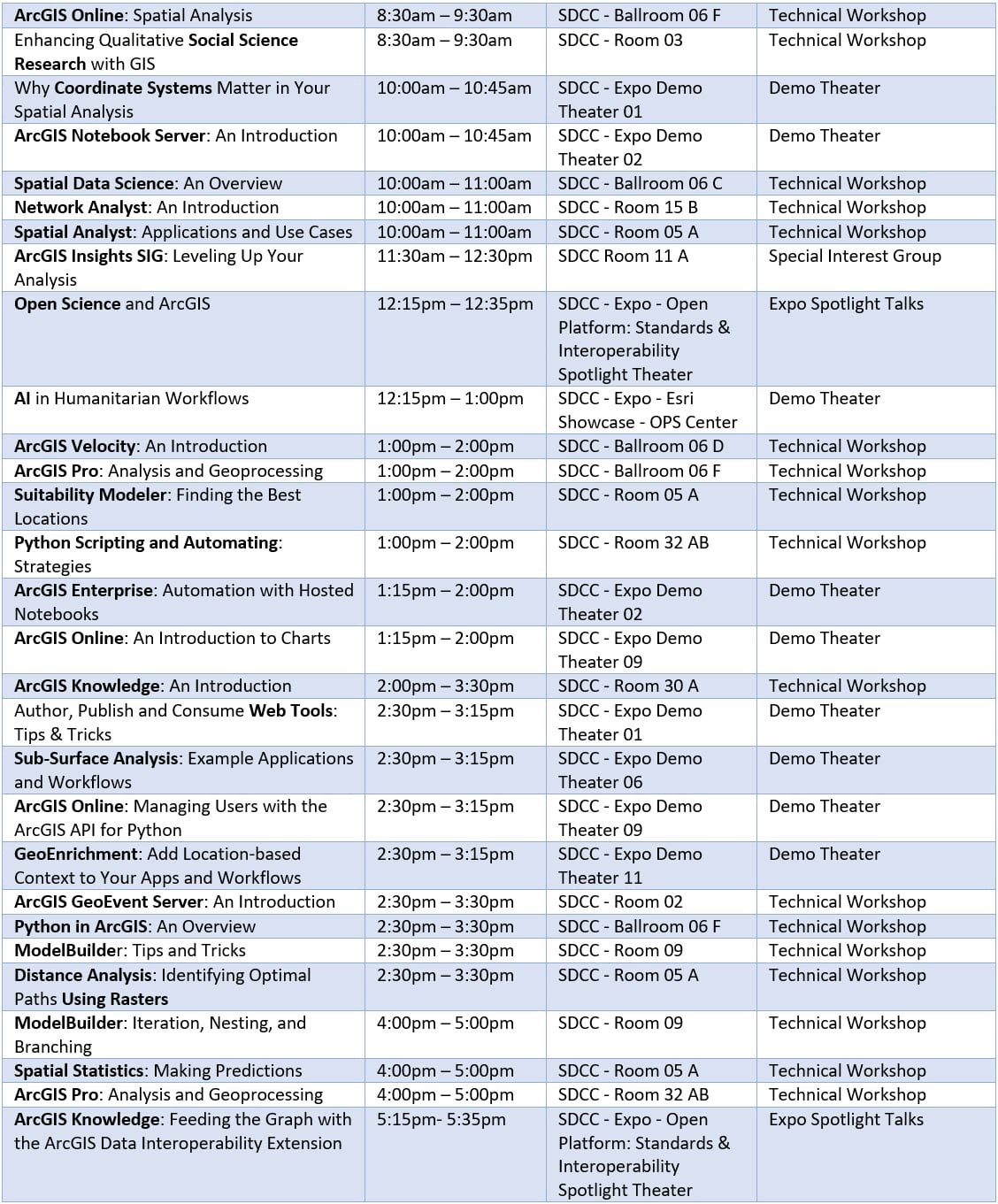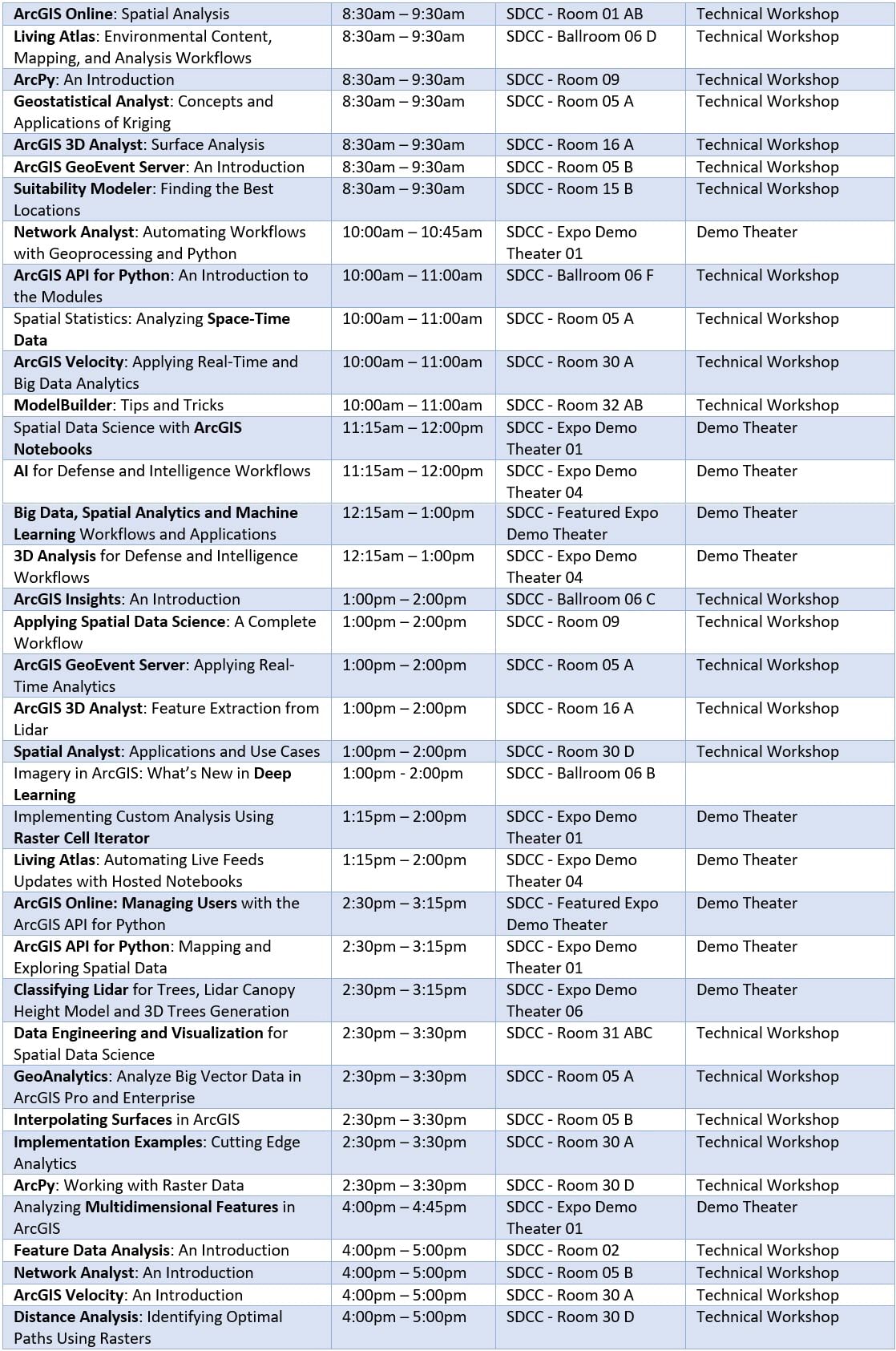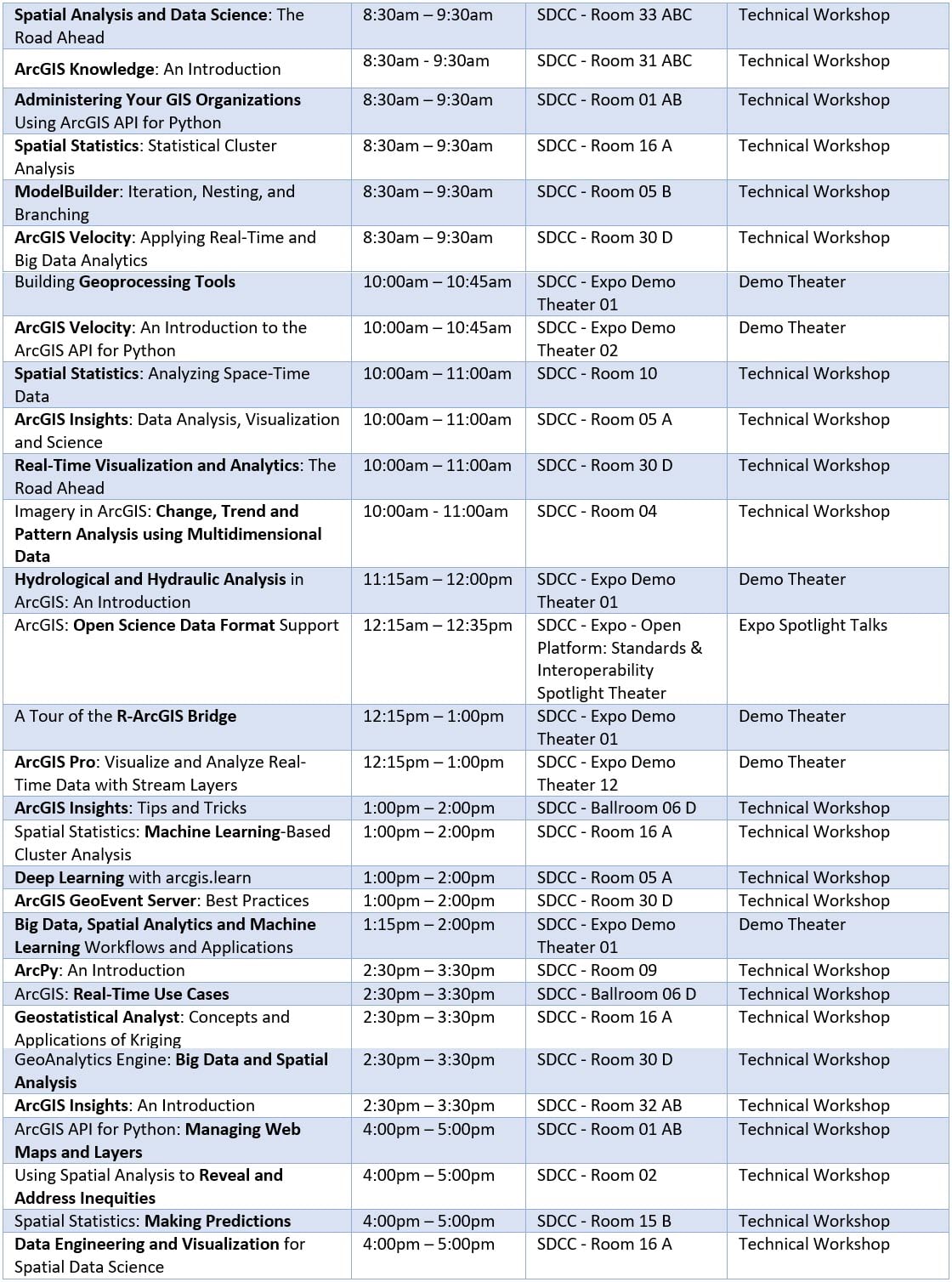 Chat with us in the showcase:
In addition to these sessions, we will have a showcase area where you can chat with members of the various teams that support the Spatial Analytics System. Visit us within the ArcGIS Pro, ArcGIS Online, ArcGIS Enterprise, ArcGIS Apps, and ArcGIS Developers islands. We can't wait to see you in person!


Resources:
Introduction to concepts:
Product Specific: