Deploying mobile solutions using ArcGIS field apps can improve the efficiency of your field operations as well as update the accuracy and currency of your data. We hear stories every day about how deploying mobile solutions are cutting costs, improving field workflows and helping organizations make more informed and timely decisions.
The 3 patterns of use that we hear most often include:
Display and query of my data on a map on a mobile device
Building an asset inventory (capturing location, status, and photos)
Maintaining existing infrastructure
Getting off the ground can be a real struggle! Discovering what workflows are most important within your organization can be a challenge, getting buy off from field workers that are used to using paper and pen can be an uphill battle, and convincing IT to provide mobile access outside the firewall can be more difficult than climbing a mountain. So where to begin?
It Takes A Village
The first step is to recognize that you can't do it alone. The most effective mobile solutions involve the hard work and commitment from people within GIS, IT and the Business/Operations:
Business Sponsor/Workflow Advocate – someone within your organization that can articulate measurable business goals of deploying a mobile solution and can see the cost/benefit of deploying mobile solutions.
IT/Infrastructure support – a trusted resource within your IT department that can support your project goals. This may just be the project they are looking for to deploy mobile devices within your organization!
GIS Analyst – the GIS rock star that is driven to improve the data they steward and implement new workflows that drive deeper adoption of the technology they manage.
You don't necessarily need all 3 roles to be successful but if you can bring them all together, you can be even more effective with your deployment.
Identifying and Prioritizing Workflows
Identifying the workflows that matter most in your organization can be a challenge. It is extremely important that the workflows you identify have clear, measurable business goals and are supported within the organization.
Try using a lean coffee approach. You can quickly identify and prioritize workflows that are important to you:
First – ask each participant to write down on a sticky note all of the field workflows that are important to them. Time this activity – roughly 10 minutes should suffice. Upon writing out the workflows have them place the sticky notes on a white board.
Second – have each participant read each and every sticky note (they may discover workflows that are more important than their own) and place a dot on the sticky workflow they find most important. Tell them they only have 3 dots and to choose wisely. Time this at roughly 15 minutes. This will yield workflow priorities that you can rally behind.
Third – organize and sort each of the workflows and then choose 4 or 5 of the highest priority workflows, have the owner of the sticky "pitch" the workflow and it's business value and discuss. Time this at roughly 5 minutes per pitch. With added discussion you now have everyone participating in the workflows that matter most.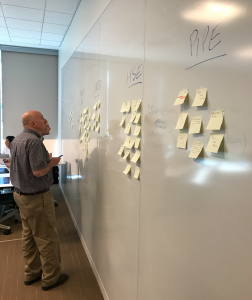 Using the lean coffee approach can yield great ideas, discussion, and collaboration amongst peers. It will also help you all to agree on what matters most.
Pilot Projects
Now that you have lots of ideas to work from, it's best to identify one that is not mission critical for your organization. A workflow has significant value, but one that you can deploy along with an existing workflow and learn from. Start small, get some successful deployments and then grow from there.
It may be that the simplest workflow of deploying a single map that lets you see your location, search for data and tap on it to see more information using Explorer for ArcGIS is of most value! It may involve using Collector for ArcGIS or Survey123 for ArcGIS to collect and maintain data, it could involve Workforce for ArcGIS to organize ToDo Lists, provide a workflow for using other apps, knowing where you workers are and where they have been and it may include using Navigator for ArcGIS to get to the location of the work that needs to be done.
It can be difficult to get everyone together and focused on something new. One approach to kick-starting your pilot project is to create an event similar to a hackathon. Either a half-day or even a full day event with your GIS team, business sponsor and IT representative. Rapidly build a mobile solution using Esri apps, field test them and present your results. Choose the "happy path" so that you can be successful with the day and learn what it's going to take to move from pilot to production.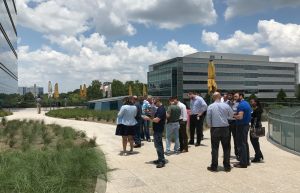 Make sure the event includes going outside. It moves you into the environment where mobile apps are used and gets everyone thinking about devices, battery life, GPS accuracy, sunlight and the ergonomics of working outdoors. Listen to the interaction when outside. Think about how you would document your workflows and train your field workforce.
When back indoors, present your results! Use Dashboards to show the results of your field work and prepare a Story Map to tell a narrative of your workflow and it's value.
Moving to Production
Through the idea and pilot phases you discover not only who needs to be involved, what can be accomplished and have inevitably encountered challenges along the way. Document and record both problems and successes.
Here are a few additional considerations that will help you along the path to a successful deployment.
Plan ahead for enterprise integration
There is a lifecycle to the mobile solutions you deploy. It starts with the management of devices, provisioning of applications, updates to the OS and apps, device settings/profiles/policies. Next is how you Support remote device management and trouble-shooting. Strive for a self-service support model as best you can and finding that strong advocate in the field will help you along this path.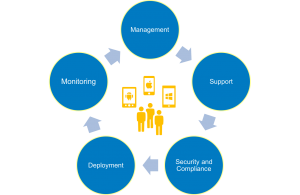 Authentication, corporate network access control, device policy, remote lock and wipe are critical to proper Security and Compliance with IT and corporate standard operating procedures. Equally important is access to the ArcGIS platform and there are several approaches that can be taken.
You can deploy a fully on-premises solution that requires VPN with ArcGIS Enterprise for a controlled environment that does not expose your solution outside of your intranet.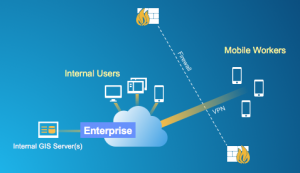 You can choose a fully hosted SaaS solution using ArcGIS Online where all content is managed for you and you import project work into your enterprise when needed.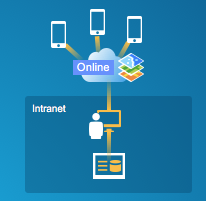 Or perhaps a "hybrid" approach where content from a GIS server is available through your firewall using a reverse proxy and users are managed either using ArcGIS Enterprise or ArcGIS Online.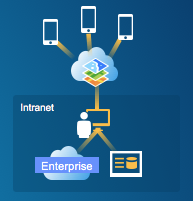 Provisioning and Deployment of hardware and software will mitigate support and management issues. Consider an environment where you can test and certify beta updates to both the OS versions as well as app updates that can impact workflows. Depending upon both corporate IT policy and the size of your mobile deployment, you may want to consider using a Mobile Device Management solution. There are many available today that work with Esri apps. Look to appconfig.org for more information.
Last but certainly not least, continually monitor your mobile deployment. This includes not only the workflow itself and how you manage the flow of data within the ArcGIS platform but also the device itself, network performance, data usage, coverage and roaming that may occur.
Choose the appropriate mobile platform(s)
There are several factors to consider when choosing the appropriate mobile platform. Of course there is the operating system (iOS, Android, Windows) but also network/carrier availability, form factor, ruggedness, enterprise support, battery life, location accuracy required and don't forget the environment in which it will be used. Some organizations have a BYOD approach, others purchase dedicated hardware and some have both where only company-owned devices can store enterprise data.
Find your advocate
The most successful mobile deployments include a strong user advocate. Someone that works in the field and becomes your champion. They buy into the business value of the mobile solution early, are willing to improve their field workflows and will help you train others. Get out to the field and find your advocate!
Hopefully this article provides some insightful information that leads you toward a successful mobile deployment!
Please contact your Esri Account Manager and let us know how we can help you in this journey!