ArcGIS Field Maps is a mobile app solution that allows you to streamline field workflows and take maps anywhere. You can use Field Maps to explore the maps you make in ArcGIS, collect and update your authoritative data, and record where you've gone, all within a single location-aware app. Field Maps includes a companion web app that allows you to configure the maps mobile workers use in the field.
Releasing new updates each quarter, the spring release brings a number of exciting new enhancements to ArcGIS Field Maps. Let's take a look at what's new.
Smart form improvements
Field Maps is the recommended mobile solution for conducting inspections. The introduction of smart forms for all feature layers and related tables in your maps dramatically simplifies field workflows.
With the spring update, we've introduced 2 new input types (radio button and barcode), a new description property, substitution for form titles, and a more intuitive submit experience in the mobile app.
Radio button input type
The radio button input type can be applied to fields with a list of values (coded-value domains). When picking a single choice from a list, the radio button is a great option for lists with 5 or fewer items as all can be visible to choose from along with the name and description right there in the form.
Barcode scanner input type
We added support for reading barcodes and QR codes using the camera on your device with any text field in the first release of ArcGIS Field Maps. Using barcodes is an efficient way of storing information about an asset, and using the Arcade expression language, you can decode the information stored as well. This is critical for tracking and traceability workflows in the natural gas industry. Supported with ArcGIS Collector as well, this article explains the capability in detail.
With this update, you can now qualify which fields in a form can open the camera and scan for barcodes/QR codes using the Field Maps web app. You can still manually enter the code, but only fields with the input type specified can launch the camera to scan it.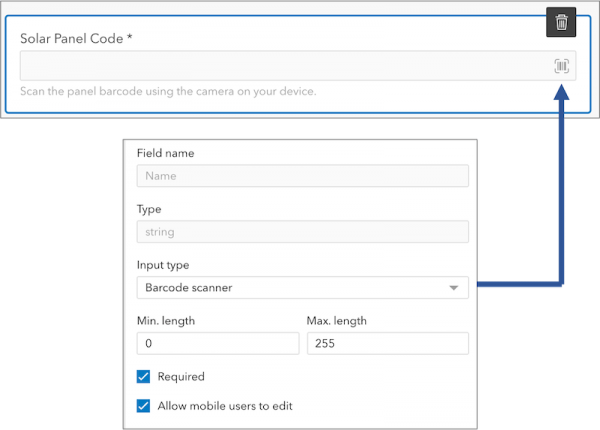 Display name property
In addition to the type of input, fields have several additional properties. All field types have a Display name property that can be used to phrase a question. Text and numeric fields have placeholder text that appears as an example of a valid entry for a field. Now all fields have a Description property that can be used to provide additional context about how information needs to be collected when filling out a form entry.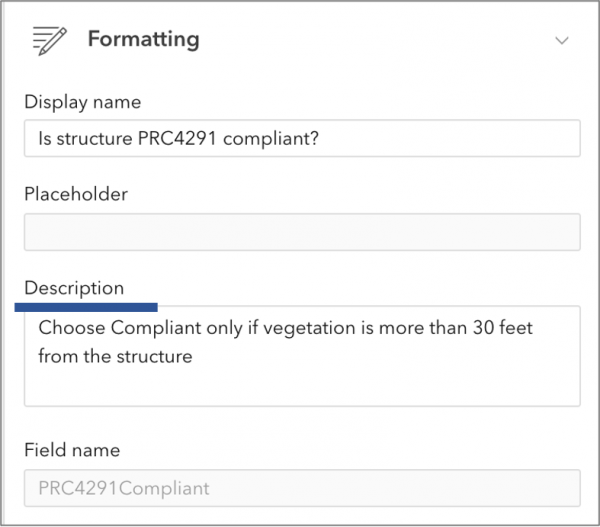 Form title substitutions
Every form has a form title. The title provides descriptive information about the purpose of the entries about to be filled out. With this update, the form title can dynamically include values from fields on the layer as well.

New Submit button experience
When completing your form, it may be difficult to determine what information needs to be filled out. Until now, the Submit button has been disabled if required form entries were not completed. When in this position, the mobile worker needed to search the form to find what needed to be filled out. With this update, the submit button is always enabled. If required fields still need to be filled out, a message will appear and fields will be highlighted so that you know what you need to do.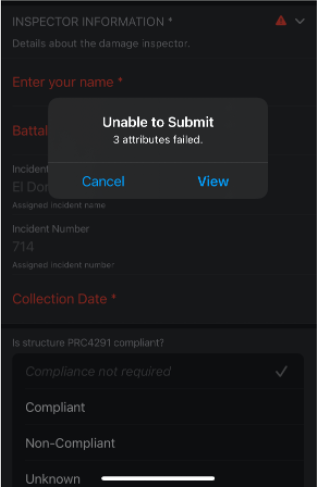 Productivity improvements
We've supercharged the form creation process with key productivity improvements such as the ability to select more than one field using the shift or control keys and drop them onto your form canvas at once.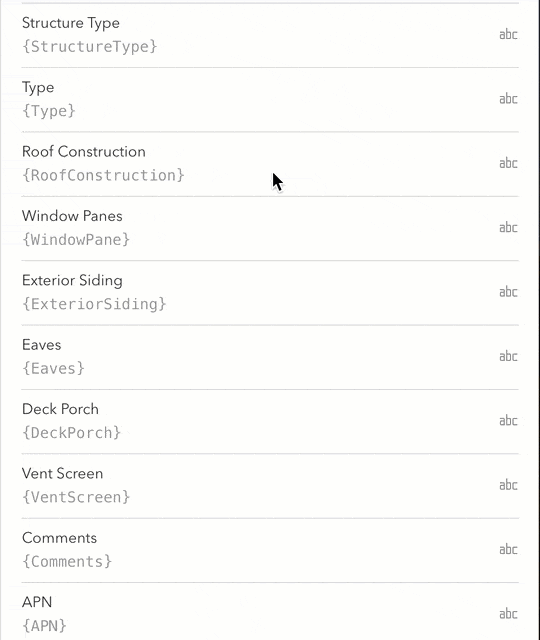 For more information, see Configure the form.
Map Settings
We've added a new Map Settings experience to Field Maps. As the map author, you can now choose what map tools and feature actions are present in the mobile app user experience. If you don't want the mobile worker to be able to copy a feature or edit multiple attributes of features at once, then you can simply remove these capabilities from the app for that map!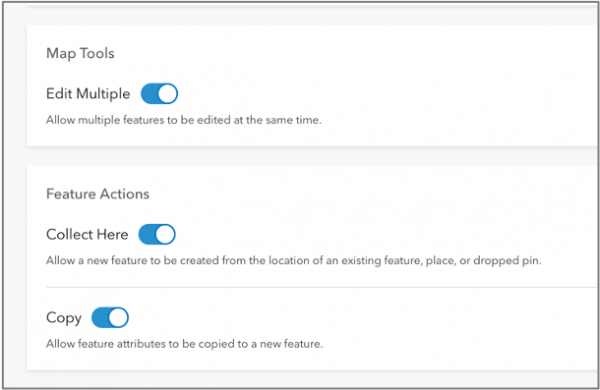 Please note that the Photo Upload Size and Show Related Types settings have now moved from within the mobile app to the Field Maps web app so that they can be configured on a per-map basis.
Similarly, it can be very useful to define default collection settings for a map. As the map author, defaults provide consistency for data collection projects. If conditions arise in the field that require settings to be altered, mobile workers can override the defaults. In fact, Field Maps has a shortcut for accessing collection settings when engaged in the collection a feature.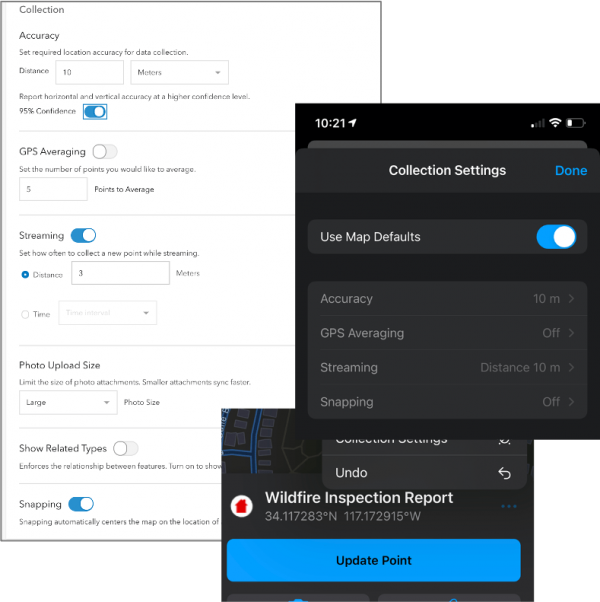 For more information, see Map settings.
Location Tracking updates
With the April update we are providing more opportunities to use location tracking within your organization. The Field Worker user type includes support for ArcGIS Tracker so you can record and share location without additional cost.
The location tracking service schema will be updating to include a new Track Lines layer. This is a server-generated line layer that dramatically improves visualization workflows. It's recommended that when available, you add the Track Line layer and the Last Known Location layer to Dashboards for situational/operational awareness workflows.
We are putting some finishing touches on the Track Lines layer right now. It will be available within your ArcGIS Online subscription soon.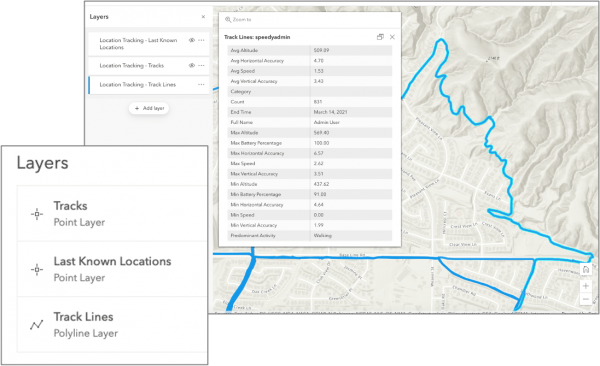 For more information about the Track lines layer, see Use tracks.
Field Maps mobile app updates
The iOS version of the Field Maps app received some much needed updates that provide a consistent experience when using other iOS apps and bring some exciting new features as well:
Menu buttons replacing action sheets provide consistent experience
New photo picker supports selecting multiple photos
Quick actions for tracking and collection jump start app use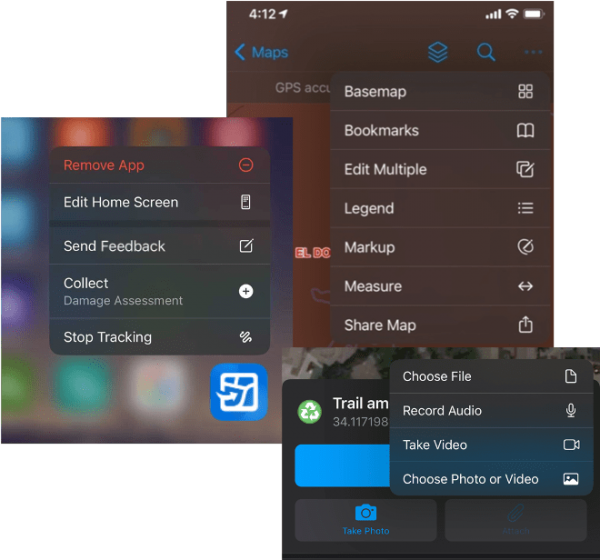 We added a new Full Page screenshot capability that hides the chrome (toolbars/controls) and creates a screenshot of just the map. Using the native toolset for scribbling on top of the map with your finger or an Apple Pencil on an iPad mobile workers can take a snapshot of the current state of their map and share it with others.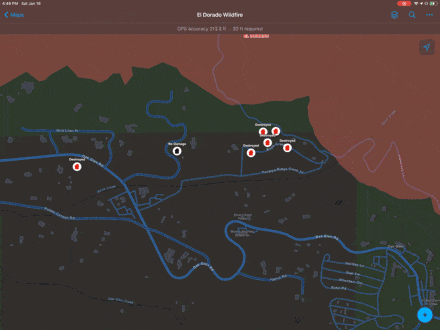 Field Maps web app updates
With this release, we've added some very strategic, focused updates to the Field Maps web app that include:
A new experience for adding layers to your map
Full support for group layers
Open the Map Viewer or Map Viewer Classic is embedded within Field Maps
Note: Map Viewer Classic will now save your smart forms!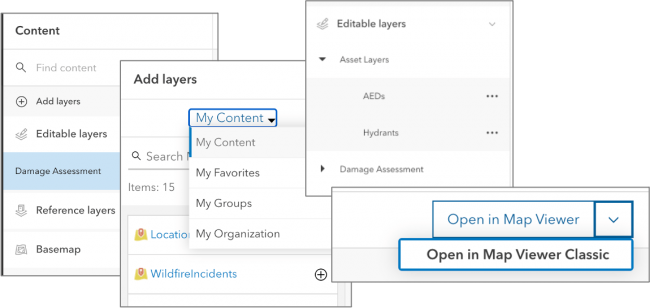 Now you can filter for all maps in the organization or just maps you own. Depending upon how many maps you have access to, the map card experience may be too much to visualize. Now you can flip to a more compact, table view to see a large number of maps you have access to. An added bonus for administrators is that they can configure maps they do not own.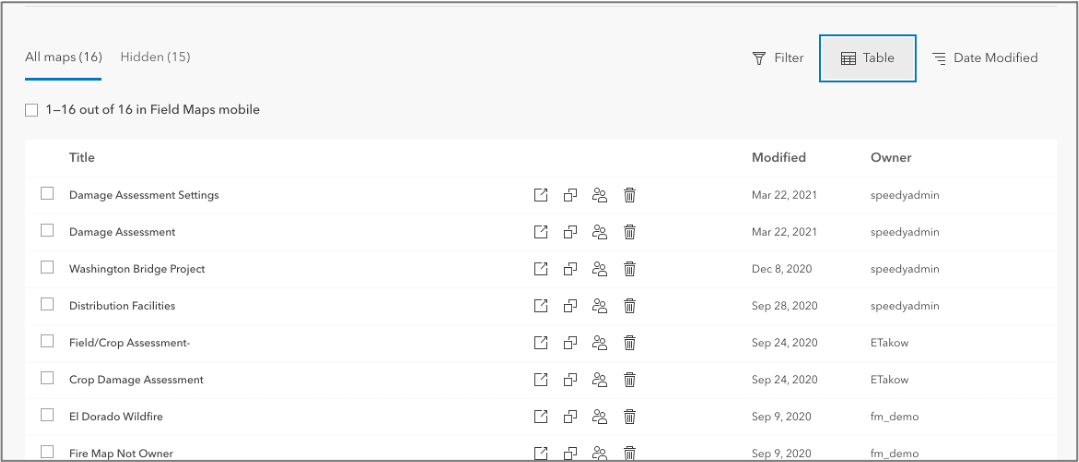 What's Next?
With the April update, we've added a wealth of new updates to Field Maps and this is just our first release this year! Items on our short to mid-term road map this year include:
Automate Field Maps using web hooks
View and trace Utility Networks
More smart form capabilities (Switch input type, calculating attribute values, attribute rules, contingent values and more)
Create new maps and content using the Field Maps web app
Workforce integration
Much more…