Many ArcGIS GeoBIM users are working with large datasets of Building Information Modeling (BIM) projects stored in the Autodesk Construction Cloud (ACC). As many of these projects may need to comply with ISO 19650 or other national standards, multiple copies of BIM models will often be stored in different folders in ACC, such as Work in Progress (WIP), Review, Shared, and Published.
When a GIS manager tries running ArcGIS GeoBIM tools on projects of this scale, it may take several hours for all project files to be fully processed. ArcGIS GeoBIM reviews every folder and file in an ACC project to fully process all related documents. The Bridge tool in ACC can help you dramatically reduce the time required to process projects in ArcGIS GeoBIM.
While the option to select folders to be processed in ArcGIS GeoBIM is under development, Bridge allows files to be copied and synchronized between multiple projects in ACC today. These projects can also be across different Autodesk accounts. The process can be automated for updates to be synchronized in real-time, including across different Autodesk accounts.
While this blog post will cover high-level details of Bridge, consider using the tool as a time-saving option for more efficient collaboration with selected folders in your ACC project. Visit the Autodesk help article series on Bridge for more details. By using Bridge, you can run ArcGIS GeoBIM tools on a subset of your project folders rather than syncing the entire ACC project's root folder.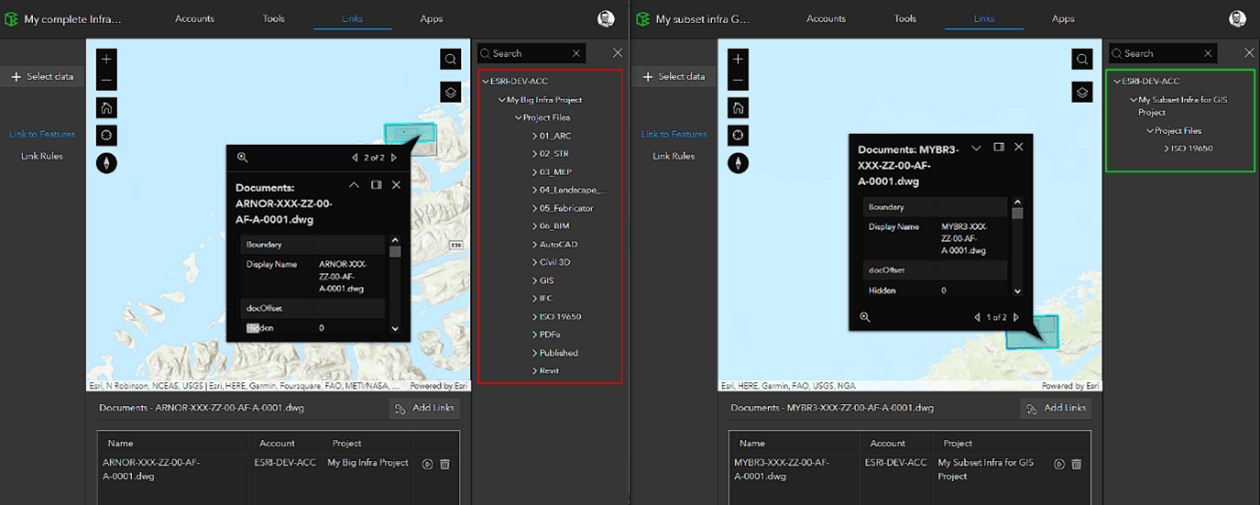 Bridge and ArcGIS GeoBIM working together
Let's say you're a BIM manager working with large datasets in ACC for a civil infrastructure project. You want to give access to GIS professionals to perform environmental analysis on a subset of the ACC project, where ArcGIS GeoBIM, ArcGIS Online, and ArcGIS Pro are used to perform their daily work.
Bridge helps your team save time running tools in ArcGIS GeoBIM to get results. This subset of a large project also helps GIS specialists save time during the content creation in ArcGIS Pro and in ArcGIS Online. For instance, instead of browsing through a complex folder tree, they can quickly find the related content in ArcGIS Pro.
Watch the video below to see how to use Bridge for projects in ACC and ArcGIS GeoBIM.
Discover ArcGIS GeoBIM
Learn more about ArcGIS GeoBIM to see how you can bring GIS and BIM together on your next project. 
Discover tutorials, videos, and articles for ArcGIS GeoBIM
You can learn more about GIS and BIM collaboration in the cloud by visiting the ArcGIS GeoBIM resources page and video playlist. Upcoming webinars and past recordings presented by Esri and Autodesk can be found on the ArcGIS GeoBIM webinars page.
Join the Esri Community
Post questions and share your feedback on this release in the Esri Community for ArcGIS GeoBIM. Get solutions and advice from Esri experts, as well as others using ArcGIS GeoBIM on projects and workflows.