The annual Esri User Conference is the perfect time to get up to speed on the latest GIS innovations, get inspired by organizations who use GIS in meaningful ways and get all of your burning questions answered by experts.  This year, we'll be meeting virtually and all Esri customers are invited to take part in the sessions running from Monday, July 12 to Thursday, July 15.
Data Collection Sessions
Gathering insights from the field is critical to your GIS work, and Esri offers a range of solutions to help you collect data easily and accurately.  To get a better understanding of the capabilities available to you as a customer, we're offering quite a few Field Operations sessions including ArcGIS Survey123 and ArcGIS QuickCapture.
What is ArcGIS QuickCapture?
ArcGIS QuickCapture is the fastest way to collect field observations.  Featuring a user-friendly big button interface, it takes the guesswork out of data collection as people of all ages can participate in projects without any training required.  It's often used to quickly record field observations from a moving vehicle while scouting locations, conducting aerial surveys or assessing damage. With ArcGIS QuickCapture, data from the field can be used instantly for better decision-making.
ArcGIS QuickCapture at the Esri User Conference
There is so much to see and do during the four-day Esri User Conference you may want some help navigating through it.  Fortunately, the best place to start is clear: The Plenary Sessions on Monday and Tuesday morning.  During these sessions, you'll hear Esri president, Jack Dangermond, share the latest in GIS technology along with Esri experts and special keynote speakers.
Depending on your interests, you'll want to plan out which technical sessions you want to attend to learn about the latest GIS tools.  As you're here, please take note there have been some impressive innovations in ArcGIS QuickCapture you won't want to miss.  If you haven't tried QuickCapture before or you haven't used it in awhile, you can take it for a test drive on your next bike ride with the Esri UC Virtual Run/Walk/Bike 2021 as well (see details below).
Here are some Esri UC highlights streaming live (in PDT) or available on-demand featuring ArcGIS QuickCapture:
Monday, July 12
| | |
| --- | --- |
| 8:30 a.m. to 12:00 p.m. | Plenary Session (Day One) |
| 3:00 p.m. to 4:00 p.m. | ArcGIS Survey123: An Introduction and What's New |
Tuesday, July 13
| | |
| --- | --- |
| 7:15 a.m. to 8:15 a.m. | ArcGIS QuickCapture: An Introduction and What's New |
| 8:30 a.m. to 10:00 p.m. | Plenary Session (Day Two) |
| 10:30 to 11:00 a.m. | Ask Me Anything! Eos Arrow GPS with Mobile ArcGIS Apps |
Wednesday, July 14
| | |
| --- | --- |
| 10:00 to 11:00 a.m. | ArcGIS Field Apps: The Road Ahead |
| 11:15 a.m. to 12:15 a.m. | ArcGIS Field Apps: Q&A with the Product Teams |
| On Demand | ArcGIS QuickCapture, the New Hub for the Field |
Technically you can watch the last session any time you like as it's available on-demand.  In fact, there are quite a few on-demand options this year along with many other technical sessions.  For details, you can view the full agenda or use the search functionality for topics and people of interest on the 2021 Esri User Conference site.  Don't forget to take a look at what's happening with Field Operations in ArcGIS and ArcGIS Survey123 as well.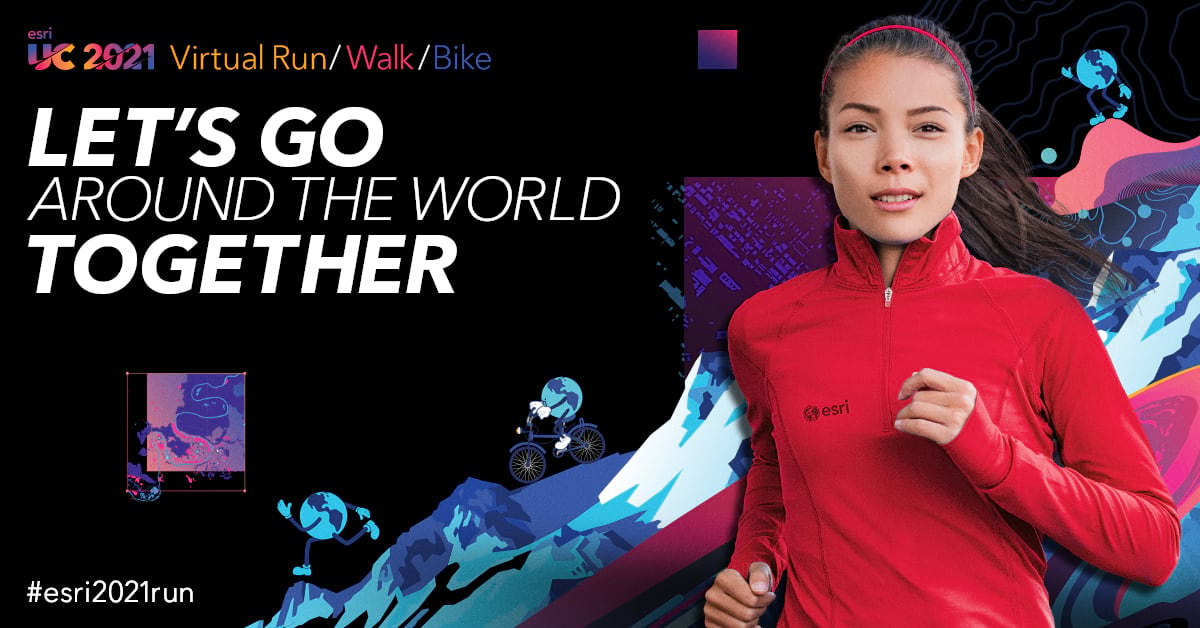 Esri UC Virtual Run/Walk/Bike 2021
As you may be sitting quite a lot during the conference, when you're ready to take a break, you can join the GIS community on a walk around the world!  From July 10 to 18, use the ArcGIS QuickCapture mobile app to track your routes and take pictures along the way.  Something new this year, you can use your Apple Watch and cyclists are welcome.
Download the QuickCapture App on Google Play or the Apple Store
Download the Esri UC Fun Apple Watch App from the
Apple Store
Esri UC Registration
If you haven't signed up for the conference yet, there is still time!  All Esri customers as well as current students or 2021 graduates can register to receive complimentary admission to the Esri User Conference.  You can choose to register as a general attendee for a full access pass or attend the Plenary Sessions only.
Connect with us
ArcGIS QuickCapture experts are available to help you.  During the event, you can reach out to them using the conference's connect page (you can look people up by name here). However, the best way to connect with experts directly is via the "chat" and "schedule a meeting" options in a presenter's profile during the technical sessions.  If you're not sure who to speak with, be sure to visit the virtual information desk for assistance.
Thank you for taking the time to join us for the 2021 Esri User Conference. We look forward to connecting with you soon.