ArcGIS QuickCapture is Esri's rapid data collection mobile app. With QuickCapture, you can quickly collect field observations to document issues, damage or important events.  Not familiar with QuickCapture? Watch this 2 minute video:
What's new in the June 2022 update
This update includes support for Bulgarian language, new device variables and improvements in the QuickCapture designer. The build number for the mobile app in the Apple, Android and Windows app stores is 1.14.
New device variables
ArcGIS QuickCapture collects a lot of information with the single tap of a button and that's in part thanks to device variables. Use device variables to have GIS attributes automatically populate.  There are more than 50:
Location: Latitude, Longitude, Elevation, Horizontal Accuracy, USNG, DMS, DDS, MGRS, GNSS metadata…
Travel: Direction of travel, speed
User: username, full name, email
Photo: Latitude, Longitude, camera heading, horizontal field of view…
Device: operating system, app version, device model
Lines: Start time, end time, distance…
In this release you will find four new device variables. Use them to better understand how field crews manage the battery life of their devices:
Battery level: In %
Battery state: Plugged in, not plugged in.
Power mode: Balanced, battery saver
Power source: USB, AC, wireless, battery

Upcoming layer requirements for enabling photo uploads
For compatibility with old (prior to 10.4) versions of ArcGIS Enterprise, QuickCapture supports adding photos to layers configured with supportsApplyEditsWithGlobalIds = false.  This property has an important effect on how data, and attachments, are added into a layer. Having this property set to true guarantees the most robust data upload behavior when working in poor network conditions.
Starting with this update, QuickCapture designer will warn you if your project includes a layer with this property set to false. Read this help topic to learn more about supportsApplyEditsWithGlobalIds.
In early 2023 we will end support for working with layers where supportsApplyEditsWithGlobalIds = false. Check the ArcGIS QuickCapture deprecation notices in the Esri Tech Support site for more details.
QuickCapture designer enhancements
Some of you requested that we make the QR code of a project accessible even before the project is shared. The QR code is now always available. Check it out below.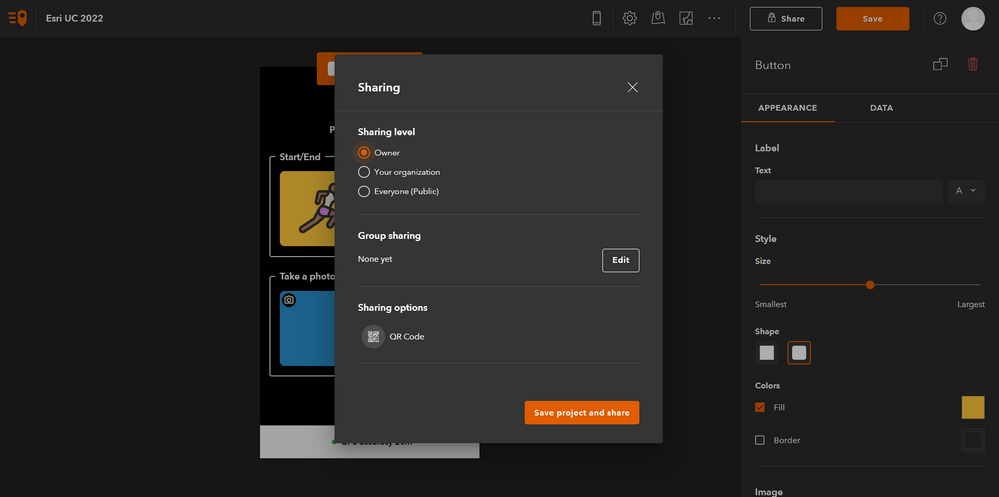 A new set of new icons has also been added to the gallery.
Other enhancements
Bulgarian language
Optimizations in network traffic when working with ArcGIS location tracking
For a complete list of what's new in this and previous releases, check out his help topic.
What's coming next
Our next update will ship in late August 2022.  As usual, find the Beta builds in the QuickCapture Early Adopter site.  Features in the works include: