Note: An updated article about using Living Atlas content in ArcGIS apps is available here.
---
Esri's Living Atlas of the World provides an amazing source of information for you to create maps and mashups, publish apps, and perform geographic analysis. Most of the layers in the Atlas are free to use, but some high-quality layers published by Esri's Content Team are designated as subscriber content. Some subscriber content layers are also considered premium content.
The ArcGIS Online FAQ has detailed explanations of these two terms, but essentially both types of content require an organizational subscription, while premium content also consumes credits when it's accessed.
The item listings are marked as shown below if they fall into one of these categories.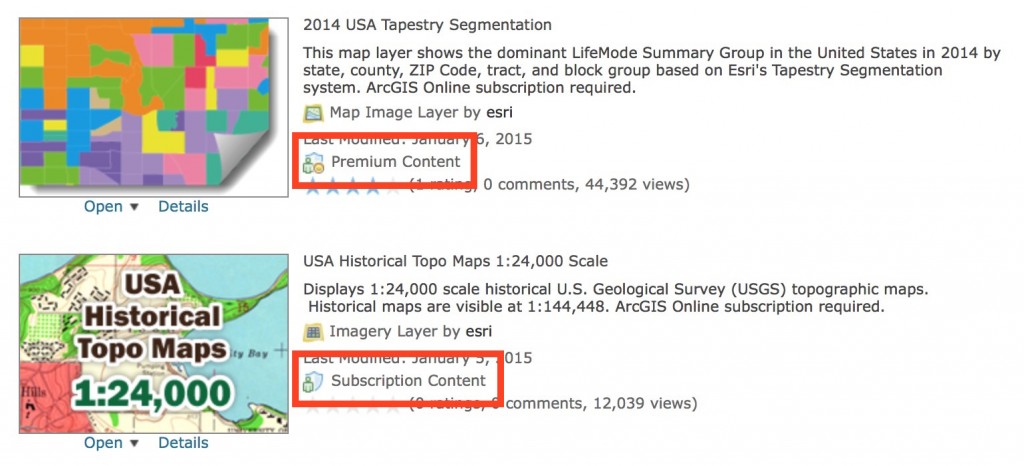 Using subscriber content
Suppose you are working on a project using your ArcGIS Online organizational subscription, and you've created a web map with premium imagery or a consumer spending layer that you found on ArcGIS Online. Of course you can view the map, and you can even share it with colleagues who are members of your organization or another organization.
But what if you want to publish and explain your analysis in a Story Map Journal on your public website? Many visitors to the website wouldn't be able to view your Story Map since they don't have an organizational account. Even if they did, wouldn't it be a nicer experience if your web page didn't prompt them to log in?
With the recent update ArcGIS Online's web apps can now easily share subscriber content with anyone — no login required. (See more on what's new in configurable apps.)
Enabling subscriber content in a configurable web app
When you publish a web map with subscriber content to one of ArcGIS Online's configurable web applications you'll see a new section in the app's configuration panel that lets you enable public viewers to access that content via your subscription. Premium layers accessed by public viewers will consume credits from your organization's subscription.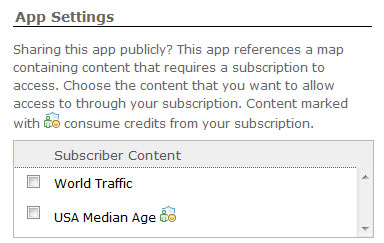 Enabling subscriber content in a Story Map
If you need to provide public access to subscriber content in a Story Map go to the My Stories section of the Story Maps website, log into your ArcGIS Online organizational account, and click the app to run the story inspector. My Stories will detect both types of subscriber content and alert you if you need to authorize it's use by public viewers of your app. Simply click the green button that says "Make Public" and the layers will be made available. (If you haven't heard of My Stories yet learn more about this new Story Map management tool here.)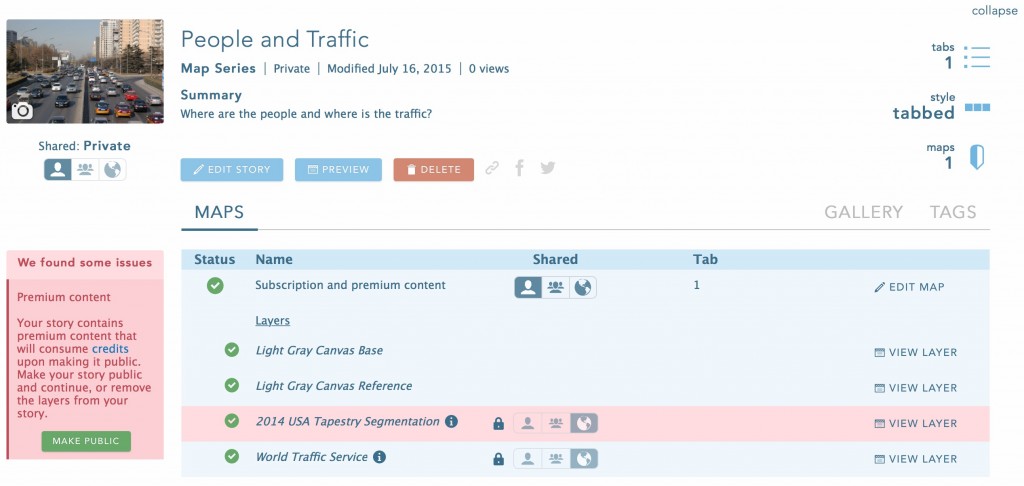 If your Story Map is already public you'll be alerted to the presence of both subscription and premium content and can confirm your intention to allow public viewers to see both types of layers.
If your Story Map is still private you can use the tools in My Stories to make it public. In this case the subscription content will be automatically made public (since it does not use credits), but you'll still need to confirm the availability of the premium content.
At this time you can only authorize subscriber content for Story Maps in My Stories, but in a future release this ability will also be built into the Story Map app builders.
Behind the scenes
If you are a developer, you may be interested to know how this is being accomplished technically. The apps are now utilizing app proxies to enable non-members to view subscriber content. Anonymous viewers are authorized through a proxy linked to the member account with which the app was published.
Credit usage for proxied premium layers is reported at the organizational level along with usage by your organization's members in My Organization > View Status > Credits.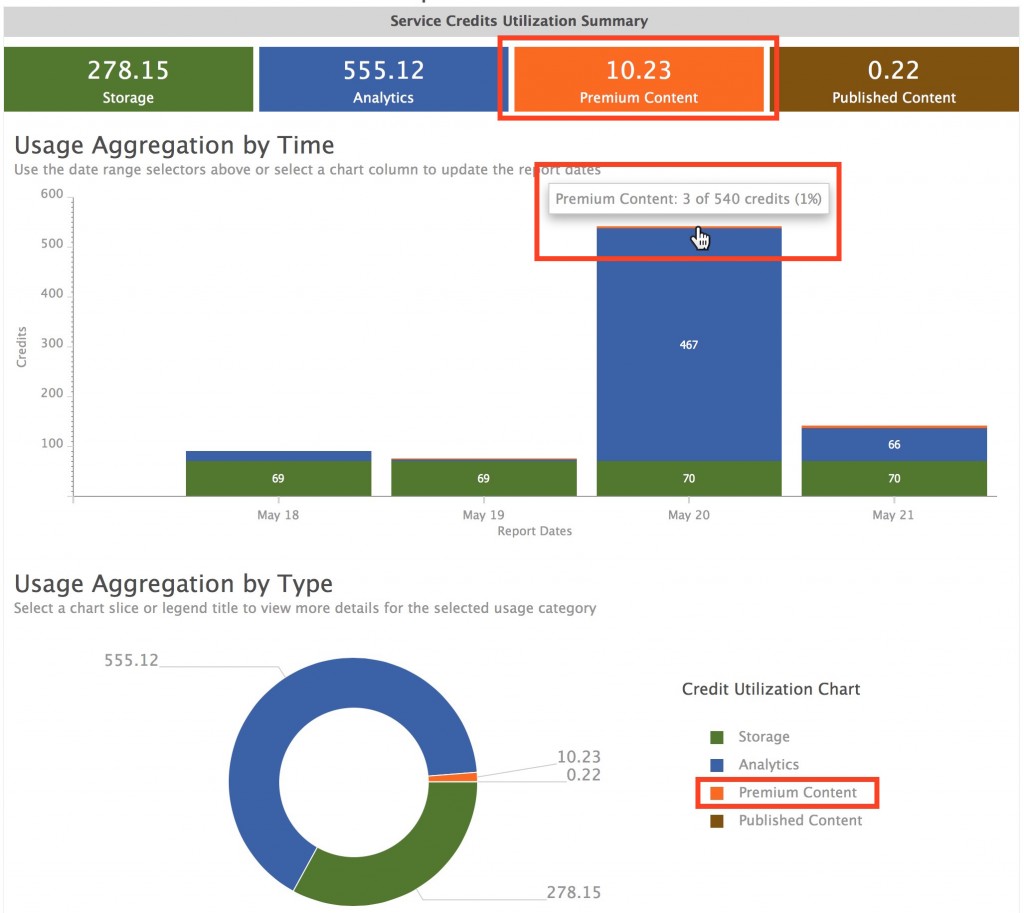 For more information