Introduction and Background
Environmental science is a multidisciplinary field that integrates the biological, social, and physical sciences to solve the environmental problems we face every day. Environmental scientists examine the interaction between humans and the environment to characterize and analyze complex environmental problems. Every environmental issue—from compliance and pollution to habitat and biodiversity and beyond—has a geographic component.
GIS has a long history of supporting environmental scientists to organize, analyze, manage, visualize, and generally make sense of our complicated world. As technology evolves, these powerful tools are becoming more accessible and, in a way, even more critical. The use of GIS in an environmental setting can help directly address a broad range of critical problems such as pollution and cleanup, water resource management, natural resource management, addressing impacts of climate change, ensuring sustainability, addressing land use and urban planning in new ways, biodiversity, and environmental justice. GIS helps us understand these problems and drive actions that will support a better future.
Esri's Renewed Focus on AEC and Environmental Consulting
Esri has renewed its focus in the area of architecture, engineering, and construction (AEC) and environmental consulting. Esri recognized that while AEC firms are and have been using GIS for many years, the focus on how AEC and consultancy firms work has not always been fully understood or supported. This renewed focus puts Esri in existing times, with a new vision that it hopes you will appreciate as a way for us to understand and support each other.
AEC and Environmental Vision
Enhancing the digital and business transformation of the AEC and environmental consulting industry can be achieved through the following:
Extending location to improve the productivity of project teams
Realizing new industry solutions
Supporting the creation of new revenue streams
To realize this vision, Esri is focusing on four main areas that are typical to most AEC and environmental consulting firms. And the good news is that environmental consulting has been identified among the top four industry focus areas of the AEC sector at Esri. Under the environmental consulting industry, four subindustry focus areas have been identified as well:
Environmental Permit and Planning
Site Assessment and Restoration/Remediation
Environmental Construction
Environmental Management and Compliance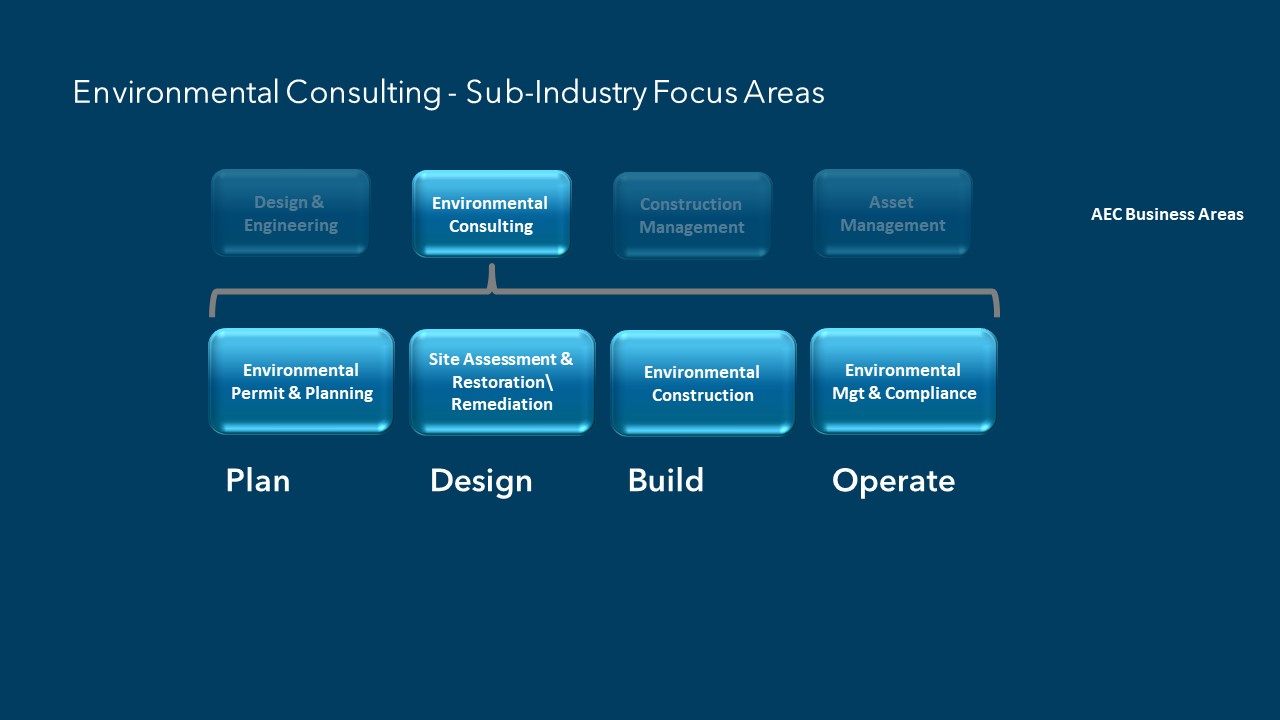 Esri hopes that this renewed focus will help our team better understand and support the important project work you do on a daily basis. Please take a moment to get to know your peers and join us on the Architecture, Engineering, and Construction place on the Esri Community
Panel Discussion on GIS Use in Environmental Consulting (January 19, 2021)
As evidence of this renewed focus, Esri started the year by listening to you. On January 19, 2021, Esri held its first environmental consulting community event. For this event, an industry expert panel of practitioners and technologists was invited to discuss the topics affecting the environmental consulting industry today and into the future. The following topics were covered:
Local and global factors affecting the environmental industry
GIS technology and trends affecting environmental consulting
Esri's enhancements to the work of environmental consultants
The following is a brief summary of that event. You can watch the recording here.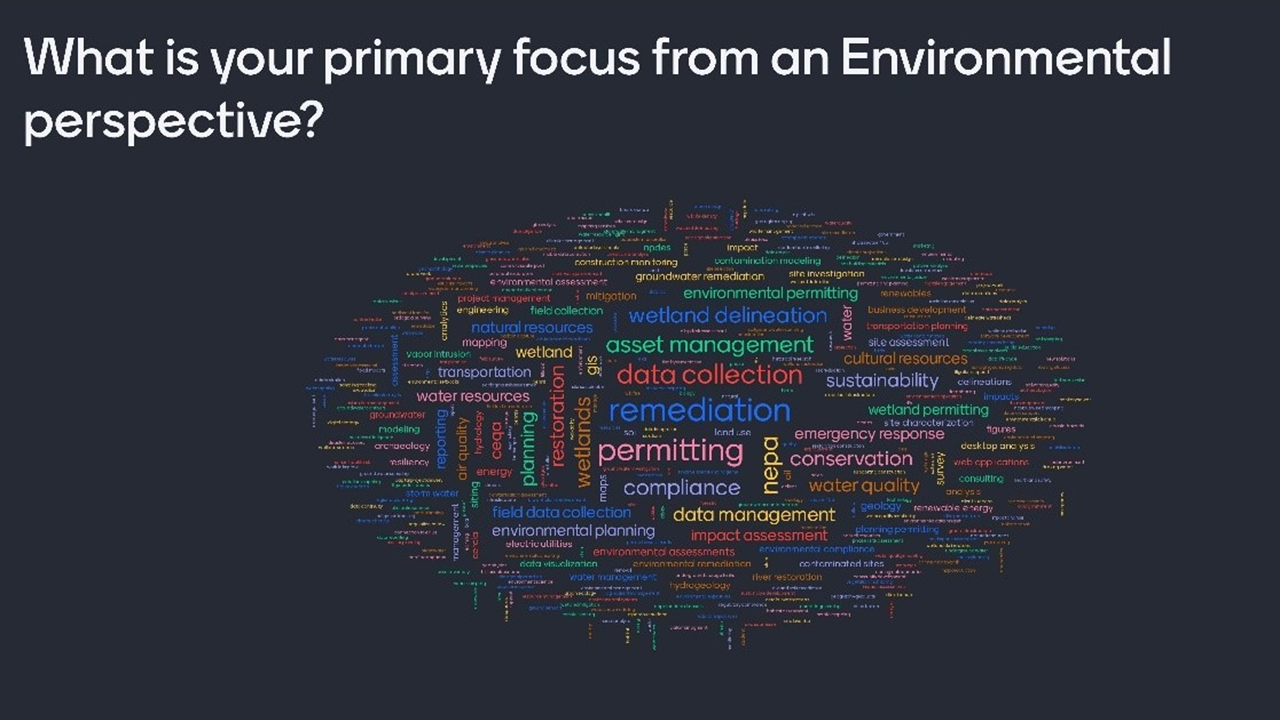 Word map created during the webinar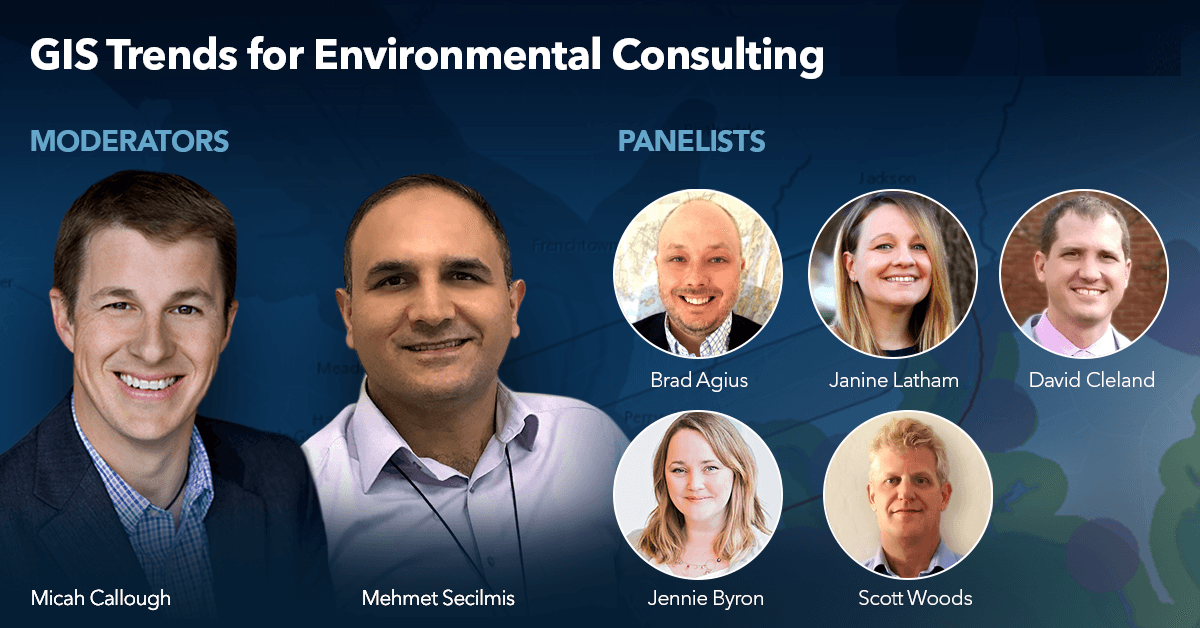 Environmental Industry Trends by Panelists Summary
Brad Agius, Senior Project Manager, Tetra Tech
Many of our projects are impacted by climate change. Automated/mobile data collection and data visualization and management have been very important for our projects. We rely on field apps and drones, web maps, interactive maps, and dashboards for a common operating scheme for our users and clients. We have reactive and proactive projects. The reactive ones are emergency response projects such as disease, hurricanes, earthquakes, tornados, oil spills, and fires. Using real-time dashboards has been very useful. On the proactive side, we are addressing the energy crisis with renewable energy, green infrastructure and sustainable development, which aimed to mitigate climate change impacts. GIS has been a backbone for data management and visualization. Overall, I see these proactive and reactive responses to climate change to be a continued focus for the environmental consulting industry.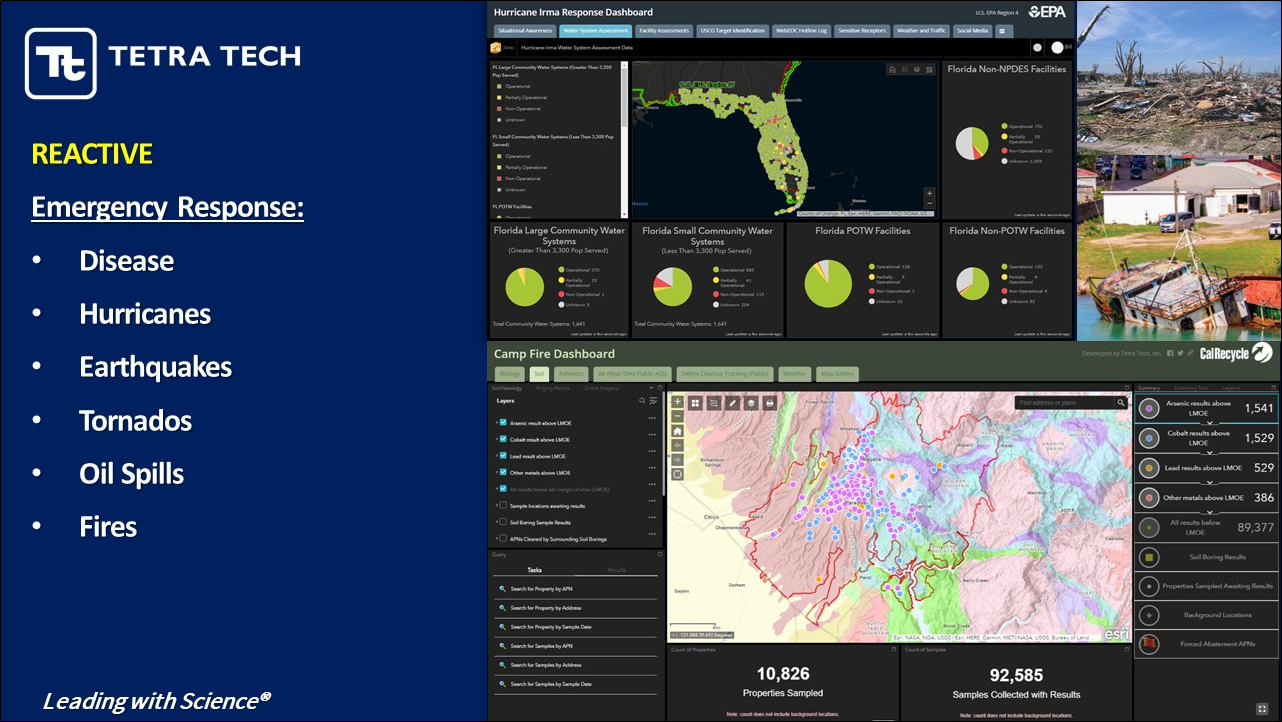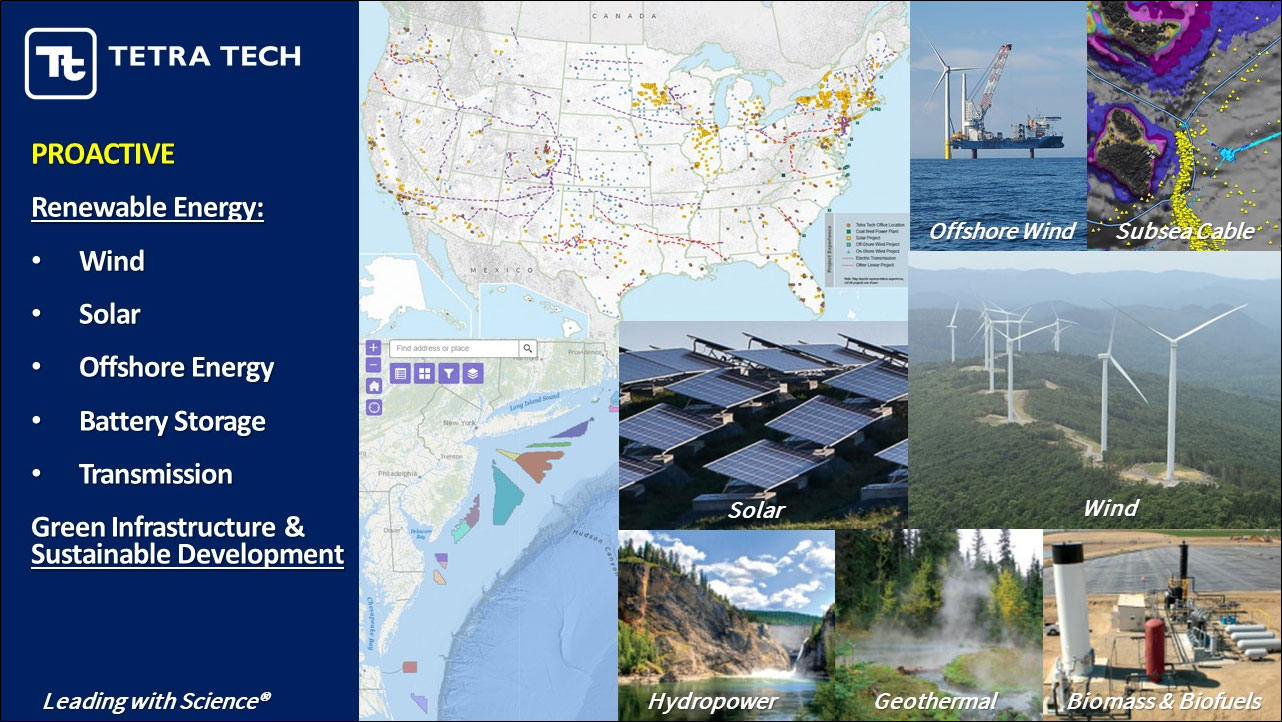 Janine Latham, Geospatial Technical Director & CoP Lead, Weston Solutions, Inc.
It has been fun to see how basic principles of GIS have evolved with technology. The information and technology overload is a real challenge for the environmental consulting industry. Our clients ask us to filter the noise, data and use of the technology. We are trying to figure out ways we can be more efficient doing this. We have been creating spaces for our clients and have them own their data/maps and scale the tools we need for them. We have been monitoring real-time sensor data and weather events and providing digital reporting via dashboards and interactive maps.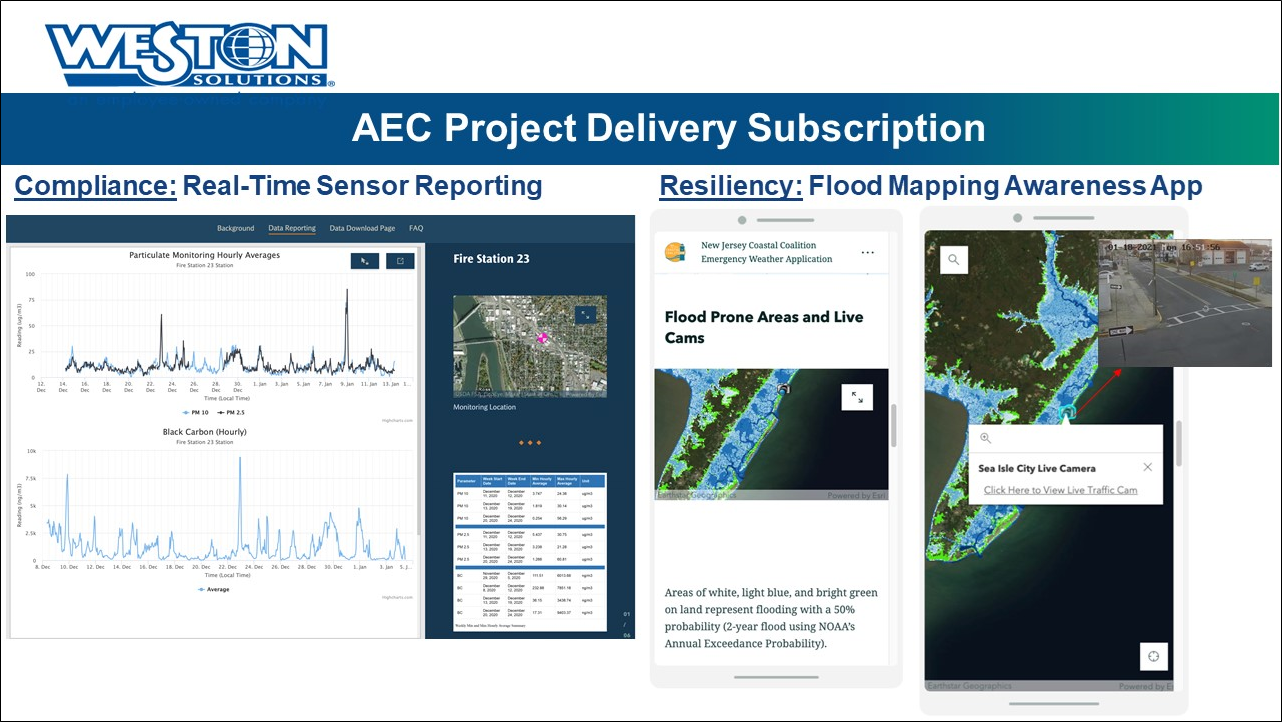 Scott Woods, Director of Geospatial Services, SWCA
The demand to collect large volumes of field information and sharing them internally and with clients in near real time is the challenge we are facing in the environmental consulting industry. Many of the projects we have are in remote areas and offline. Real-time information sharing and decision-making have become challenging. The use of project dashboards and interactive maps has been very useful. The power of the web is transforming how we deliver our services. Being able to take the operational field data and putting it in the hands of our decision-makers is changing the game for us. Mapping our data life cycles has been helping us manage and distribute data efficiently.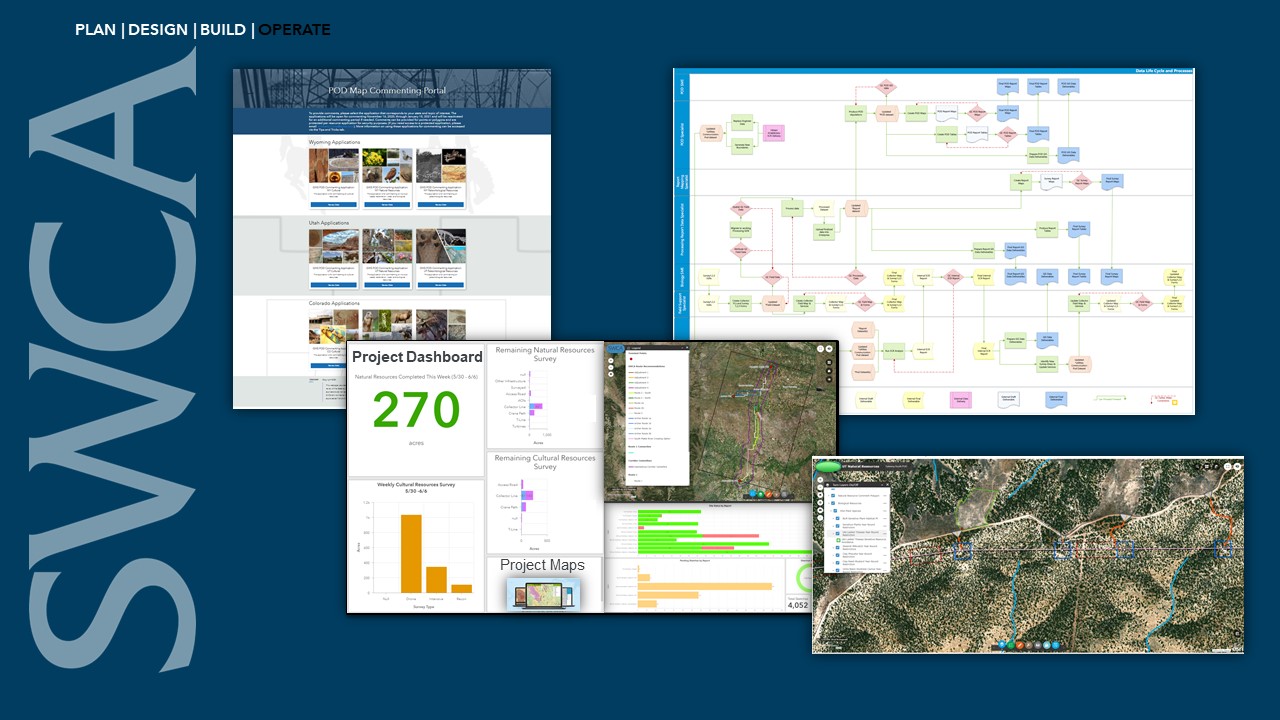 Jennie Byron, Senior Project Geospatial Lead, Golder
One of the things affecting the environmental consulting industry is the integration of environmental data and environmental data management systems (EDMS). The transformation from paper-based field data collection and reporting to mobile has accelerated over the last five years. The integration of GIS with the EDMS has not been seamless. Integrated solutions have been a frequent project expectation. Having environmental and EDMS solutions that work together and integrate well is incredibly important for the success of our projects and clients.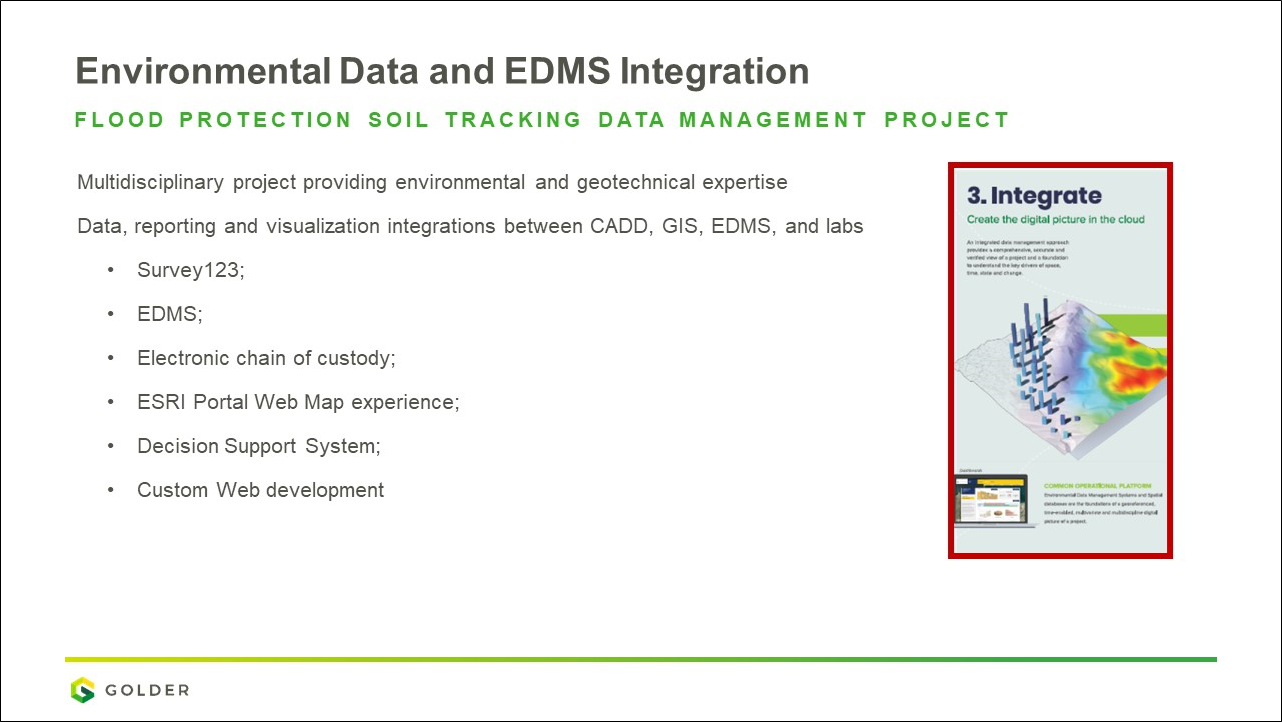 David Cleland, GIS & Data Services Manager, GES
The issues affecting the environmental consulting industry are the need for efficient project work and incorporating innovative approaches that GIS and other technologies brought. GIS staff have been increasingly involved in project planning tasks such as site analysis and routing efficiencies of the field teams. Massive amounts of digital field data collection via field forms and drones have been innovative for our projects. Dynamic deliverables (web maps and dashboards) have become our standard.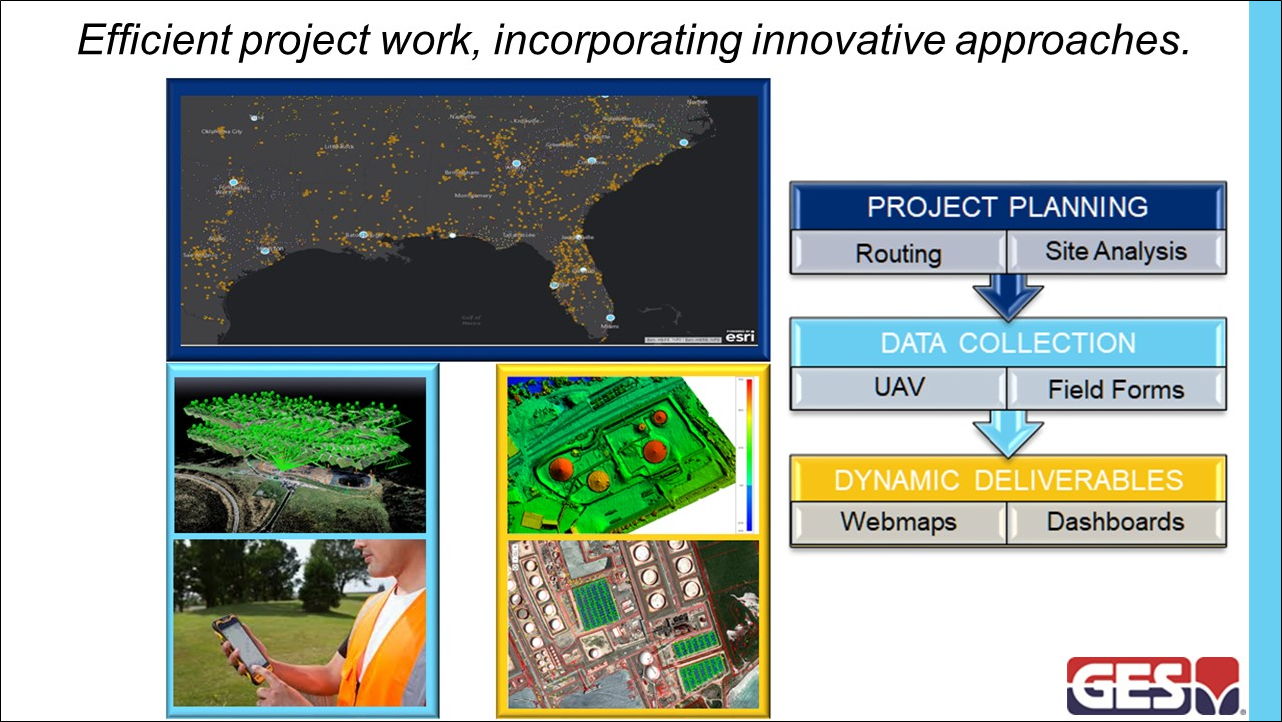 Identified Topics for Future Meetings
We hope you enjoyed this event and content, and we would love to hear from you about what we should talk about in the future. To get started, the following are a few topics from our panelists:
Climate change, green infrastructure, and sustainability
Environmental data management, visualization, and software integrations
Field data collection, real-time monitoring, and offline remote work
Unmanned aerial vehicles (UAV) or drones and artificial intelligence (AI) use in environmental projects
Digital environmental reporting and submissions
Please share on the Esri Community your project experiences related to these topics for speaker consideration at one of our next events
"GIS Improves Field Operations for Environmental Projects" on-demand webinar recording
We covered the topic of field data collection, real-time monitoring, and offline remote work in our webinar on April 28, 2021. Watch the on-demand recording here.