"Everything needs to be mobile friendly."
"Make it easier to get started."
"We need public maps that are easy to use for all residents."
"Remove map and app redundancy."
You asked, and Esri delivered.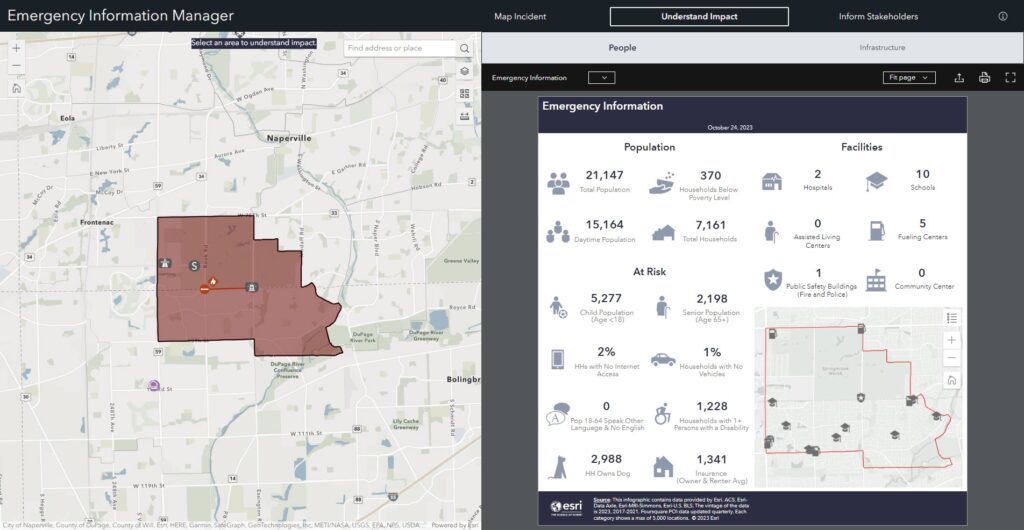 On November 9, 2023, Esri released an update to the Emergency Management Operations solution. The release marks the first in a series of new emergency management solutions that are set to roll out over the coming months. The Emergency Management Operations solution delivers a set of capabilities that help emergency management agencies clearly understand the impact of an incident, maintain situational awareness, and communicate essential emergency information.
Relying on industry feedback, the Esri emergency management team has been hard at work developing a new solution that will help make emergency managers' jobs easier. And while it's technically a solution update, we think you'll find that it's been completely reimagined with our end user in mind.
So, here's what's changed since the last solution was developed:
We've lowered the barrier to access our geographic information system (GIS) tools. The new mobile-friendly design reduces the technical requirements needed to leverage and use the Emergency Management Operations solution by making it simpler and more accessible to use. Still want to use the solution on your laptop or PC? It works there too.
There is absolutely no data loading required (though it's always welcome!). That means, you no longer have to load your initial data before using the solution. You can literally deploy it and go.
Simpler and more streamlined workflows allow advanced users to extend the solution's capability with ease. Does your organization have its own data? Do you want to configure the solution to your specific workflows? That's great too! The solution can handle it.
Designing GIS solutions before disasters strike is ideal, but it's not always feasible for emergency management organizations without their own GIS capability. The new solution is designed to be deployed, when needed, by either an experienced GIS user or a newcomer.
Redundancy in maps and apps has been removed:

The capabilities of Situation Awareness and Operations Response are combined into one app.

The Incident Status dashboard and Incident Briefing have also been combined into one app.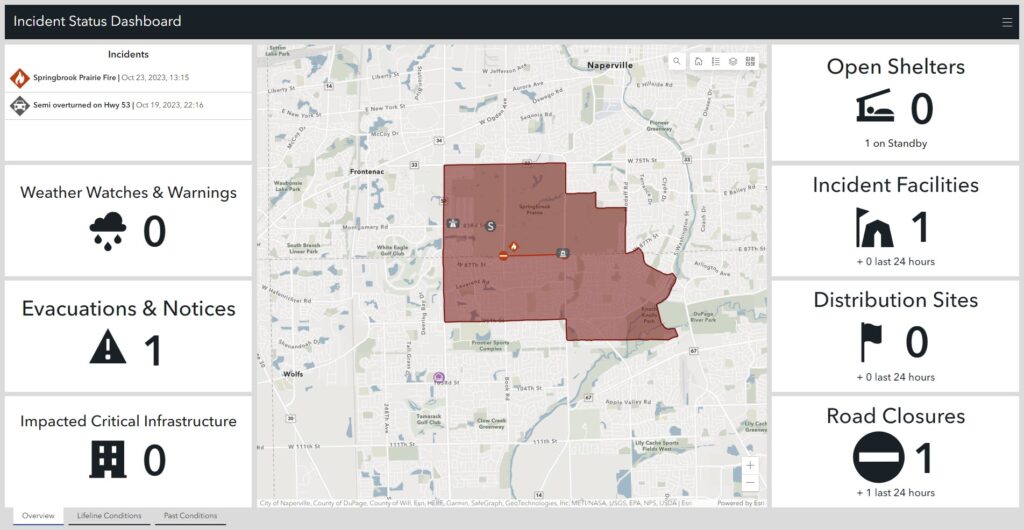 Who Is the Solution For?
The solution is scalable and flexible to fit your emergency management organization's needs. Regardless of your organization's GIS capability, the solution's user interface is designed for both novice and expert users. It can be deployed onto your device and used immediately for an ongoing incident, or you can load your own datasets and configure the solution to your organization's workflows. This flexibility means that GIS is now accessible to all emergency management organizations with active ArcGIS licenses.
Whether the emergency is small or large, the solution includes a series of capabilities that allow you to maintain situational awareness, share essential information with the public, and manage your community lifelines—all while providing the geographic context needed to make response and recovery decisions. Additionally, like other Esri solutions, it can be deployed in tandem with your incident management system.
What Does It Do?
With this solution, you are able to
Maintain situational awareness.

Understand the impact of an incident on infrastructure and people to develop an appropriate response.

Document incident information to brief key decision-makers during an incident.

Monitor response activities in order to measure progress on incident objectives.

Document the status of Community Lifelines in order to quickly communicate disruptions to critical services, and the plans to restore them.

Share essential information with the public.

Document an incident's status to effectively communicate current conditions to the public.

Provide a destination website to help you communicate the impact of an incident to the public, what course of action should be taken, and the resources available to the community.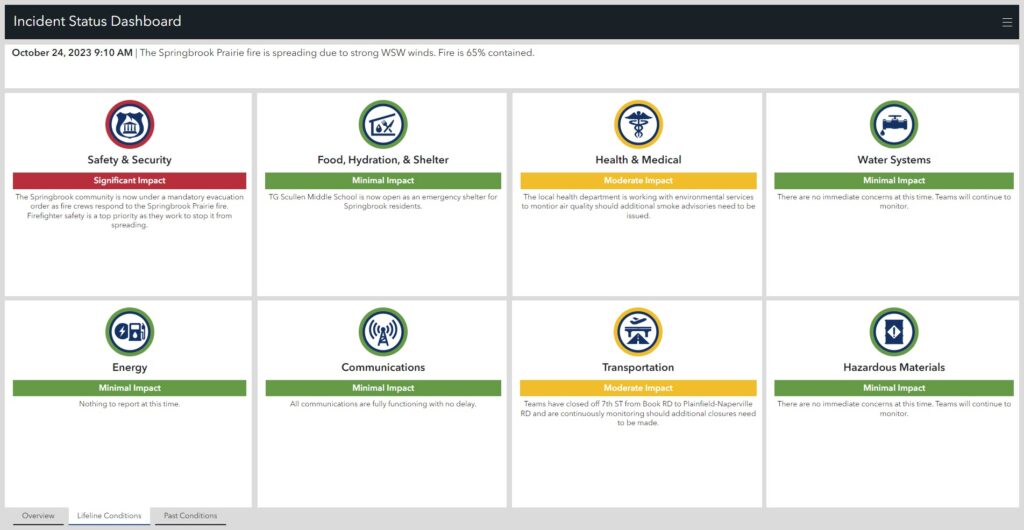 Now, on to the good stuff! Want to see what it's all about? Click here to deploy the solution. Happy mapping!
To learn more about how Esri supports Emergency Management, click here.