This is the fourth article in a five-part series that highlights new capabilities in the Business Analyst extension for ArcGIS Pro 2.7, released in December 2020.  Other articles in this series can be viewed here.
With the ArcGIS Business Analyst extension, you can create, balance, and edit sales regions, service areas, or franchise zones. A Territory Solution is a group layer that contains a base (or alignment) layer and a territory layer. Additional levels (such as regions and districts) and layers (such as seed points and boundaries) can be added to help with analysis. The latest release of the Business Analyst extension for ArcGIS Pro contains significant performance improvements to the Territory Design toolset.
Performance improvements with large polygon datasets 
Creating territory solutions comprised of large datasets will process more quickly than ever. As a comparison, processing time for a territory solution created from all US Census Block Groups (over 217,000!) would be approximately twenty minutes using ArcGIS Pro 2.6 (Figure 1). This same task in 2.7 now takes approximately three minutes (that's a 147% difference!). This drastic improvement is the result of refining the logic in the spatial index creation – which means geographic arguments are resolved more quickly.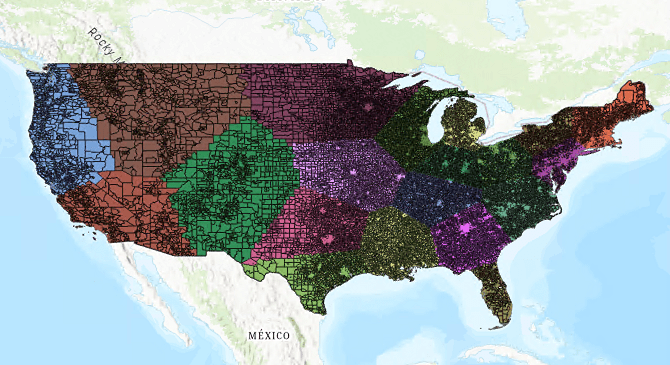 Performance improvements using point datasets
You'll also notice improvements for point-based territory solutions. To build territories using points, Business Analyst constructs Thiessen polygons to form internal boundaries. In ArcGIS Pro 2.7 we've made the creation of these Thiessen boundaries much more efficient, resulting in a significantly shorter processing time. For example, the creation of a territory solution using centroids of all the US Census Block Groups in the continental US (Figure 2) would previously take hours (or even days!) using ArcGIS Pro 2.6. In 2.7, this same territory solution can be created in less than an hour. Thanks to this improved processing time, point-based territory design in Business Analyst is faster than ever.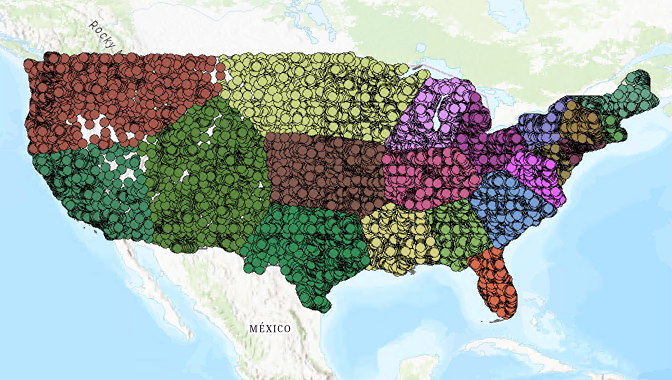 What this means for you
Designing territories allows the user to assess, understand, and balance operational efficiency across geographies. This release improves the territory design experience, greatly speeding up the creation of a territory solution when using large datasets and point features. These 2.7 enhancements mean you can minimize processing time and get straight to the important work of making crucial, location-intelligent decisions for your sales regions or service areas.
Additional information about these enhancements can be found in the ArcGIS Pro documentation for Territory Design. We're so happy to share these enhancements with you.  Please reach out and let us know if you have any questions about Territory Design tools or any other capabilities in ArcGIS Business Analyst.
Email the team: businessanalyst@esri.com
Below you can find some links for Business Analyst that you may find useful.