ArcGIS Field Maps is a powerful mobile app solution that streamlines field workflows for exploring maps, collecting and updating data, and sharing where mobile workers are and where they have gone, all within a single location-aware mobile app. 
The November release is our last major update to ArcGIS Field Maps in 2022 and includes many exciting new capabilities:
Geofencing support for buffered points and lines
Enhanced Indoor capabilities with indoor editing, geofencing, and location sharing
Pop-up elements with Arcade and charting capabilities
Dynamic filtering of layers on the map
Create maps and layers
Several QoL (Quality of Life) enhancements
Geofencing
Adding geofences to your map allows you to define areas that, when entered or exited, trigger actions in the Field Maps mobile app. Location alerts notify mobile users when entering dangerous or restricted areas, provide critical information when approaching a building, and more. Location sharing actions enable or disable location sharing when mobile workers enter or exit an area. For example, you may only want location sharing enabled when mobile workers are on company property or within an event area.
Actions are triggered based upon the enter or exit of an area. With the November release of ArcGIS Field Maps, we enhanced the location banner to better support IPS locations. The quality of the IPS location is now displayed directly in the banner, and the location details include additional information, such as source type, floor, and number of transmitters. You can provide local location alerts when a mobile worker crosses a barrier or gate, or enable location sharing within proximity of a given point of interest or asset.
Also in the November release, you can control which features are used as geofences by applying filters. For example, a filter can be added to a park boundary layer so only hazardous boundaries are used to create the geofence.
Geofencing is available in ArcGIS Online and ArcGIS Enterprise 11.1+.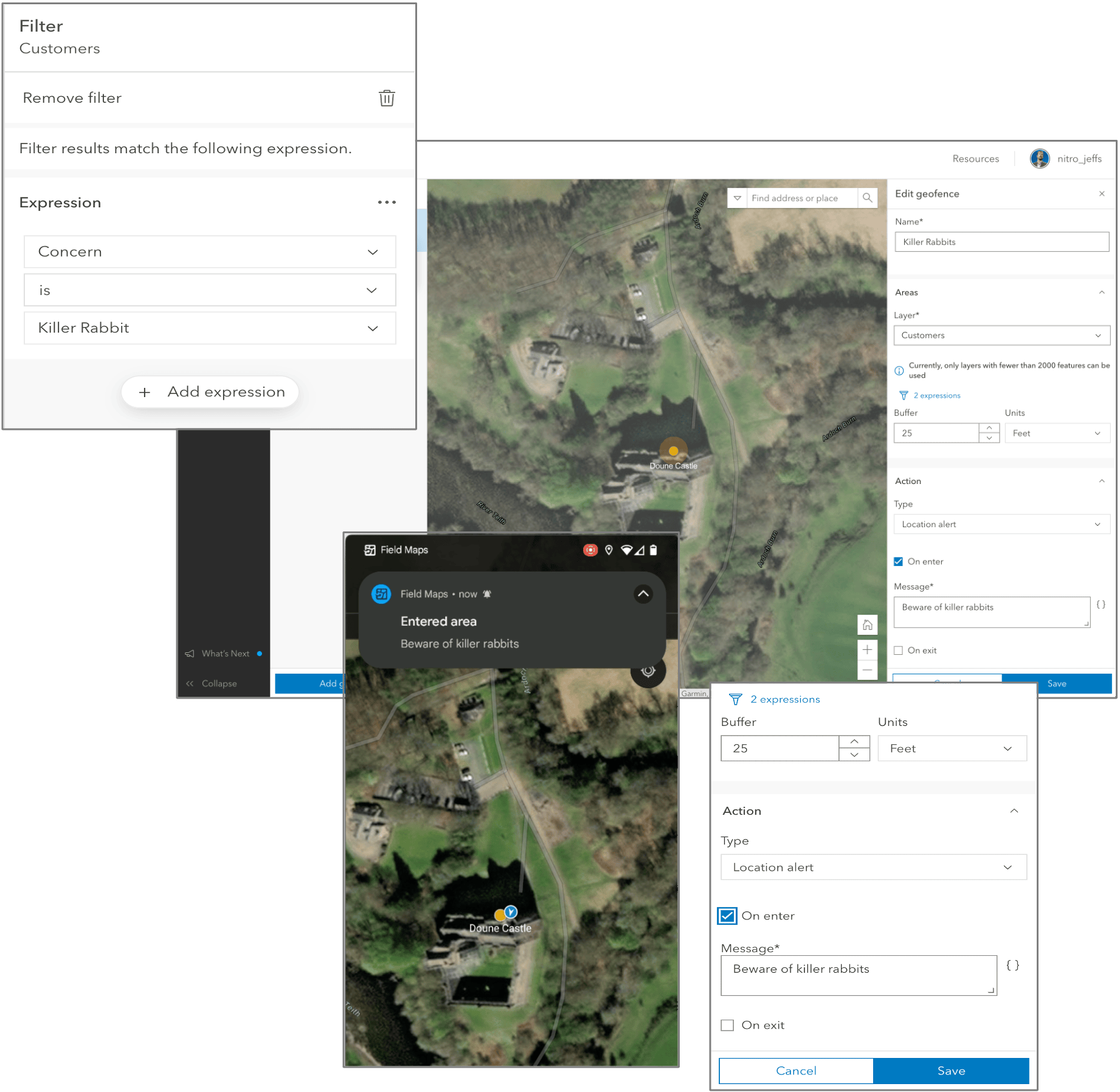 Indoors
ArcGIS Field Maps works great indoors as well as outdoors! Following our initial integration of a floor filter and ArcGIS IPS, we are continuing to add additional indoor capabilities.
With the November release of ArcGIS Field Maps, we've enhanced the GPS banner to better support IPS locations by presenting quality information directly in the banner and details such as the source type, floor and transmitters in the location details panel.
If your map is floor-aware and enabled for editing, you can edit indoor features. When you begin collecting data on a floor-aware layer, the floor value for the feature is automatically generated based on the Floor filter selection.
Support for ArcGIS Indoors and ArcGIS IPS is available in ArcGIS Online and ArcGIS Enterprise 11.0+.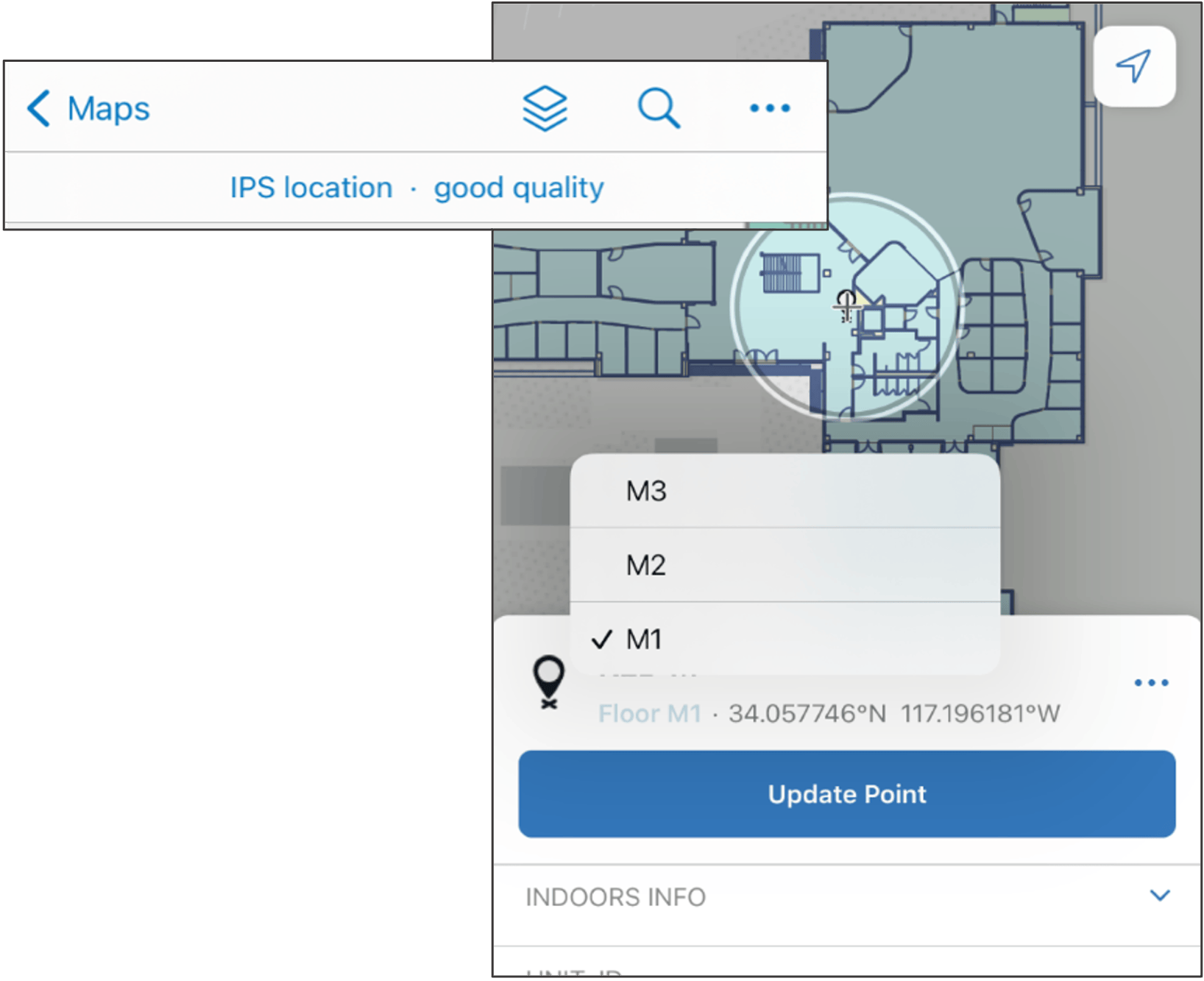 Pop-up elements
When mobile workers view information about features on the map, they are viewing the pop-up you created for that feature. When creating your map, it's important to configure the pop-up of a layer with the information mobile workers need to discover.
With the November release of ArcGIS Field Maps, we're adding support for pop-up elements authored in the new Map Viewer. Now you can provide a curated, informative, dynamic, and compelling experience for both web and mobile users. This includes support for charts! Read more about configuring a pop-up in our documentation.
Pop-up element support is available in ArcGIS Online and ArcGIS Enterprise 11.1+.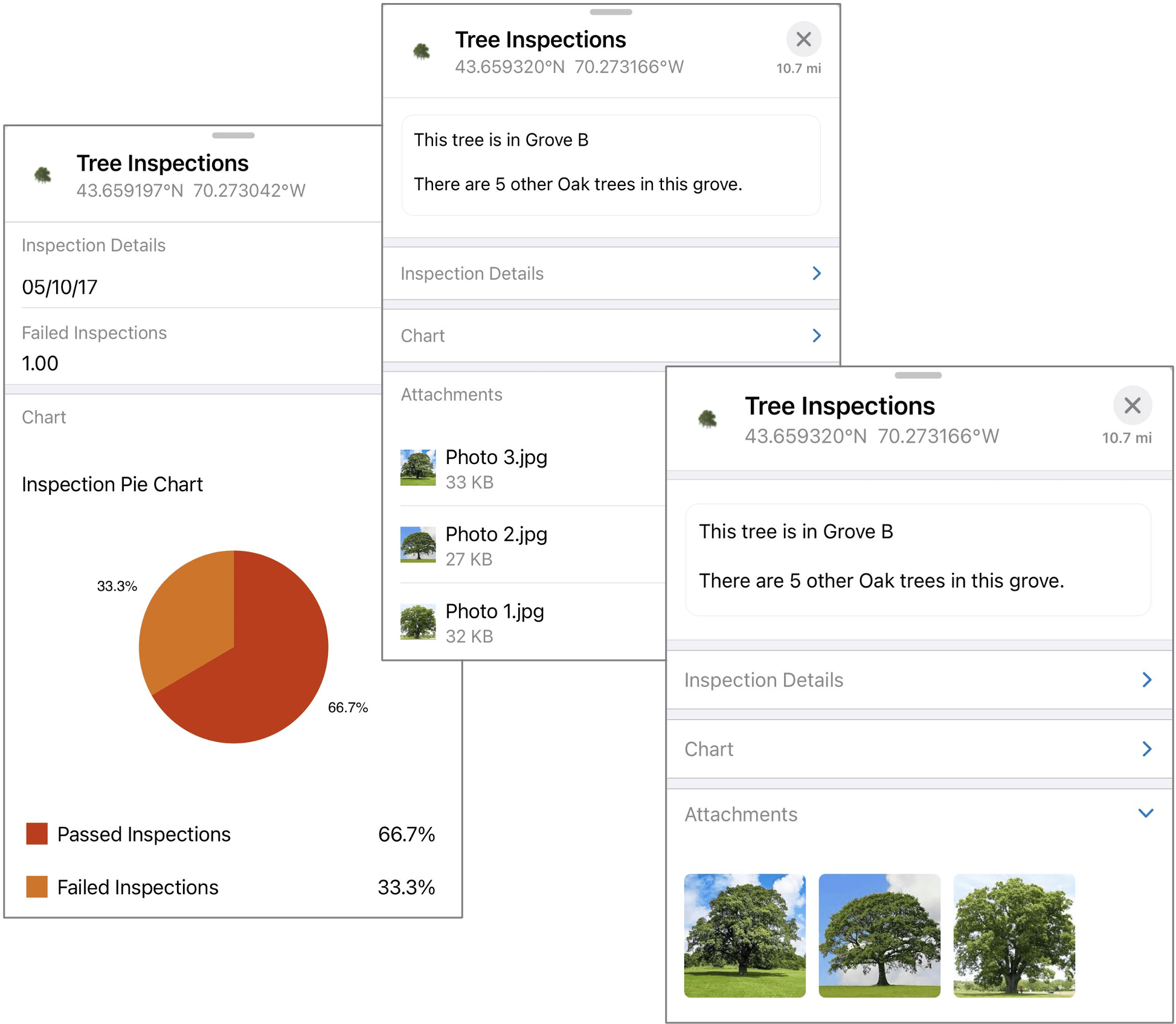 Layer filters
The top-most requested enhancement from Esri Community, layer filters, allows mobile users to control and limit the visibility of features within feature layers on the map. Rather than defining a static filter at the map or feature layer/view, layer filters in Field Maps provide a way for each individual mobile user to filter based on their current task.
With the November release, fields with coded value domains (text, numeric) and text fields without an associated domain support filtering.
Layer filters can be defined and controlled by the map author in the Field Maps web app, and used in Field Maps mobile app on Android and iOS. They are configured from the App Settings tab in the web app.
Layer Filtering support is available in ArcGIS Online and ArcGIS Enterprise 11.1+.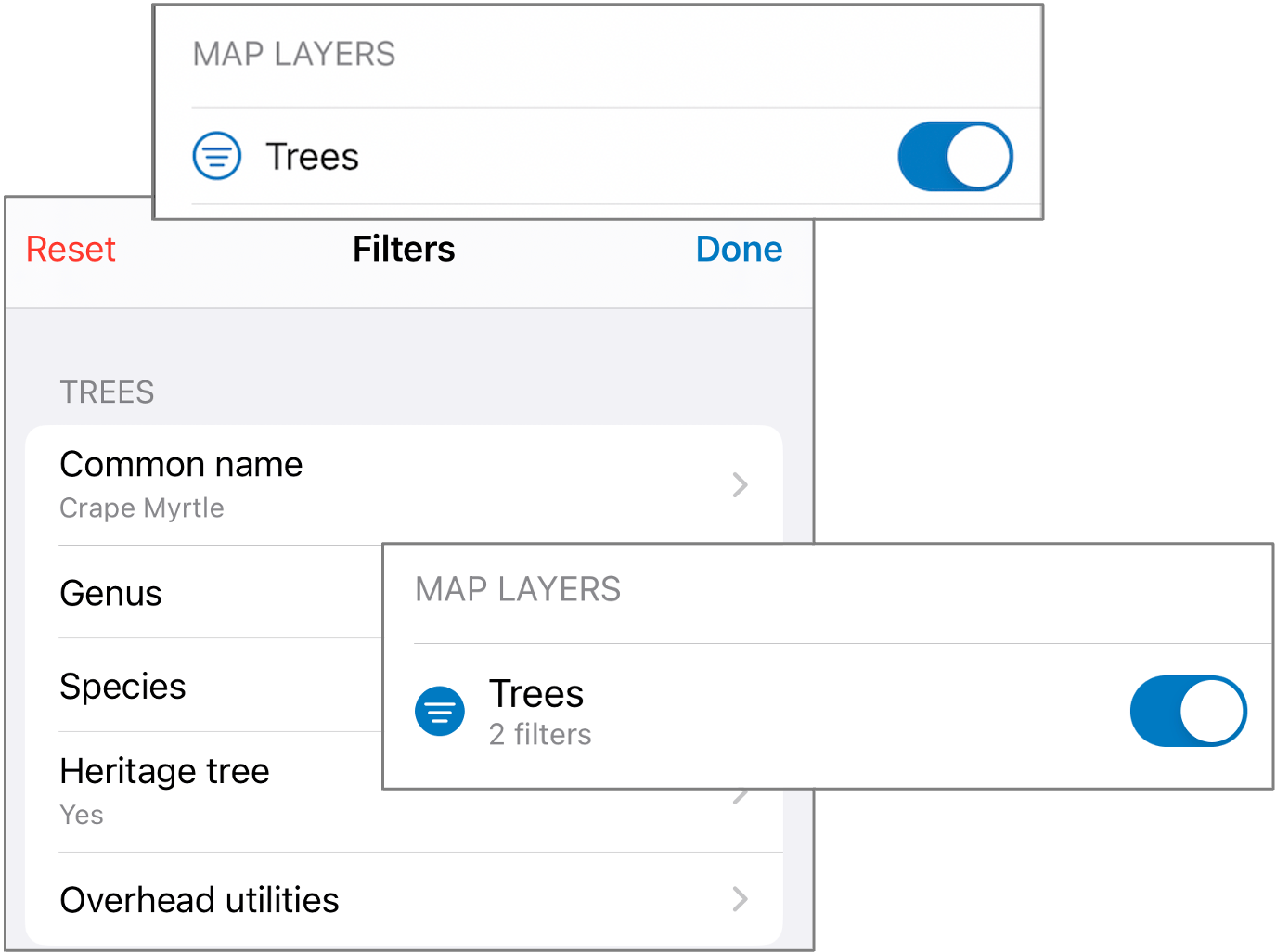 Creating maps
If you're getting started with a new data collection project, you can create a map and the layers it contains using the Field Maps web app. Each layer you create is automatically enabled for editing, so you can immediately begin building the forms used for data collection after creating the map.
The New map page includes on-screen instructions that guide you through the map creation process. Defining the layers used for data collection, you can create multiple point, line, or polygon layers. If your project demands capture using high-accuracy GPS receivers, you can enable GPS metadata fields for all layer types, and if capturing elevation, you can enable z-values on all layers.
Once created, you can then configure the form for each layer. Adding basic or choice form elements will create new fields automatically so you can quickly deploy your data collection project.
Creating new maps is available in ArcGIS Online and ArcGIS Enterprise 11.1+.
QoL improvements
In addition to all of the wonderful new capabilities mentioned above, the November release has several quality of life enhancements that will improve the way you use Field Maps.
Access online versions of downloaded maps
You can access the online version of the map by tapping the map card in the Online map section of the map areas list. You no longer need to provide online and offline versions of your map.
Form improvements
When mobile workers are filling out the form, they may enter values for fields that become hidden due to conditional visibility rules. You can decide whether values that become hidden are preserved in the layer by enabling or disabling the check box under Field values in the Form settings panel of the Form builder.
These form improvements are available in ArcGIS Online and ArcGIS Enterprise 11.1+.
Data Capture improvements
You can decide whether the map centers on your location when collecting new features from the App settings page in the Field Maps web app. There are 3 options:
Center the map and add a point at your location

—When collecting a new feature, the map centers at your location and a point is automatically added.

Center the map at your location

—When collecting a new feature, the map centers at your location without adding a point.

No changes to the map

—When collecting a new feature, the map does not center on your location and no point is added.
We've added snapping as a position source when capturing GPS metadata so that you can account for manually placed positions that may inherit spatial accuracy because they may have snapped to an existing location captured using GPS.
When using Trimble GNSS receivers, like the DA2, we've updated to the latest, released version of the TPSDK. This update includes support for local deformation models to further improve time-based transformations in areas of large tectonic movement within plate boundaries (where such models are available), providing accurate positions no matter where you are collecting data.
These data capture improvements available in ArcGIS Online and ArcGIS Enterprise 11.1+.
App Links
In this update, you'll find a new addition to the use of app links. When using referenceContext=center, you'll find an additional &center parameter that will drop a pin at the specified location.
New App Link capabilities are available in the ArcGIS Field Maps mobile app and are supported across versions of ArcGIS Online and ArcGIS Enterprise.
Nested group layers
If your map contains nested group layers (group layers within group layers), they are now supported in the Field Maps web app.
Nested group layer support is available in ArcGIS Online and ArcGIS Enterprise 11.1+.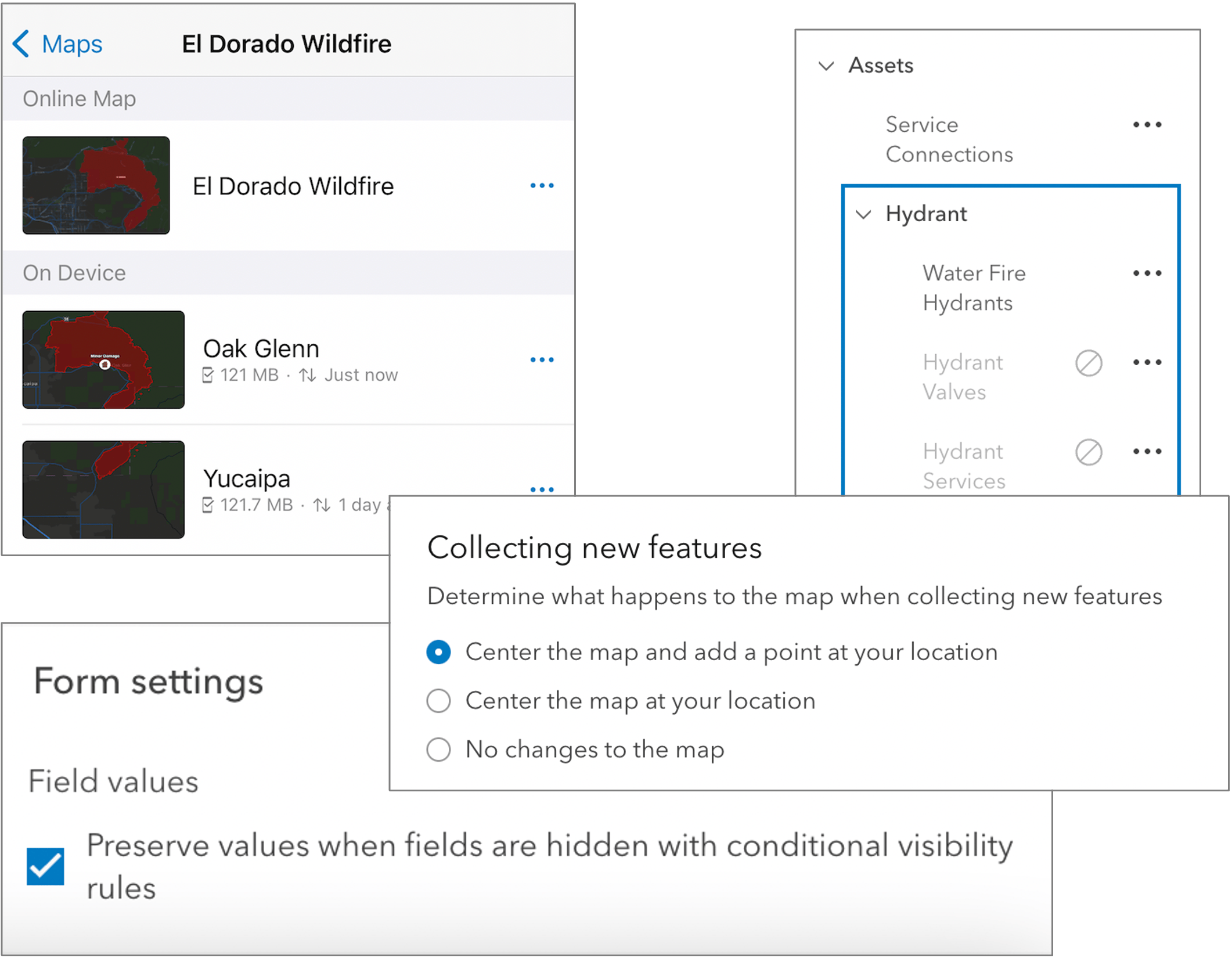 What's Next
This is the last major release of ArcGIS Field Maps in 2022. We've introduced a lot of exciting new capabilities in this update and in previous releases this year. Here is a look back at our 2022 updates:
March 2022 release – calculated expressions, linear referencing support, creating new basic and choice form elements, and pushing location profiles to devices via an MDM.
May 2022 release – focused update that introduced support for contingent values.
June 2022 release – many new capabilities including Utility Network support, geofencing, ArcGIS IPS, and GPS metadata support for lines and polygons and new partner integrations.
We are about to kick off our development efforts for 2023 and it will be an exciting year for Field Maps. We have a number of focused enhancements planned for a February release, and later in the year will bring planning and coordination of mobile work into the product. We will be sharing more about new capabilities coming in 2023 early next year and will announce beta opportunities when available.
Our development efforts are driven by your needs. Please let us know how we are doing and what you would like to see in future releases of ArcGIS Field Maps by sharing on the Esri Community Ideas board.