ArcGIS Field Maps is a powerful all-in-one mobile app solution used to complete field work faster, more efficiently, and more accurately.
Field Maps is used to explore maps, collect and update authoritative data, and record and share where mobile workers have gone in a single, location-aware mobile app. Using the Field Maps web app included with ArcGIS Online and ArcGIS Enterprise, GIS analysts configure maps, forms, and app settings to provide a focused experience for their mobile workforce.
Contingent Values
The May 2022 release of Field Maps introduces support for contingent values. Contingent values are commonly used to model natural classifications (trees, plants, wildlife) or material classifications for assets (poles, pipes) and can dramatically improve the efficiency and accuracy of form data capture in ArcGIS Field Maps.
Contingent values, created and managed using ArcGIS Pro, allow you to define valid field values that are dependent on values in other fields. Fields that are contingent to one another are referred to as a field group. When a field group is included in a form, mobile workers are presented with a list of valid values for each field that are contingent to a field they previously filled out.
Consider a field group with input types for the common name, genus and species classification of trees. When a genus is chosen (Eucalyptus for example) the list of valid options for the Common Name field are automatically populated and listed under the Recommended section. All other values in the last are available in the Other section.
If you select one or more values in a field group (White Ironbark for example), and the remaining fields in the group contain only one Recommended value, those remaining fields will be filled in automatically.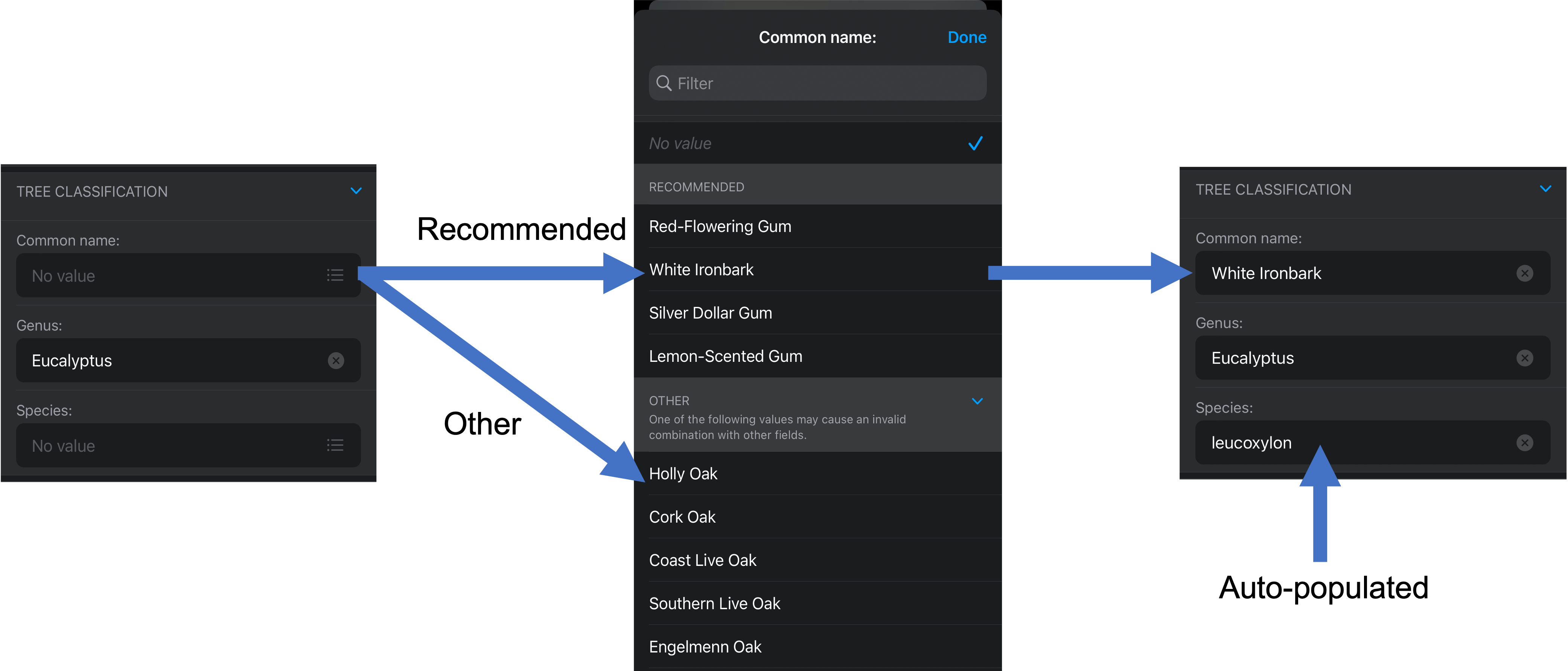 For more information about what's new in the May release, please read the What's New topic in our documentation.
What's Next
We're planning an update to ArcGIS Workforce that will be coming this month. This update to the Android and iOS apps will include support for auto-sync when the app is in the background along with several quality improvements. We're also busy planning the integration of Workforce planning capabilities into ArcGIS Field Maps as well.
We are planning to release the following capabilities in our June update to ArcGIS Field Maps: