It's 2:14 am and construction is about to cut the wrong fiber, they just don't know it. When they do, it's going cause a critical site to go down, multiple calls will have to be made, VPs will be awoken, and the next 4 hours spent on the outage call will be filled with stress and lots of questions. The following three days will come with 37 emails and 4 meetings focused on lessons learned and root causes of the event. Ultimately, the cause of this event will be identified as "Bad Fiber Documentation".
While this example is fictional in nature, I've worked through situations like this far too many times in my career. Whether it was as a Headend Technician, a Headend Supervisor, or as a Planning and Design Manager, we periodically found ourselves having to answer statements such as "your design didn't work", "the documentation was wrong", or "why did actual costs deviate so much from the estimate design". In almost every case, the cause of the issue was inaccurate information being used at the beginning of the project lifecycle.
However, to take it a step further, the "bad documentation" is not the true root of the issue. The real problem was cultural in nature and is rooted in a culture of "you can just ask me" or "ill update all the records at one time, after the work is done". These decisions are made countless times per day, at countless communication service providers, and have devastating effects on the company and the surrounding community. I know that might sound a bit harsh, but think about it. In telecommunications the network maps are the digital representation of the real-world infrastructure and serve as a foundation for the organization. Without them, a company has no capability of creating strategy and tactics for delivering and maintaining products and services for consumers.
So, what if part of the culture of a telecom team was just that – obsessive about network maps and documentation being as accurate at possible? What if any and all moves, adds, changes were submitted updates to your maps and databases and available in real-time? Well, I truly believe if this behavior was part of the cultural principles of operations for a telecom it would positively impact the capabilities for decision-making profoundly. Teams could reduce time to market, improve customer satisfaction by preventing self-inflicted outages, confidently make intelligent decisions, and much more.
System of Engagement Overview
When we share information about ArcGIS, we talk about it being a comprehensive GIS consisting of three systems: a system of record, system of insight, and a system of engagement. Today I'd like to focus on just one portion of the ArcGIS ecosystem and talk about what a system of engagement means, and some of the ways it helps telecommunications organizations in their daily operations.
When Jack talks about GIS as The Science of Where, he provides great details about how it provides the framework and process, and serves as the foundation for a geospatial system. With GIS we're able to sense and learn from the world around us through measurement, visualization and mapping. We're able to gain understanding through analysis and modeling, and then create successful responses to situations with intelligent decision-making before taking action. In this article, we'll talk about how a system of engagement aides telecoms deliver the best possible decision making and actions.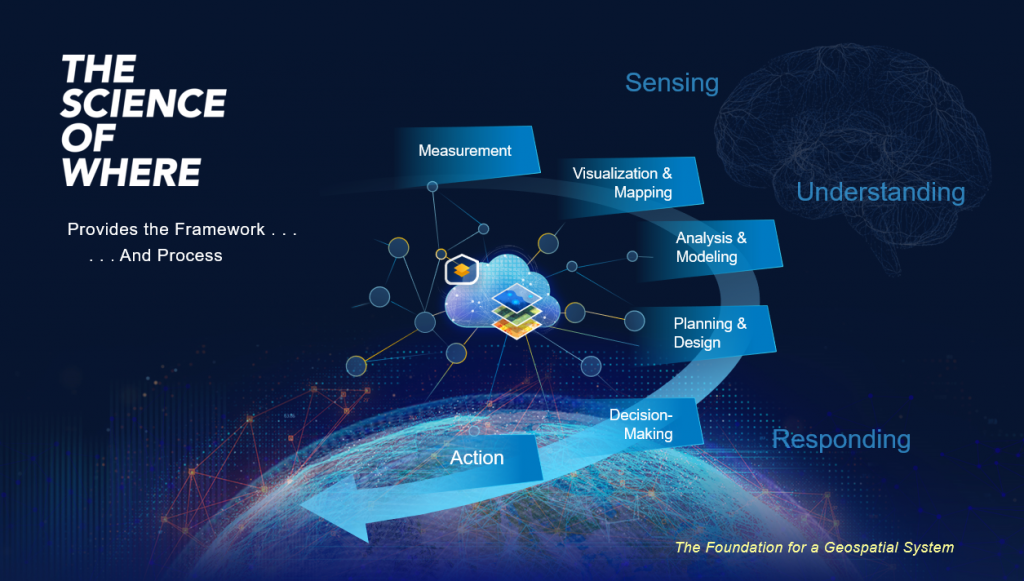 So, what is a system of engagement? At a high level, it provides your organization the maps, data, and applications your teams leverage each day. A system of engagement provides capabilities such as mobile first applications, in-house and subcontractor crew collaboration, real-time progress updates, field worker tracking, and intelligent routing all over a secured enterprise environment. Simply put, it provides an organization the tools and information they need for getting the job done.
Now, let's talk about how a company can leverage a system of engagement to gain understanding before acting and provide the best possible information for intelligent decision-making.
Continuous improvement model – a foundation for operational excellence
On any given day in the telecommunications industry, millions of decisions are made, actions are taken, and outcomes achieved. Team members will reference their systems of record, containing information such as customer records, parcel boundaries, network infrastructure design, fiber documentation, wireless coverage patterns, and much more, and use this information to make decisions. The outcome of these decisions, and their subsequent actions, will only be as good as the quality of information available to them.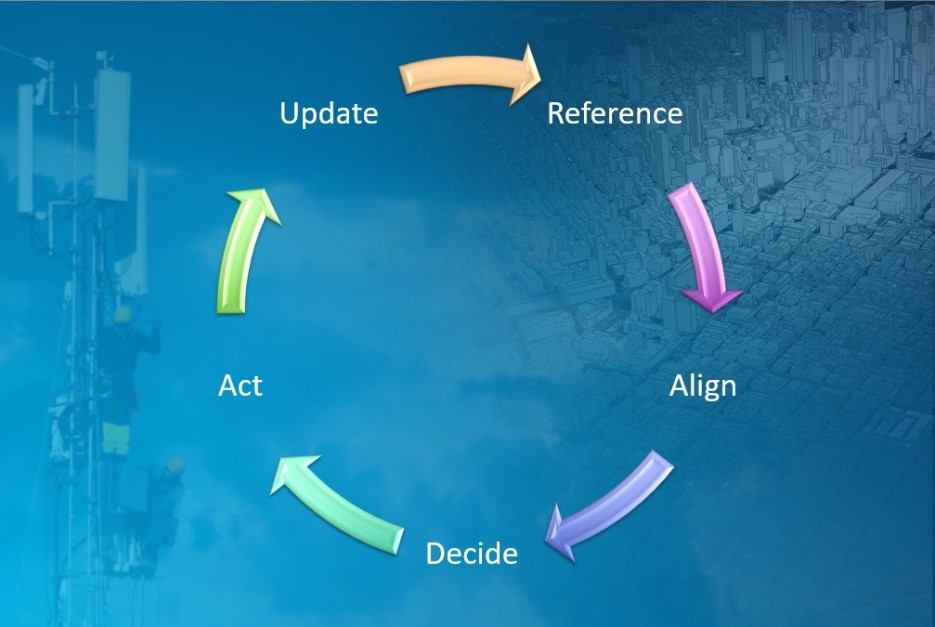 Throughout my career I've used a continuous improvement model to increase information accuracy and worked it in to the processes and behaviors of my teams. Now, this process happens hundreds of times a day, all day, every day, throughout all aspects of our lives. However, in our work lives, out of the five steps the last one was the most important and is far too often not performed – update. Whether it is due to a lack of process, cumbersome tools with no feedback loop, or a cultural lack of importance within an organization, information updates are often not performed and the "bad documentation" persists and impacts future decisions and outcomes.
However, there's a comprehensive solution teams can leverage to improve the accuracy of their data, documentation, and maps, while also realizing improvements throughout their operations. I'd like to break down each section of this model and highlight how a system of engagement in ArcGIS helps organizations achieve the greatest outcomes.
Reference
Team members can leverage a variety of out of the box applications such as ArcGIS Field Maps, or easily created purpose-built web apps to reference data and information contained in a system of record. Through these applications, team members can quickly and easily reference assets like maps, customer data, fiber documentation and splice records, parcel and city boundaries, capacity metrics, points of interest, and much more.
Furthermore, by utilizing pervasive access organizations can provide secure access to content, applications, and resources the user is provided access to based on their role. At this step, the accuracy and quality of information available is critical to the outcome of all decisions and actions.
Align
With real-time information available in both field and office settings, via desktop or mobile applications, staff can gain understanding and complete situational awareness before deciding. They can study and align with what data and information is providing them, and then decide what to do. This information might be safety or security intel, designed signal levels, region growth patterns and forecasts, new customer project information, quality of service metrics, or coverage pattern analysis.
Decide
Whether the decision requires one person or a team of people, ArcGIS provides an ecosystem purposely designed for enterprise collaboration. By using powerful modeling and analysis tools provided by the system of insight, teams are best prepared to make intelligent decisions. Team members can determine the best course of action, based on understanding of information and needs, and then create the best possible plans to act on.
An example might look like a network designer modeling a proposed tower location and assessing the impacts terrain and vegetation will have on coverage and quality of service. They can then determine the ideal route to feed the site, estimate costs, and gauge permitting needs for the build. This can be done in a digital format, and decisions made, before taking any action in spending time or money for field surveys.
Act
Organizations can utilize a variety of applications when taking action. Fulfillment and operations teams can utilize ArcGIS Workflow Manager or ArcGIS Workforce for issuing work to and from the field. Field technicians can leverage a variety of out of the box field mobile applications, or work with a variety of business partners to create purpose built mobile applications, for looking up construction plans or fiber documentation, submitting field as-built updates, referencing access codes or site details, and much more.
Update
Lastly, one of the most important steps in the continuous improvement model is to update the system of record. Throughout the organization, teams can leverage the system of engagement to collaborate, learn from actions, determine where areas for improvement exist, document key data for use at later date, and update virtual documents and records to reflect real world status and information. If this step is not done, the next decision made will be impacted be the lack of accuracy in the data and information.
In the beginning I used the example of the construction teams about the cut the wrong fiber but didn't know it. In this example, the decision made by a designer was based on the information available to them in their network design and fiber documentation. What the designer didn't know was that there was a damaged fiber two weeks earlier and a central office technician moved the active site over to a new fiber. Unfortunately, the documentation update was never submitted so the designer based their decision on what appeared to be a vacant dark fiber.
Summary
Throughout the lifecycle of operations, telecommunications organizations can leverage ArcGIS and a system of engagement to continually improve their operations. With it, companies gain the capability for enterprise collaboration, coordinated and streamlined operations, secure and controlled access, real-time communication, navigation and tracking, and much more.
To learn more about how ArcGIS can aide your operations, or start up a conversation, click here.