Concord Township is a small township located in Southeast Pennsylvania, with a population of approximately 18,000 and covering just over 13 square miles. The township faced challenges in managing its data and integrating geographic information system (GIS) technology into its operations due to budget constraints and a lack of in-house expertise.
To address these challenges, the township partnered with Pennoni, a multidisciplinary engineering firm with over 50 years of experience. Pennoni specializes in modernizing municipal infrastructure management through the development and implementation of GIS applications.
Challenge
Concord Township recognized the growing importance of spatial data in its day-to-day responsibilities and tasks as a municipality and sought to transition from traditional reports to visualizing and accessing data through maps. The township required GIS capabilities in its day-to-day operations but faced budget constraints in terms of staff and software procurement. Additionally, pinpointing infrastructure assets in the field posed a considerable challenge.
Converting historical data, which was available in various formats such as CAD and PDF, into a GIS-compatible format was essential to digitize its workflows effectively.
Solution
Pennoni leveraged its expertise and cutting-edge GIS tools, including ArcGIS Web AppBuilder, ArcGIS Pro, and a Project Delivery Subscription, to provide a tailored solution for Concord Township. This solution encompasses a wide range of functionalities:
Data Conversion and Creation: The Pennoni GIS team converted existing data from CAD, PDF, and other sources the Township managed into geospatial layers, providing a centralized record of truth for all departments and users to access.
Data Integration: The GIS application integrates soils and wetlands data, map services from county and state agencies, federal data layers for informational purposes, and external data sources such as data from the Federal Emergency Management Agency (FEMA) and the Environmental Protection Agency (EPA). Ancillary layers that enriched the context of land development and other township activities were incorporated as well.
Thematic Apps: Pennoni generated thematic apps for various purposes, such as a road program app displaying information on paved roads, an open space planning app to track existing assets, and a snowplow app for route planning and status updates. These apps cater to a diverse range of stakeholders, from field personnel to executive staff, inspectors, and professionals.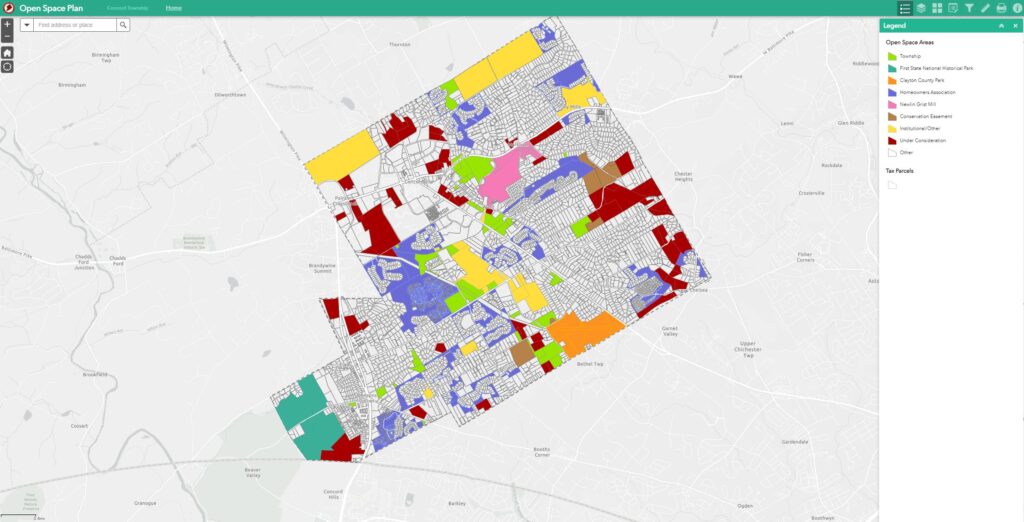 Enhanced Services: Pennoni also developed specialized apps, including a Polling Location Lookup app for office staff to inform residents on their voter precinct and an Emergency Management application used for inspection and taxation that shows the location of fire hydrants, aiding in assessment for hydrant fees.
Streamlined Processes: The integration of GIS solutions enables streamlined processes in various areas, from responding to Pennsylvania One Call system requests to managing stormwater and sewer systems. Inspectors are using ArcGIS Survey123 and ArcGIS Field Maps for data collection, filling out forms that Pennsylvania requires for statewide Municipal Separate Storm Sewer System (MS4) regulations. Sewer engineers are using the same tools while in the field, making corrections and updates to the data as they work. These solutions not only improved efficiency but also ensured regulatory compliance.
Innovative Roadway Inventory Solution: The smart roadway inventory application, integrated into the township's GIS is a third-party application that utilizes AI to assess and categorize road conditions. Camera-equipped vehicles capture images every 10 seconds, and the images are run through an AI algorithm that assigns condition rankings, enabling the creation of geospatial data layers. This data, updated every few years, allows for more objective and accurate capital planning and scheduling of road improvements.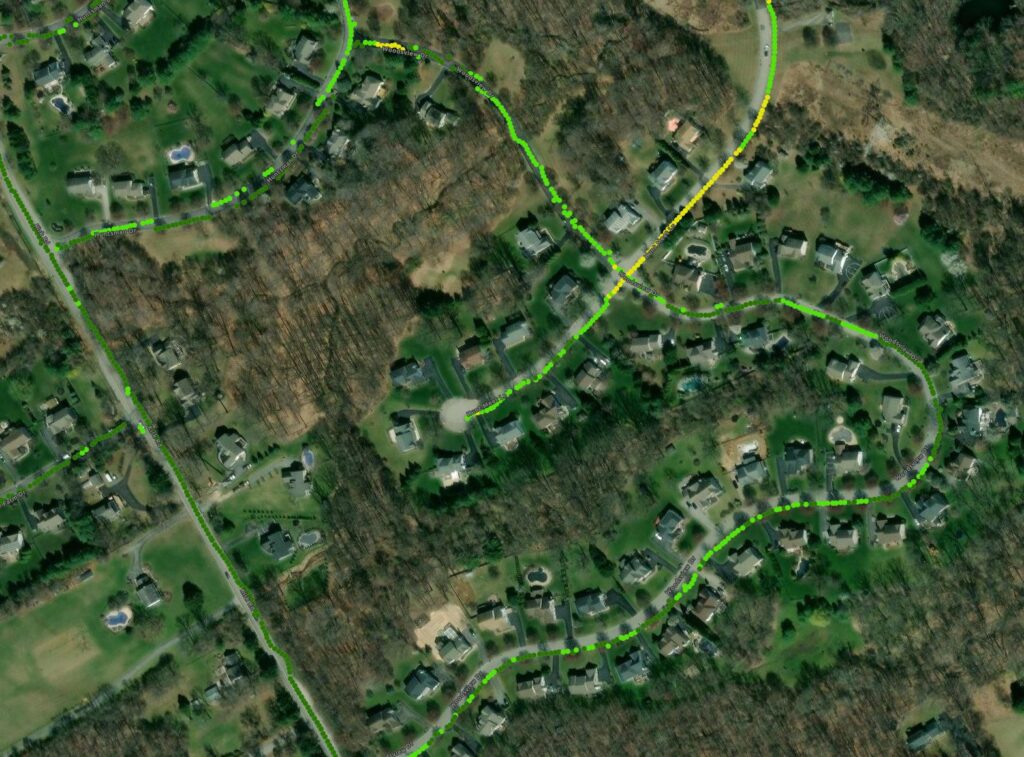 Results
Concord Township has experienced numerous benefits from its partnership with Pennoni and the implementation of GIS solutions:
Streamlined Workflows: The township's utility network mapping in the field has become more efficient, facilitating updates to the system and aiding in asset tracking, maintenance, and management.
Effective Roadway Planning: The roadway application is instrumental in capital planning, road improvement budgeting, and scheduling. The AI-based data collection process ensures road condition data remains current.
Enhanced Resident Services: The township can now offer residents valuable information, such as snowplow routes, through user-friendly GIS applications, reducing the need for routine inquiries.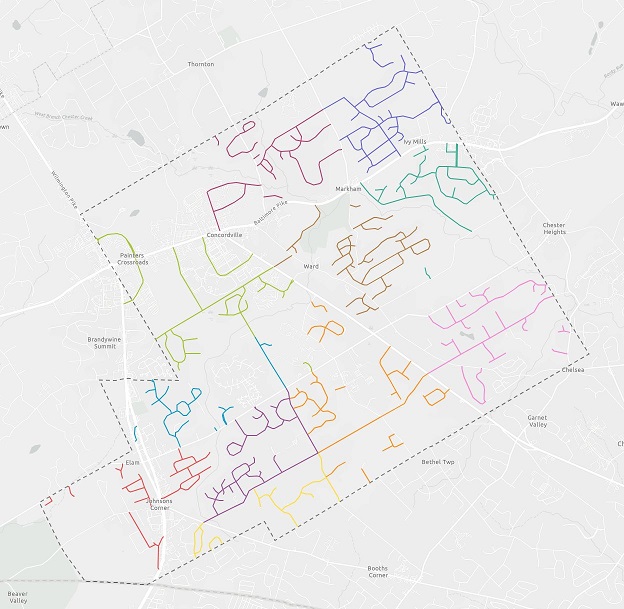 Spatial Analysis: GIS tools have enabled better planning and decision-making, including understanding development areas and approvals within the township and how they relate to existing built infrastructure and their impacts on municipal services.
Long-Term Data Insights: With a decade's worth of historical data, the township can make informed decisions about past road maintenance and other projects.
The township has been able to expand the GIS to engineering firms and other companies that provide them services, keeping the data centralized as one record of truth.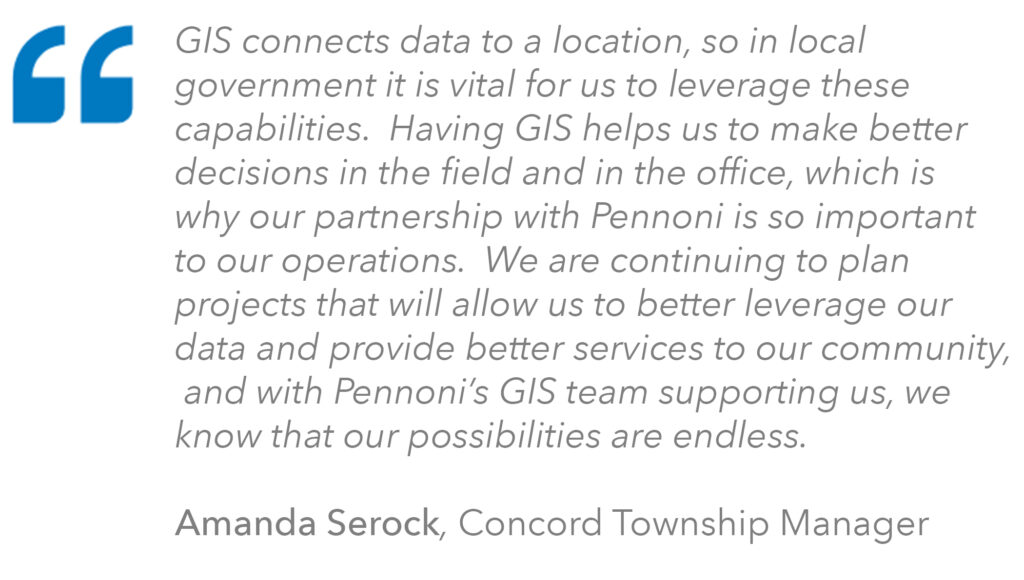 Future Considerations
Concord Township continues to collaborate with Pennoni to enhance its GIS capabilities. The township is exploring the development of spatial analysis capabilities to address complex spatial questions and support more informed decision-making. Annual review meetings with the Pennoni team help set goals and objectives for the upcoming year, ensuring that GIS solutions remain aligned with the township's evolving needs. In conclusion, the partnership between Concord Township and Pennoni has empowered the township to harness the full potential of GIS, improving operations, services to residents, and long-term planning.
Stay Connected with Esri's AEC Team
Join the Architecture, Engineering and Construction Community
Subscribe to the AEC industry newsletter "Esri News for AEC"