A Year in Review: The Best Transportation GIS Success Stories of 2021
The end of every year is for me, always a time for reflection, and to clean up the mess in the office to prepare for the new year. It has certainly been a unique year for all of us, both personally and for the transportation community. The initial impacts of Covid were certainly harsh on public transit, passenger rail and air travel, with similar disruptions for our ports and freight railroads. That was followed by record volumes through our ports, which highlighted weaknesses in our global supply chains as manufacturers and retailers sought to catch up to surging demand. And while it is easy to focus on the disruption and the chaos these changes wrought in the transportation community, as I look back, I want to focus on four major trends that emerged in 2021 that will carry forward into not only the new year, but for years to come.
Strategic Infrastructure Investment
For a number of years, Congress together with the US Department of Transportation have sought to make the capital improvement and asset management processes more data driven, and more transparent to the public. The FAST Act required State Departments of Transportation (DOTs) to not only follow performance based planning processes, but to use defensible, data driven processes to make their investment decisions. And while most DOTs have been redefining their planning and transportation improvement processes, several stand out as leading examples of combining technology with process to help define current best practice.
The Massachusetts Department of Transportation (MassDOT) certainly falls into that category, as they have built technology solutions to help them prioritize where they spend scarce public dollars and make the most strategic investments. Called MapIT, we highlighted their efforts in an article this past year, and I encourage you to take a look: https://bit.ly/3EEULgk. MassDOT followed in the footsteps of both North Carolina Department of Transportation with their SPOT Project, and Virginia Department of Transportation and their Smart Scale initiative, all of which rely on extensive data and GIS to help make strategic, data driven investment decisions.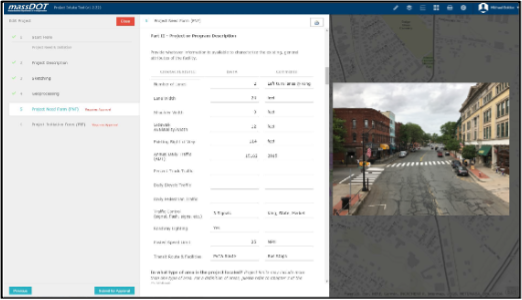 With the recent passage of the Infrastructure Investment and Jobs Act, it is all the more critical that collectively we make the most strategic infrastructure investment decisions to build the transportation networks of the future, and not simply patch the networks of the past.  And GIS is certainly an integral part of bringing that vision to reality.  You can learn more here: https://bit.ly/3qCo7qK.
Digital Twins
A second major trend has been the attention on building digital twins. A term that has almost as many definitions and ways that people conceive of the concept, at heart a digital twin should assist an agency better understand and better manage their assets and their infrastructure. The core of the digital twin is built around having a full three dimensional model of the asset, whether an airport, a water pumping station, or any complex asset. In turn, that 3D model is then connected to any number of business systems, including asset management, SCADA systems, or Asset Control Signaling and Monitoring (ACSM) systems, all of which is designed to present a real time model of the larger real world asset.
As an example, Schiphol Airport in Amsterdam tracks and monitors over 80,000 assets in their digital twin, which is focused on allowing them to better manage the physical plant and the movement of passengers safely and securely trough the airport. But the real goal is to proactively identify any potential asset failure which could disrupt passenger traffic and perform preventative maintenance. You can see a description of Schiphol's digital twin here: https://bit.ly/32QR3Du.
In transportation, it has been airports which have been early adopters with respect to digital twins, and another stand-out example was San Francisco International (SFO). Under the leadership of Josephine Pofsky, the director of Infrastructure Information Management, SFO built a comprehensive data management system to manage all of their infrastructure data – CAD, Revit and GIS. As Pofsky says: "We use GIS as the window of entry to all of our infrastructure information." And ultimately it is data, data about the asset, and the systems it is connected to, that provides the real power of a digital twin. You can read about SFO and their success here: https://bit.ly/3Hn4idT.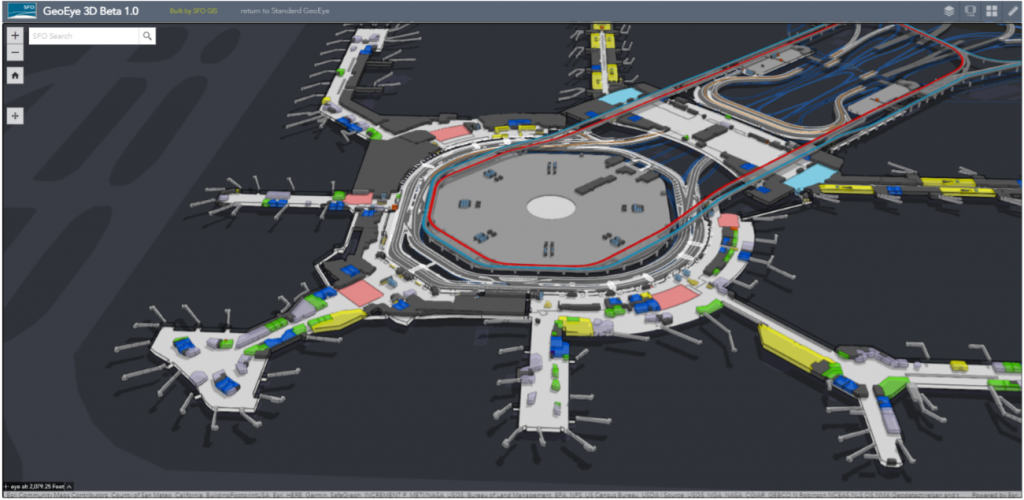 Climate Resiliency
2020 set the record for the most number of climatic events costing over $1 billion dollars, and 2021 will in turn break that record (https://www.ncdc.noaa.gov/billions/). The last several years have convinced most decision makers that climate change is real, and that we need to start preparing our infrastructure to survive those impacts. In fact, the Infrastructure Investment and Jobs Act specifically calls out funds to start the process of "hardening" our transportation infrastructure, and for climate resiliency efforts.
The Federal Highway Administration has long taken a lead in funding innovative pilot projects addressing climate resiliency and publishing practical guides to assist State Departments of Transportation design effective programs to address resiliency of their assets. They also recognize this will not be an easy process: "Global climate change's potential impacts on infrastructure create some of the most significant and challenging issues facing transportation planners and asset managers today."
Largely driven through early weather related disasters in their states, several State Departments of Transportation have initiated pathbreaking climate resiliency programs in their states. In the aftermath of Hurricane Irene which destroyed over 2,400 roads and 300 bridges in Vermont, the Vermont Agency of Transportation (VTrans) established their Transportation Resilience Project, which led to the development of the GIS based Transportation Resilience Planning Tool. The tool helps planners assess the criticality of every transportation asset in the State, and then evaluate the consequences should any of those assets fail. This helps to prioritize not only the State's capital improvement budgets, but also is used by the local jurisdictions in Vermont to identify where they should invest their local improvement dollars. You can read about it here: https://bit.ly/3HElYlB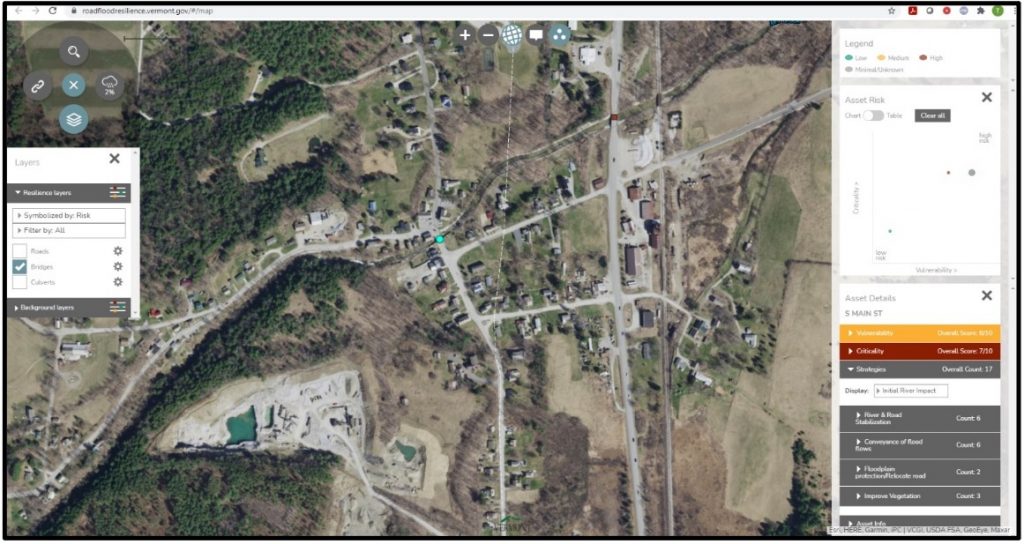 Another State which developed an innovative climate resiliency program is the Maryland State Highway Administration, which similarly leveraged GIS technology to develop an application (Climate Change Vulnerability Viewer) to help planners and other state agencies access the risk of various climate scenarios and the impact on the State's transportation infrastructure. You can read about it here: https://bit.ly/3qBR71V.
The ability to visualize and effectively communicate the risk of climate impacts can help government leaders not only better understand climate change, but to develop responsible, sustainable plans for making their communities and the transportation infrastructure more resilient, and better prepared to withstand unforeseen climate events. Understanding precedes action. And GIS helps to accelerate understanding. You can learn more here: https://bit.ly/3zdYa51.
Equity in Transportation
The COVID-19 Pandemic not only exposed many of the weaknesses of our supply chains, but also the inequities in American society. This was especially true in health outcomes, but equally true in our transportation systems, and the mobility opportunities of our citizens. As a result, there is not a single transportation agency that I know of, that is not grappling with how to make our transportation and mobility systems more equitable, and bringing fruition to US DOT's edict that "Equitable and safe access to transportation is a civil right."
Historically, in the US we have always operated with an unofficial 80 / 20 rule in terms of where we spend our transportation dollars: 80 percent on highways and 20 percent on transit. The problem with that formula is that we consistently "under-invest" in our public transit systems, and in creating equitable transportation accessibility for all communities, and ultimately in the vitality of our cities. The flip side is that we are "over-investing" in our suburbs, and often leaving the rural areas of the country similarly mobility challenged.
And while there are multiple ways of understanding equity in transportation, 2021 has witnessed a number of outstanding examples of how communities and transportation agencies can begin to address these historical imbalances. Central to all of these efforts is the importance of data, and the ability to map and analyze inequities in experiences and outcomes within communities.
The City of Oakland's Transportation Department has done an especially outstanding job of analyzing mobility related social imbalances. Using GIS, staff were able to organize and analyze existing datasets to examine disparities between the most and least impacted groups across geographies. The focus was not only on considerations of race and income, but also exposure to air pollution, communities facing urban displacement, and transportation safety issues: https://bit.ly/3EEoQwz. This baseline analysis enabled the department to embark on several ambitious equity-focused projects with city collaborators.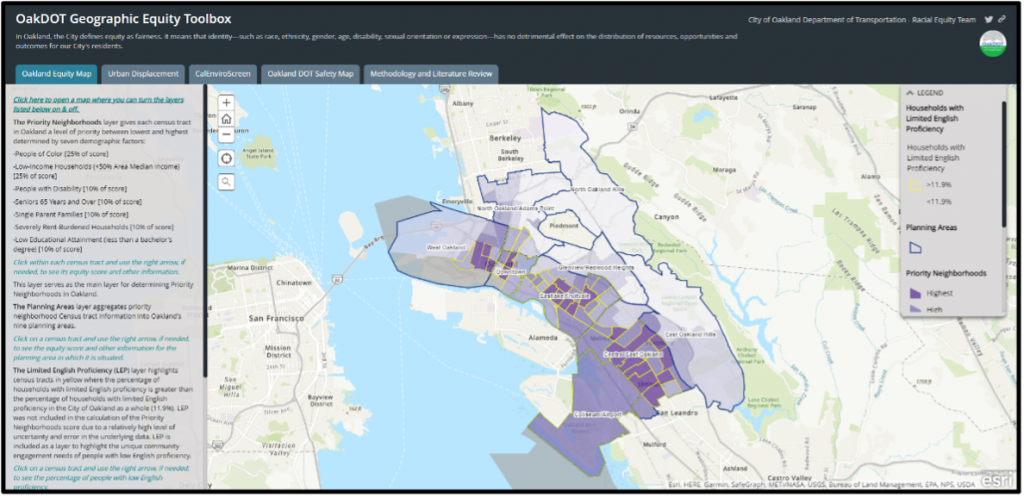 Another outstanding example is the Connect Beyond project, which connects 12 counties and two states in the greater Charlotte region, to address issues of mobility, economic development / access to jobs, and rural mobility issues. You can see their work here: https://bit.ly/3pGbcot.
Tying these trends together will be the challenge of the Infrastructure Investment and Jobs Act (IIJA). The Act represents the largest investment in infrastructure in decades and represents a unique opportunity to build the transportation networks needed for the future, to make the US supply chain equal to the task of supporting the next generation of economic growth. To achieve the goals of the ACT, will require States and local communities to make the most strategic use of these one time investments, and the model of Massachusetts, North Carolina and Virginia DOTs set is an example for others to follow.
In turn, underpinning much of the language of the Act is a strong emphasis on social and racial equity, and redressing the past destruction of minority communities in the construction of the national highway network. We must ensure that the transportation systems for the next generation are fair, equitable, and provide access to dignified, frequent, affordable transportation to all.
And finally, the Act calls out a number of program areas specifically to address climate resiliency, along with regular transportation dollars that will increasingly need to be spent to harden our infrastructure for an uncertain future. You can learn how GIS can help us achieve these goals here: https://bit.ly/3eABMJp