One of the themes we emphasize a great deal in this space is the necessity of a data-driven approach. It's true for public works, public safety, and of course, planning and economic development. The data-driven approach supersedes an anecdotal approach because the former relies on specific, quantifiable metrics. In other words, the proposed design isn't just a good idea because I like the way it looks or because I think it would be a good fit for the neighborhood. It's also a good idea because it brings x number of people, y number of office or retail jobs, and z impact on tax revenues, traffic, utilities, etc. Further, these metrics meet goals that have been set for the community to address their needs and best practices for sustainable development.
Suitability analysis is a workflow that used to be complicated and required a powerful Desktop GIS to implement and perform. For many planners, that alone put using those tools out of reach. As we've discussed before, it's great if a planner or economic developer knows a Desktop GIS, but even with the proliferation of GIS over the last two decades, that's still the exception more than the rule today. What opens the door for planners (and other disciplines) is the Web GIS pattern. It provides focused, rich apps that address specific workflows, whether that's identifying property owners about a pending re-zoning, identifying, and mitigating blighted properties, or site suitability analysis.
Probably one of the more impactful ways site suitability analysis can be used today is in locating affordable housing and economic mobility opportunities to support it. The two efforts must be linked, because there's no feasible way affordable housing can be truly successful if there isn't an economic mobility strategy surrounding it. This means walkable or bikeable access to jobs, educational facilities, transit, groceries and other stores, recreation, and so forth. It means that residents within this housing aren't dependent on purchasing and maintaining (and parking) a car to be able move forward economically.
In the latest release of ArcGIS Urban, site suitability tools are now included. Further, the user can leverage custom capacity metrics, meaning they don't have to use a hardwired model that may or may not fit their needs. For instance, in the image below, I've created a new metric that states my goal is that 10% of all new residential units be designated as affordable housing.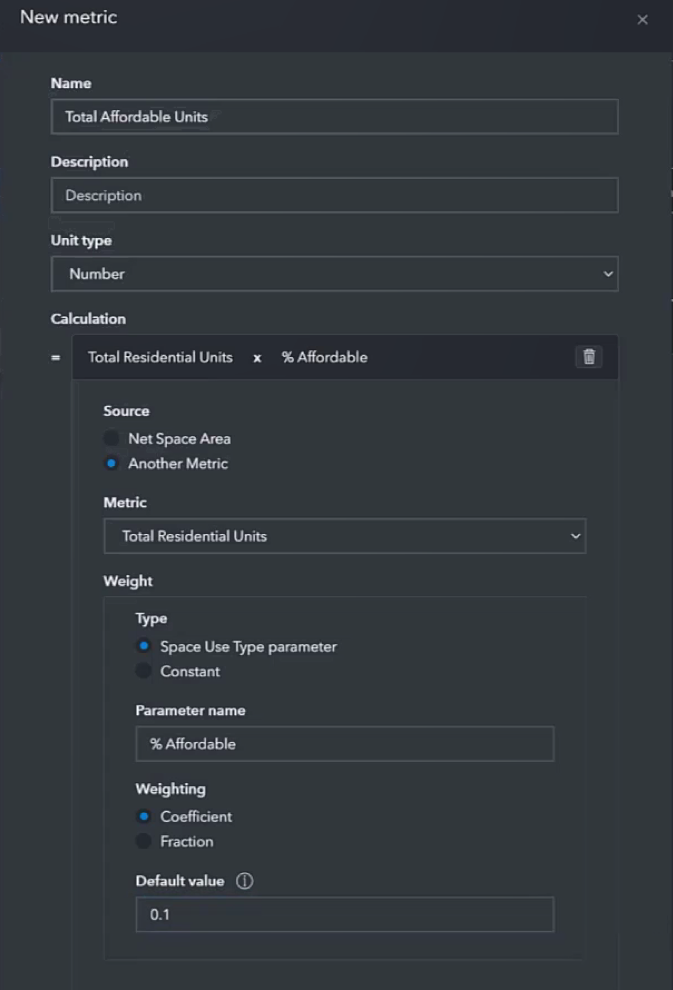 For office and commercial use, I can identify how many parking spaces I want to see or what the potential market value should be based on the size of the facility.
With ArcGIS Urban, I can generate suitability scores for specific parcels based on the parameters I've set forth in my metrics. In this instance, I'm emphasizing the importance of proximity to transit stops by providing it a higher weight (which can be changed with the slider bars).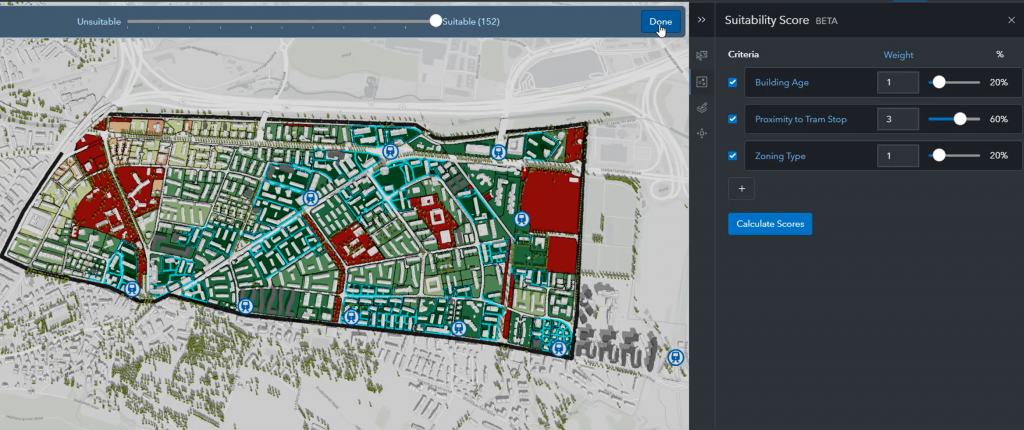 Once I've identified my most suitable locations that meet my criteria, I can automate potential developments by selecting templated building types. Again, as the planner, I get to customize what types of developments are most important…in this case, it's mid-rise residential.

After the developments have been put in place, I can see the results of this analysis in terms of space use, additional population, FAR, etc.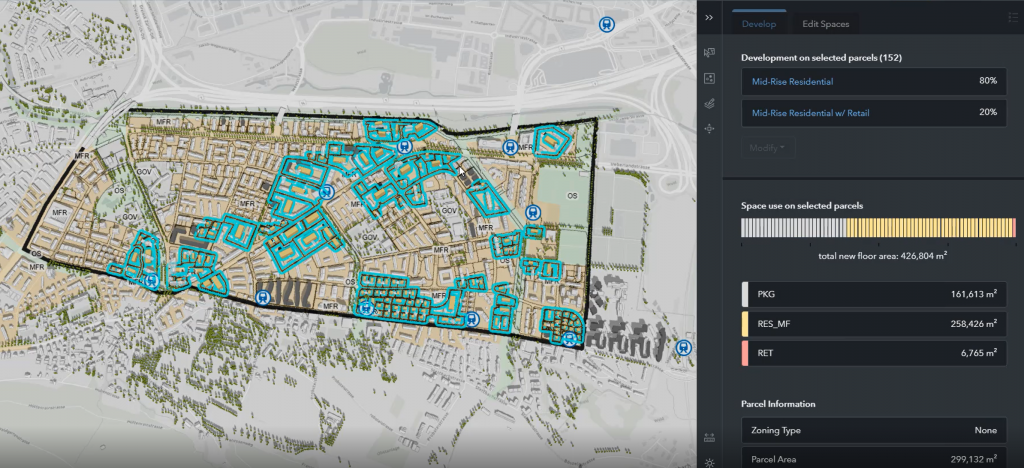 From here, I can take a more tactical approach and individually edit some of the automated developments, I can go back and revise my metrics, or I can re-run suitability analysis by changing the weights of my custom metrics.

Again, all of this is done through a web application, which can be accessed securely anywhere there's an internet connection. Planners don't have to invest in expensive client-side software, expensive hardware to run it, or week-long training classes. They can take a data-driven approach to design, while still incorporating design details they want to see. This platform delivers a modern approach to planning and design for any size community.