Coordinate, Manage, and Deliver Projects with A Geographic Approach
Planning, designing, building (or just fixing) the infrastructure that keeps our world moving requires many tasks, people, and resources coordinated over time and space. To wrangle the complexities, managers of AEC projects use various manual and digital methods to monitor the efforts and track progress. But, as the saying goes, "Time is Money," and monitoring both elements on a construction project are intertwined and can be overwhelming.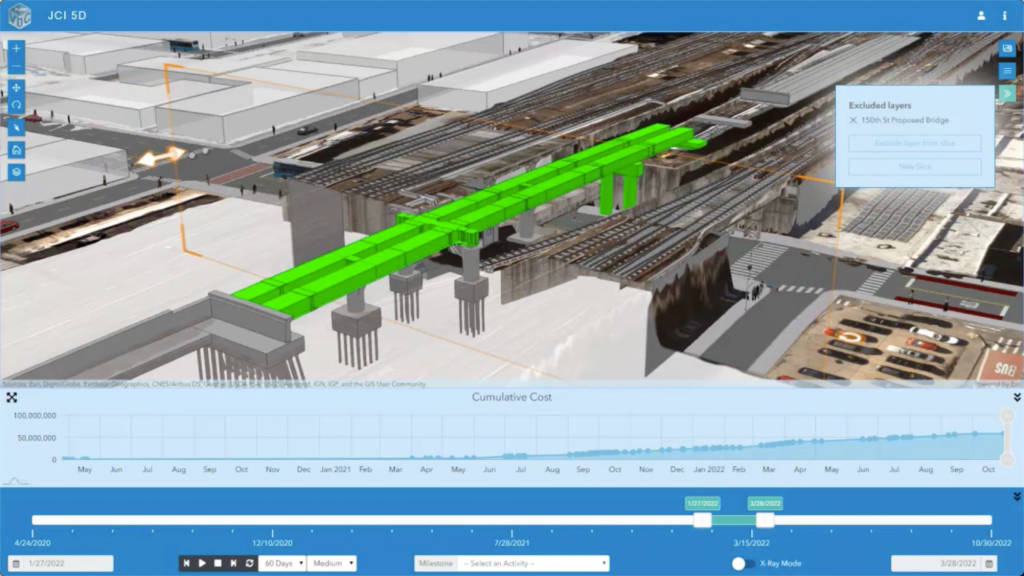 Project management in any sector or business can be complex. It is made easier when the element of location is included. AEC projects are designed and engineered based on the constraints of the location, built in a specific location, comprised of parts that come from many locations, assembled by tradespeople who come together at a single location to create a built or natural environment in a prescribed manner, as defined by schedulers and planners (who likely work at a different location than the project location).
In AEC, project managers are often split between showing up on-site and completing desk work at the office. They need to visit project on-sites to confirm progress achieved by others and verify that the sequence performed matches the plans. Project managers also need to create systems to collect status reports on a timely basis from various sources, which are analyzed and entered in a master schedule to inform a wide range of stakeholders (many of them likely don't know how to read a project schedule).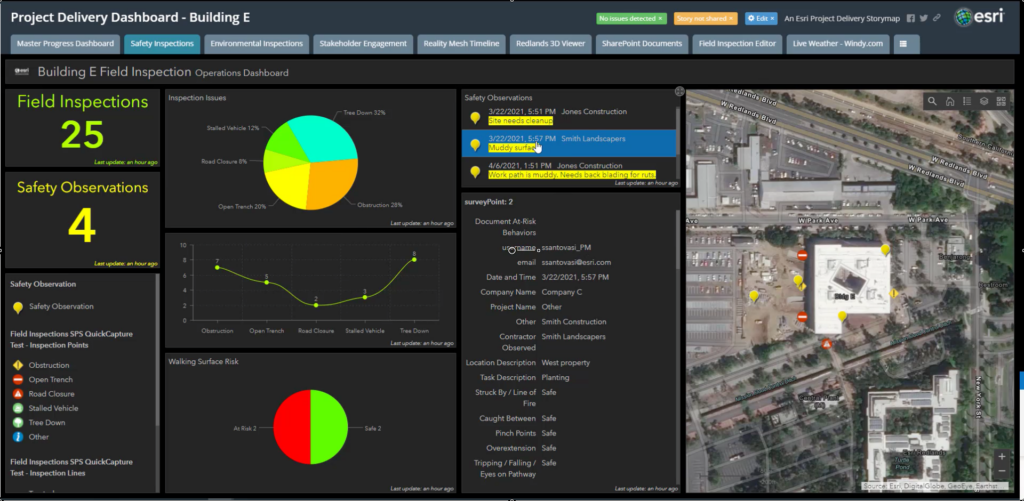 The standard approach for progress control has been and continues to be redundant data entry, primitive analysis, and Critical Path Methods. This approach results in project managers who struggle to keep the schedule updated and entire teams challenged to understand the actual status clearly. Master schedules get decomposed into smaller "look ahead" plans of various timespans, allowing the project to be understood and accomplished. Some firms use modern methods to improve predictability and productivity, such as work-packaging, Lean, TAKT, and pull-planning. However, the vast majority of AEC work occurs with the same project management tools and techniques taught since the 1950s.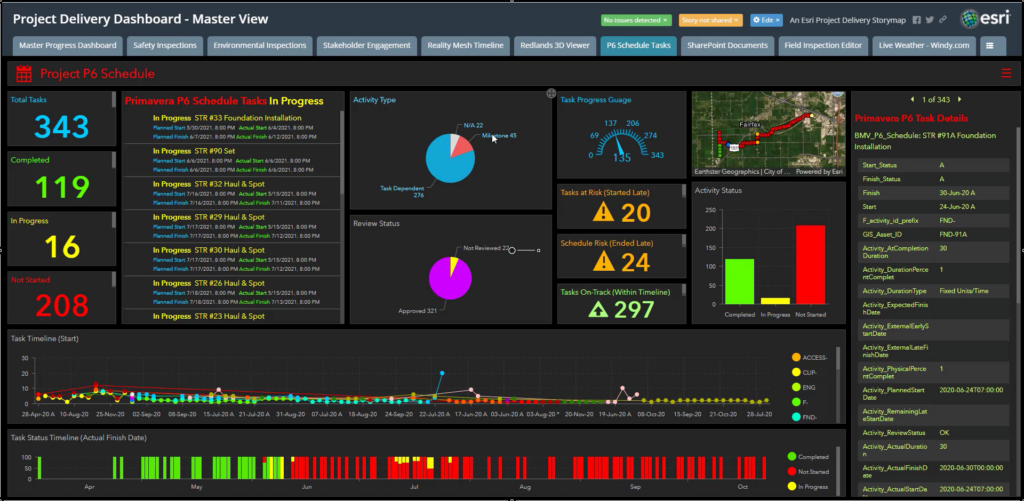 Planners, schedulers, and project managers recognize the disadvantage they experience without considering location information. There is constant pressure to shorten delivery times while maintaining budgets and safety. Many have spoken about improving the cost and time wasted in AEC, due in large part to the complexities of information management, data access, and tracking changes. Much has been written about the need for substantial improvement in the current scheduling and progress reporting practices. This article may stand out as it proposes that integrating GIS and project management software is an essential tool for addressing these issues and achieving these goals.
Enable New Project Planning Insights
Integrating GIS with scheduling, budgeting and issues tracking helps professionals make more informed decisions relating to the built environment projects and the people living in them. The power of location data empowers tasks such as progress monitoring, 3D data analysis, comparison of actual vs. planned, scheduling and progress control with 3D visualization.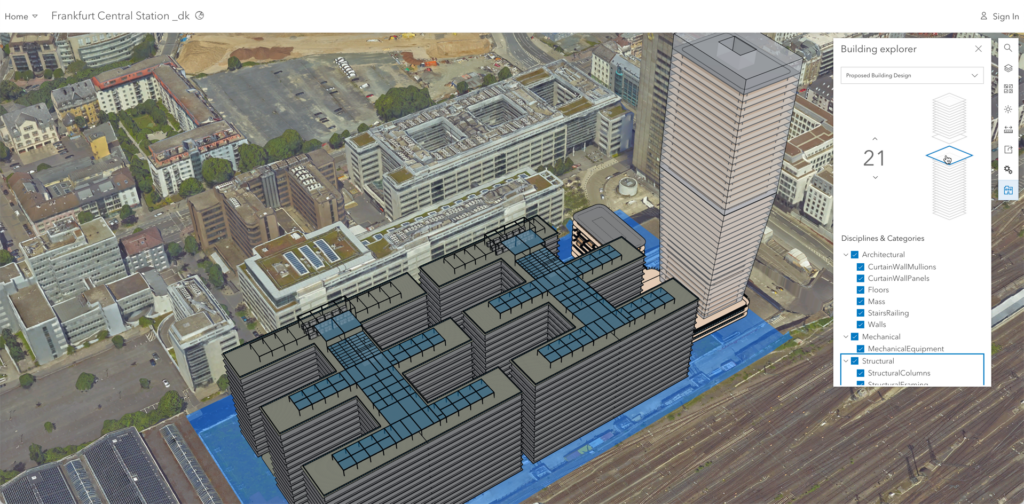 The integration of GIS and project management assists a planner by offering better perceptions of the project and the wide range of companies' activities in the planning process. When location analysis is a core capability of the team's toolset, decision making occurs based on insights that often can only be gleaned from a location-based view. The predominance of issues in a location of a project, the intersection of workers and unsafe environments, availability of routes and spaces for materials to be warehoused – these are just a few of the ways GIS reveals critical information for the AEC planner.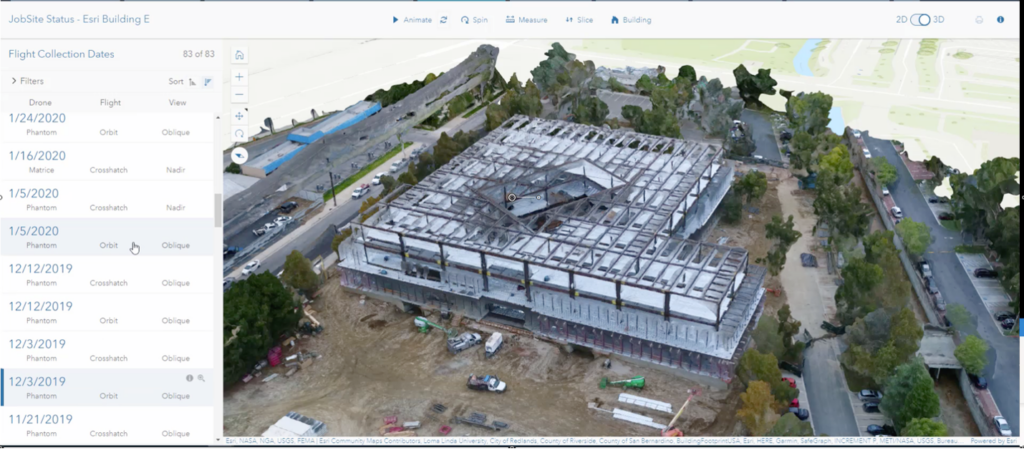 The practical benefits of visualizing construction at various levels of detail, in context to the real-world are significant. GIS allows construction managers and all the stakeholders involved in the project with a range of backgrounds to be informed about the progress of the project and support decision making. GIS provides a basis and system for understanding and communication for the professionals and lay-persons needing to be informed.
Visualizing construction status in 3D / 4D provides the entire team with a more intuitive view of the construction sequence. Furthermore, when this visualization includes location-based data through GIS, the construction manager's view of construction activities is put in context. The value of context throughout the AEC project lifecycle cannot be understated. Through examples, anecdotes and a few links, this series of articles demonstrates GIS integrated with various AEC tools improves project planning, visualization, and results in an integrated information system.
Interested in learning more – Fill out this contact form and an Esri expert will reach out to schedule a meeting.