Enhancements to ArcGIS Production Mapping and ArcGIS Defense Mapping at ArcGIS Enterprise 11.0 include new capabilities in the Topographic Production service and the self-serve Map Production System (MPS) web app.
Looking for the enhancements to these extensions at ArcGIS Pro 3.0? Check out the ArcGIS Pro blog post.
New in the ArcGIS Server Topographic Production service
Let's start with a quick recap of the Topographic Production service. It is a REST server object extension (SOE) that originates from a web layer published from ArcGIS Pro by sharing the map in your ArcGIS Pro project as a web layer. This process enables topographic production capabilities on a map service so you can not only create map products in ArcGIS Server, but the data layers that your shared map contains are also the map (service) layers in the MPS web app.
At 11.0, you can define the settings for a PDF or TIFF output type in ArcGIS Server when running the generateProduct operation. There are a couple of options on how to do this. In the outputSettings parameter, you can either provide the name of a preset file that is included with the product data files, or you can provide a JSON structure that defines the settings.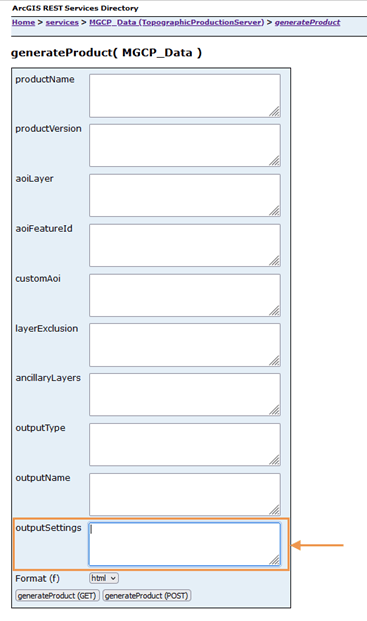 Behind the scenes, map products have been enabled to use image services. This means that you can now access raster data such as digital elevation models (DEMs) or mosaic datasets through an image service for the map products you want to create in ArcGIS Server.
The Topographic Production REST SOE has a new Delete operation to help with job management. It helps clear server space by removing completed or canceled jobs. Jobs removed by this operation will also no longer appear in queries.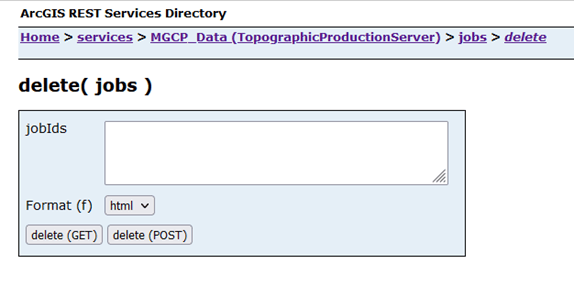 Lastly in ArcGIS Server, the REST SOE connects to different services, including Area of Interest (AOI), ancillary, and raster layers, when generating a map product. Prior to 11.0, if one of those services was secured, a successful connection couldn't be made. Now, secured services are supported.
Enhancements to the MPS web app
The self-serve MPS web app uses data from two maps that are both shared from Pro. The first map is the shared web layer mentioned earlier. The layers in the app are derived from the layers that are included when that map was shared. The second map is shared as a web map from Pro and contains an AOI index layer sized accordingly for a map product. This index layer looks like a grid on your map, each cell or square being an AOI and the extent of a potential output. Using tools in the app, you can choose which of these AOIs are added to the export queue. Aside from exporting map products in a PDF and TIFF format, the app can also output a Pro project (.aprx) or layout (.pagx).
This MPS app provides quick and easy access to map products that have been configured in your ArcGIS organization. Think of this app as the self-checkout lane at grocery stores, but for map products that members of your organization can export themselves.
Learn how to configure the MPS app with Defense Mapping
Learn how to configure the MPS app with Production Mapping
Starting at this release you can delete an export from the Map Exports Status pane. This pane appears when you click on the app's Export tab. If a list of exports becomes unwieldy or there are failed exports that you want to get rid of, you can make them disappear with a click. Like the new Delete operation described above, when you delete an export in the app all the data associated with it will be removed.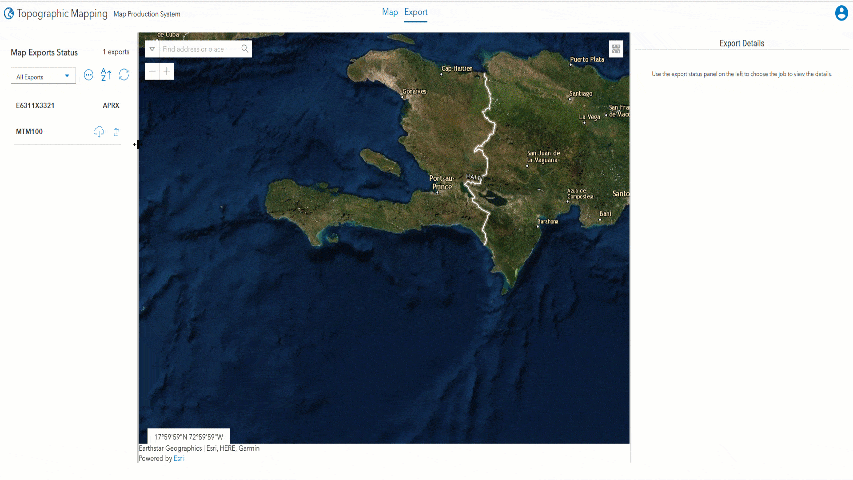 You can also now resize the panes in the app to your liking. This comes in handy when text that populates a field such as the name of an export or preset is longer than a pane's width and gets cut.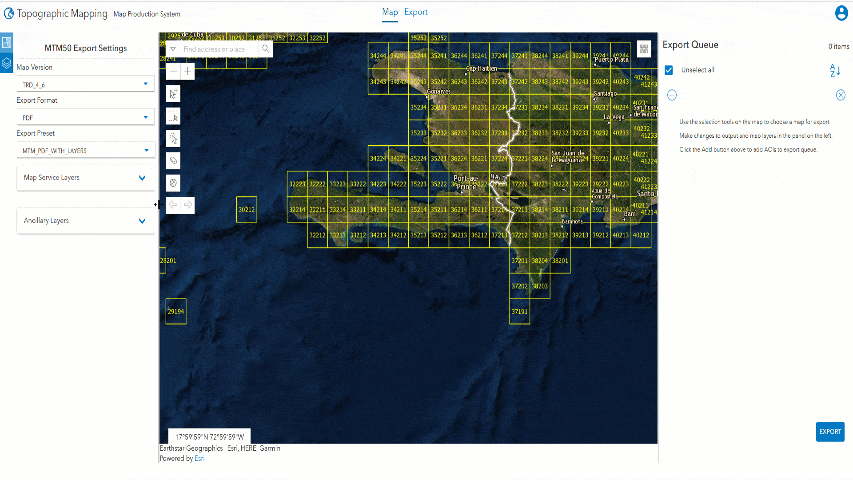 Save time when exporting PDF or TIFF files by configuring presets in the settings of the MPS web app. Follow along in this video to see how that's done:
And lastly, you can hide service layers in the app. These service layers are derived from the map shared as a web layer from Pro. You can visualize the data on the map in the app and choose AOIs accordingly for export.

It's worth mentioning that hiding these layers in the app does not mean that they will not appear in the export. There is a check box next to the layer that determines whether they appear in the export. If the box is not checked, the layer still appears in the export, but will be empty.
This summary highlights enhancements made to the latest release. Ongoing development for the next release is underway. Thanks for reading, we'll be sure share more updates as they become available!
Want to learn more about these extensions? Visit the product page for ArcGIS Defense Mapping and ArcGIS Production Mapping.