Following the September release of ArcGIS Field Maps, we've been busy with new development efforts for the December 2021 release and beyond. There are some great new features coming for both map authors and mobile workers. ArcGIS Online customers can get early access and start testing now. Joining the early access program, here is what you can start using today…
New map authoring capabilities
ArcGIS Field Maps is a mobile solution used to complete a variety of field workflows. At the heart of each successful deployment is a well authored map. Map authors configure map layers, forms, offline map areas, and settings using the Field Maps web app. In December, we are adding the ability to create new form elements from scratch, a new builder experience for setting conditional visibility, and a new map setting to categorize location tracks.
Creating form elements from scratch
Authoring forms in the Field Maps web app start by creating form elements using existing fields in a feature layer. In December you can create new form elements from scratch, and when you save the form it will add new fields to your feature layer automatically. Form elements supported with this initial early access build include Barcode (string or numeric), Date/Time, Number (double or integer), and text (multiline or single line). More input types will be coming in future beta updates.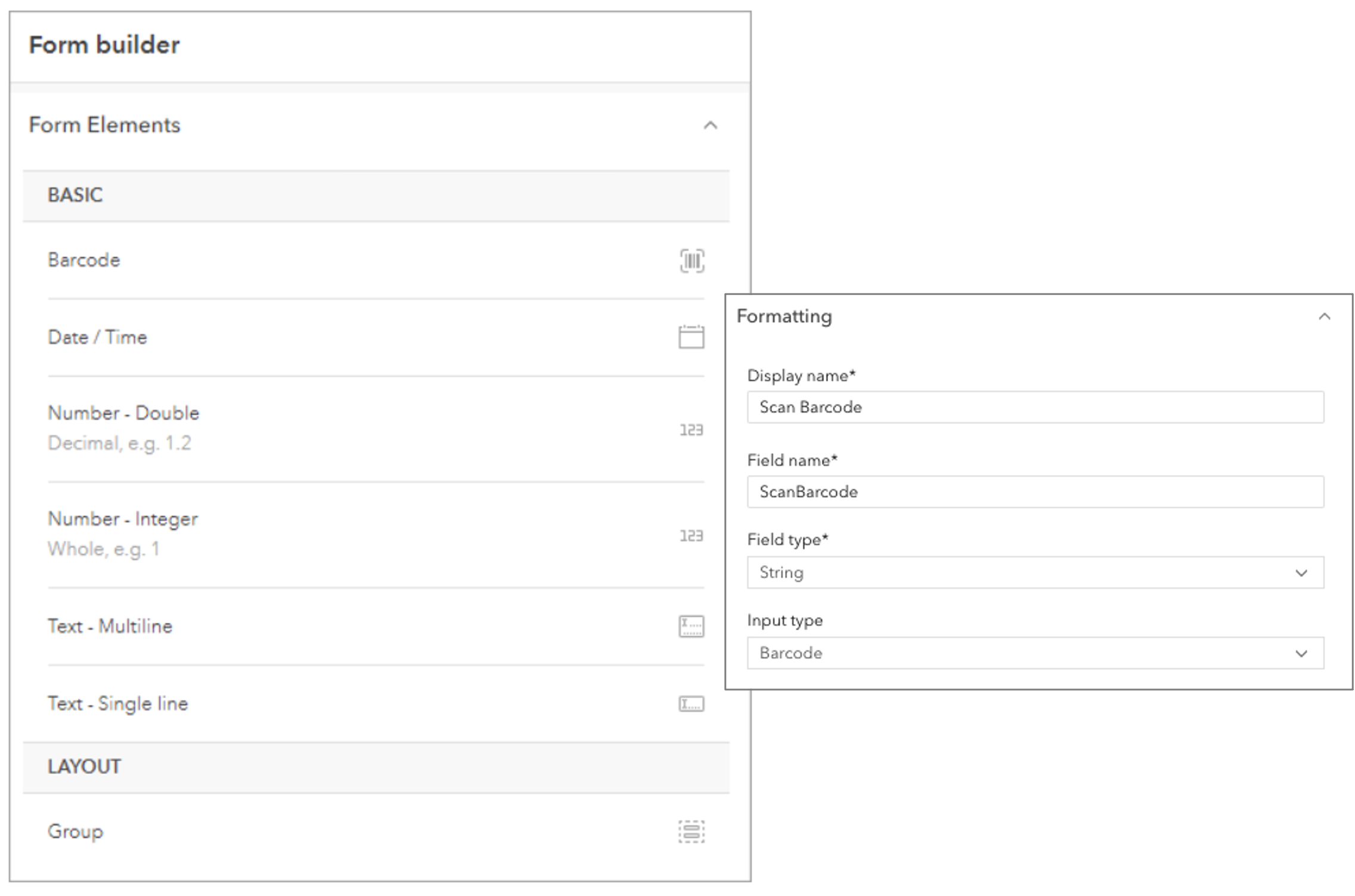 Simplified conditional visibility
Mobile workers read, enter, and update forms to capture data and perform inspections. With the introduction of smart forms in ArcGIS, you can streamline form data entry. For example, if you have fields or groups that only need to appear if a previous entry has a certain value, you can make those fields or groups conditional.
Today, map authors are challenged to write an Arcade expression to set conditional visibility for a field or group. We're introducing a simplified builder that will write a conditional visibility statement for you so you no longer need to write code.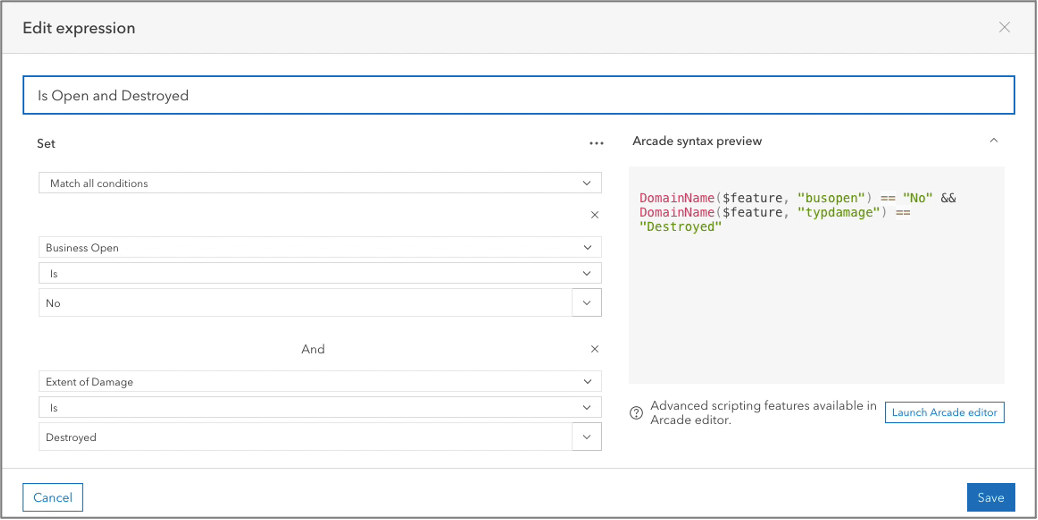 As you build your expression, a preview of the generated Arcade code is displayed. When you edit an existing expression, you can edit with the builder or you can launch the Arcade Editor to write more complex expressions.
Configure track categories
In the June 2021 release, we added a new map setting that requires location tracking be enabled while using a map. In the December update, you can add categories to tracks you create and store in the location tracking service. These categories can be used to filter tracks when used in maps or dashboards.

Mobile worker capabilities
We've been hard at work making significant improvements to the Android version of ArcGIS Field Maps and in December these changes will be released. Most of our efforts have been within the application architecture, but there are several key new user enhancements as well:
Dark theme support
Layer loading and secure layer handling
Track categories
Improved smart form experience
New measure experience
Download and sync troubleshooting
Recent feature templates
Battery optimization setting for location tracking
Download grid-based transformations
Improved app linking
Support for attaching files and audio recordings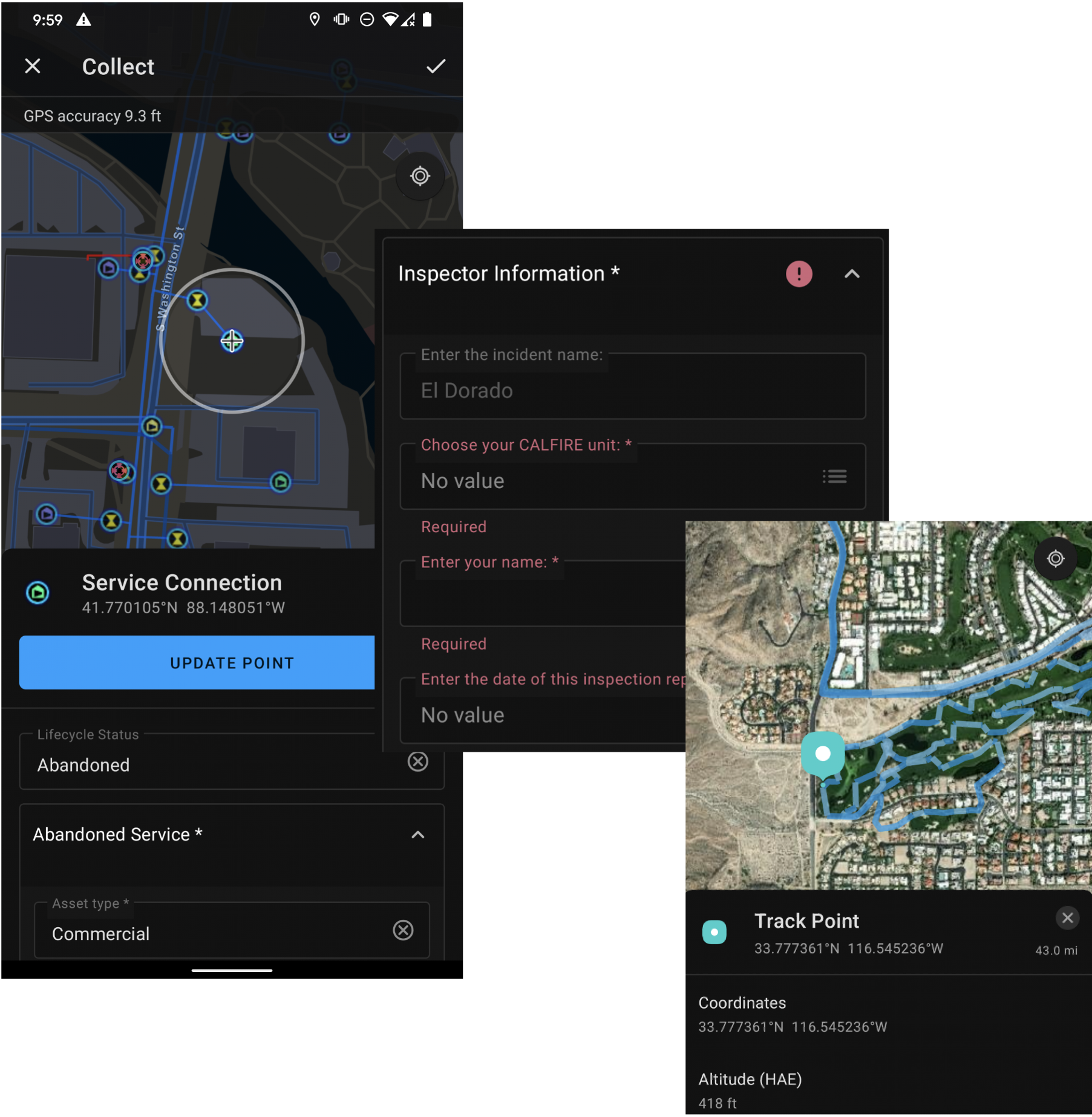 Utility Network support
Starting in May 2021, we launched an early access program that included support  viewing connectivity and structural attachment associations, containment and tracing a utility network on the iOS platform. While other features in the EA program rolled into the July release, the Utility Network support remains in beta with the Android version coming soon.