Introduction
Hello and welcome to our exploration of some of the exciting new capabilities that have been added and expanded upon with ArcGIS Workflow Manager. We'll focus on the new service-driven deployment and dive into some of its improvements below. For those who are new, ArcGIS Workflow Manager drives process improvements in organizations by automating and simplifying the management of people, processes, software, and data in real time with a service-driven architecture, available starting with 10.8.1, in addition to our traditional geodatabase-driven architecture.
The new deployment enables data editing workflows on service-driven data structures such as utility networks, parcel fabrics, and linear reference systems while also expanding into new processes such as web-based submission and approval workflows like permitting or inspections, and even automated systems that assist with data ingestion, processing and compilation. This is driven by an easy-to-use, modern web app and server offering that integrates tightly with ArcGIS Enterprise. For more information, check out our Getting Started.
The focus of the updates to Workflow Manager for the ArcGIS Enterprise 10.9 and ArcGIS Pro 2.8 release were to resolve challenges in the following areas:
Integration with other service-driven architectures, especially Survey123
Managing data quality and edits across desktop and web apps
Patterns to assist automating large systems with high volume, distributed workflows
Scheduling and automating repetitive tasks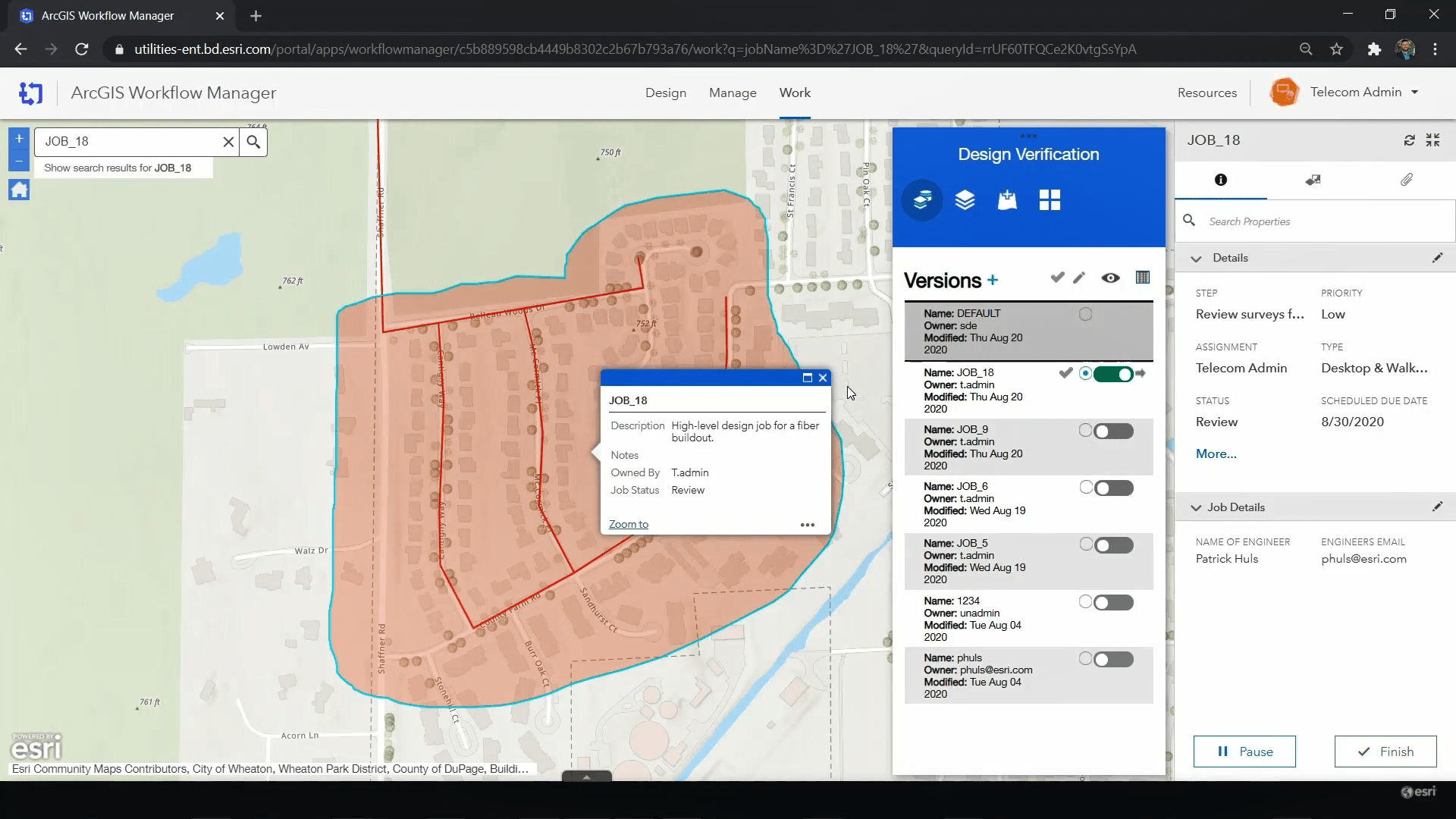 Survey 123 and Feature Layer Integration
The Survey 123 step allows an organization to seamlessly integrate ArcGIS Survey123 into their workflow to capture rule-based responses from desktop and mobile users. Use all the controls and patterns of ArcGIS Survey 123 including data collection, editing, and viewing, all hosted within the Workflow Manager web app, reducing context-switching. For example, when a new fire hydrant is installed, your process might involve adding it to your utility network data. A mobile user can collect the information with a survey record which using webhooks.
After job creation, the survey record is associated with the created Workflow Manager job, and the survey data can even be utilized elsewhere within the workflow such as an input to an email, geoprocessing tool, or even in subsequent analysis and reporting. Learn more about integrating ArcGIS Survey123 with ArcGIS Workflow Manager.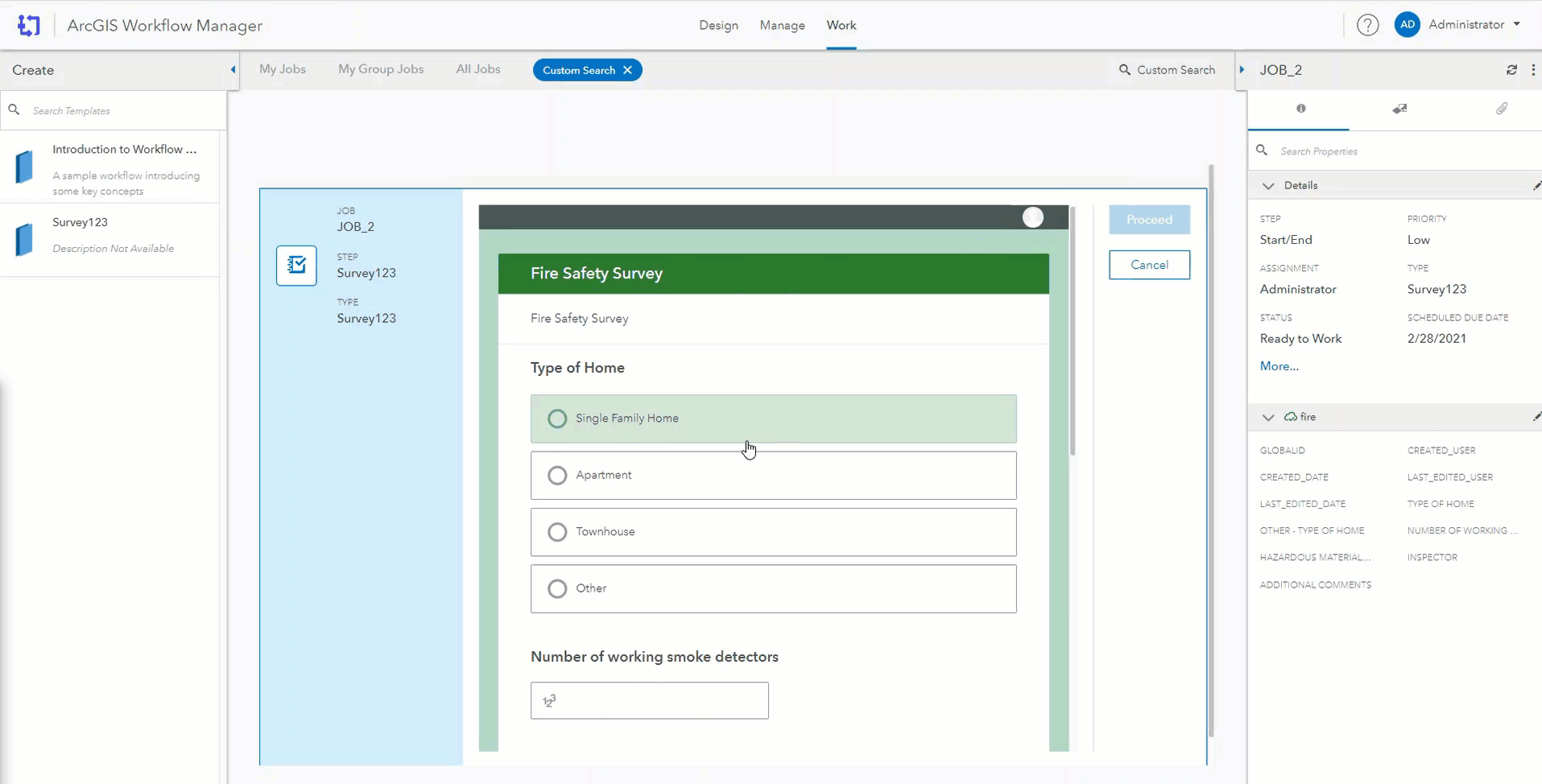 Additionally, support for external feature layers has been added. If you have an external resource, such as contact information on a parcel or a utility network, you can associate it with a job using extended properties. This allows your workforce to access the information in a centralized location, while externally maintaining it on the feature layer. Both improvements save time by keeping information accessible in one place on a job while also making it easier than ever to integrate with ArcGIS Enterprise components and services.
Automated Orchestration
With a high volume of tasks, organizations can quickly become bogged down with tedious and repetitive manual work. At the Workflow Manager 10.9 release, we introduced a new advanced server capability that provides powerful automation capabilities designed for larger systems with distributed workflows. Geoprocessing steps can be scheduled to run during off hours, freeing up system resources, or you can scheduled a failed service to run again after a 5 minute wait. Generate reports automatically or run other scheduled processes as needed, improving consistency, and perform work at optimal times and on a consistent schedule such as routine inspections.
Scheduling options allow you to apply holds that can be programmatically released at the appropriate time during a project. These holds can also be manually applied and released due to budget constraints, broken or faulty equipment, or other roadblocks that require you to step back before resuming work. Output values have been added to every step template providing greater control and flexibility to your organization by extending upon return codes. Instead of guiding decision points in your workflows immediately after a step, such as routing failed geoprocessing services to Send Email steps notifying analysts, output values take that a step further by being stored for use at later points, such as in the content of that very email, or as input in further processing and analysis later in your business processes. In tandem with scheduled steps, output values drive process improvements through the power of automated orchestration.
1-M Properties
A utilities site could have several inspections performed at scheduled intervals such as a semi-annual review. With the Update 1-M Job Properties step, the functionality of extended properties has been extended, allowing you to now associate these reports as multiple records within a job, and then quickly view and manage those reports within the Details panel. That's not all though.
Now both the Update 1-1 and 1-M Job Properties steps can be run silently, updating properties without interaction from the user. This is valuable for populating job-specific information based on arcade expressions (link), such as information relevant to the parcel edits that are stored on a feature layer. Suppose a geoprocessing step has identified that an environmental review needs to be completed, this step would allow you to silently raise the priority on the job or update relevant extended properties to ensure that is addressed as soon as possible while also providing more efficient tools for doing so. This can also be combined with visible updates, allowing you and your workforce to focus on the information pertinent to that portion of your process while updating records behind the scenes.
Manage page updates and Summary Charts
We listened to all your feedback on the Manage page and have completely redesigned the experience with a suite of updates to the dashboard experience. The power to quickly filter the status of work in your system and make swift, informed decisions is at your fingertips like never before with updates to charts, sorting and filtering, and even the job list.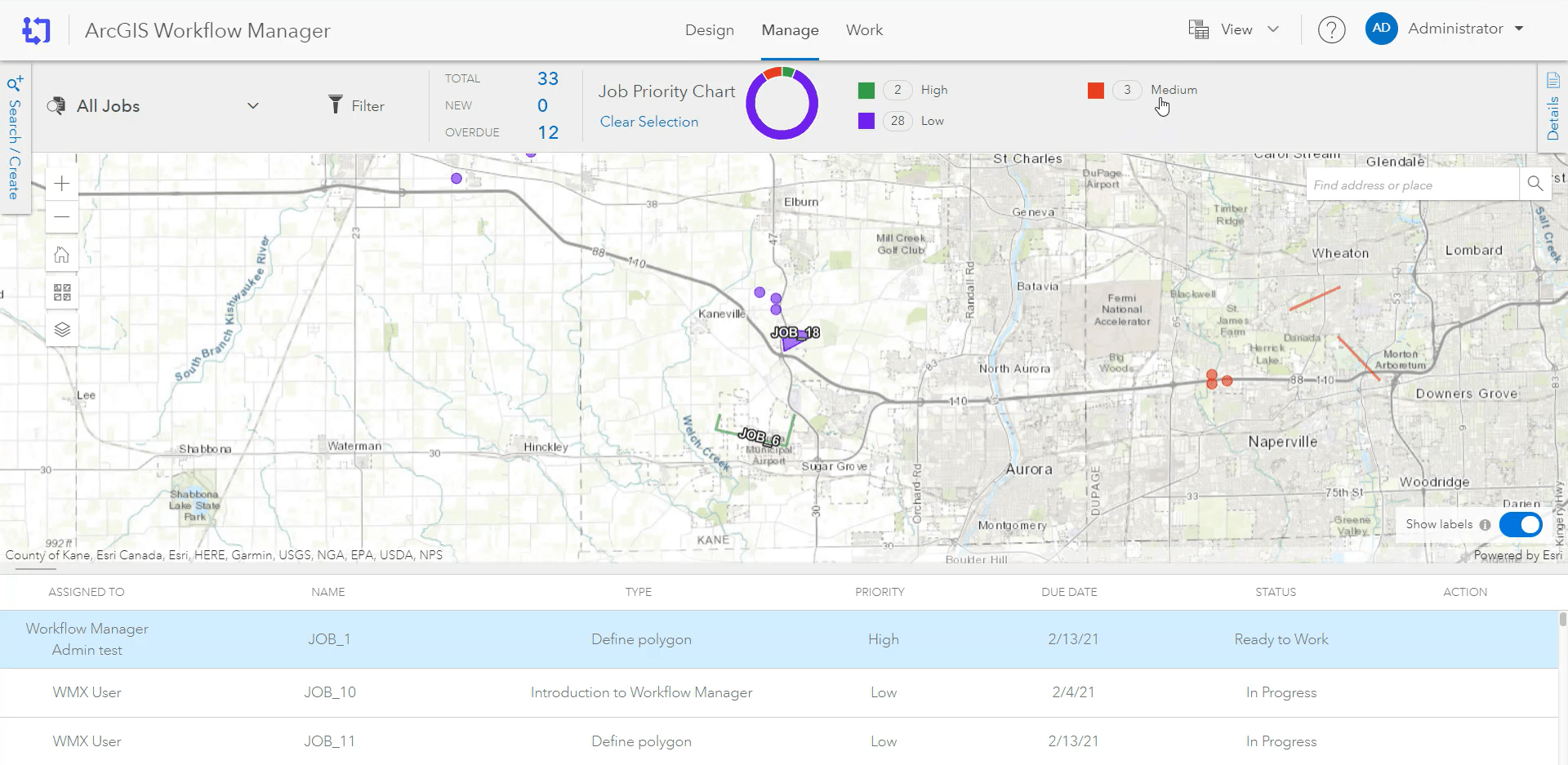 Additionally, monitor work and resources in your system more effectively by creating and sharing custom summary charts based on job properties. You can even incorporate your own extended properties to provide relevant information in a timely fashion. Need some spatial context? Click on charts to break them down into further detail, and view job locations styled with different colors based on the corresponding properties defined in the chart.
ArcGIS Pro
ArcGIS Pro includes enhanced support for mapping and other data edits use cases in utility networks, parcel fabrics, and pipeline linear referencing. This reduces manual prep work such as opening the relevant maps, changing versions, and cleaning them up after a reconcile and post. With the introduction of the new Run Pro GP step, you can now run geoprocessing tools, Python scripts, and ModelBuilder models much more quickly and with consistent inputs. Avoid jarring context switching between different applications by integrating these with the Open Web Page step to quickly access web apps such as Event Editor or other pages directly in ArcGIS Pro.
Automatically open the Error Inspector pane when opening project items in ArcGIS Pro to instantly review data issues prior to starting work. This provides quick access to batch calculations and attribute rule validation, ensuring that errors can be caught and managed while also increasing your data's reliability and improving the speed and efficiency of your quality assurance processes.
The data editor is zoomed in to the job location automatically
For existing users of ArcGIS Workflow Manager (Classic), we have some exciting news! With ArcGIS Pro 2.8, Workflow Manager has achieved feature parity with ArcMap, enabling you to use all your familiar workflows in the modernized desktop application.
Learn More
If you'd like to learn more and meet with the team, be sure to sign up for the virtual 2021 Esri User Conference (Esri UC) and attend the ArcGIS Workflow Manager: Overview and Roadmap technical session. For a full list of new features and updates, check out What's New in ArcGIS Workflow Manager