Long before BIM became a mainstream industry term, as far back as I can remember professionally, I've been studying, promoting, and preaching the concepts of object-based design, parametric parts, and coordinated CAD for Architecture, Engineering and Construction (AEC). These ideas are core to the BIM solutions which have come into being and evolved over these years (decades!!), and they have caused new ways of working on projects large and small across the globe.
During this time, AEC professionals have shared with me the benefits of coordination, visualization, and documentation that they realize through BIM. Plans, sections, quantities, schedules, cost projections, and more are generated in parallel, exposing project insights earlier and more clearly than non-BIM methods. As a result, most would agree "BIM is here to stay!"
At Esri, a milestone in BIM came in 2018 when enhancements to ArcGIS Pro 2.4 included the direct import of Autodesk Revit files. Since then, ongoing improvements to the workflow have increased the value of BIM in GIS.
This year, with ArcGIS Pro 2.8, IFC files can also be directly imported. With the addition of IFC support, the opportunity to import BIM data from this open standard is possible. As the IFC standard evolves, more and more IFC supported BIM types will make their way into ArcGIS (rail, airport, road, bridge…).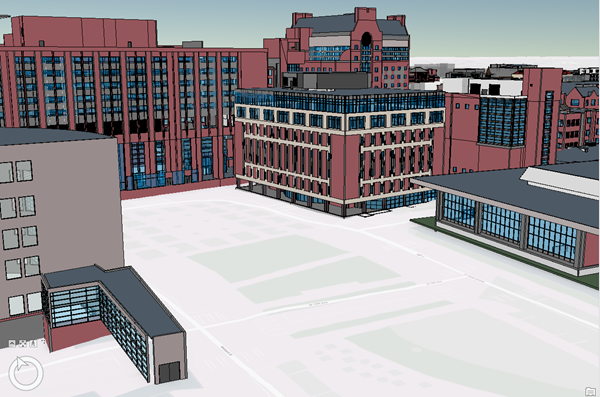 Faster and more robust imports, the addition of geoprocessing tools, the connection between clouds and desktops, and the upcoming launch of ArcGIS GeoBIM are just a few of the improvements we've seen.
To better understand the process of getting BIM data into ArcGIS, I sat down with Joel Griffin, a GIS leader at HDR Inc., to learn more. HDR is one of Esri's premier AEC customers and one of a few Gold-level partners. They are a global firm with nearly 10,000 employees across more than 200 offices. Their use of AEC technology puts them at the top of the list of innovators in design and engineering.
Through my conversations with Joel, as he showed me example after example where the line between BIM and GIS was blurred, we kept returning to the idea of three ways to "BIM your GIS."
Raw file import
Use your Geoprocessing tools
ArcGIS GeoBIM
I'll get into each of these three methods in this article. But, first, there are a couple of critical steps to consider for any project where data exchange, sharing, or integration across platforms is vital – Create clarity on your goals and take the time to prep your data.
Why Are You Even Doing This?
You must have a purpose in mind to bring 3D models and the associated BIM object properties into GIS. Perhaps you are experimenting with the intersection of these two formerly disparate capabilities for purely academic reasons. But more likely, you have some project goals in mind. For example, is it a high-level goal to "democratize" the BIM? Knowing in your gut, that the data would be much more valuable if it could be unlocked from the modeling tools? Or do you have specific workflows in mind – for example, the desire to connect the design-BIM with Asset Management tools, like EcoDomus or TRIRIGA for capital planning and management?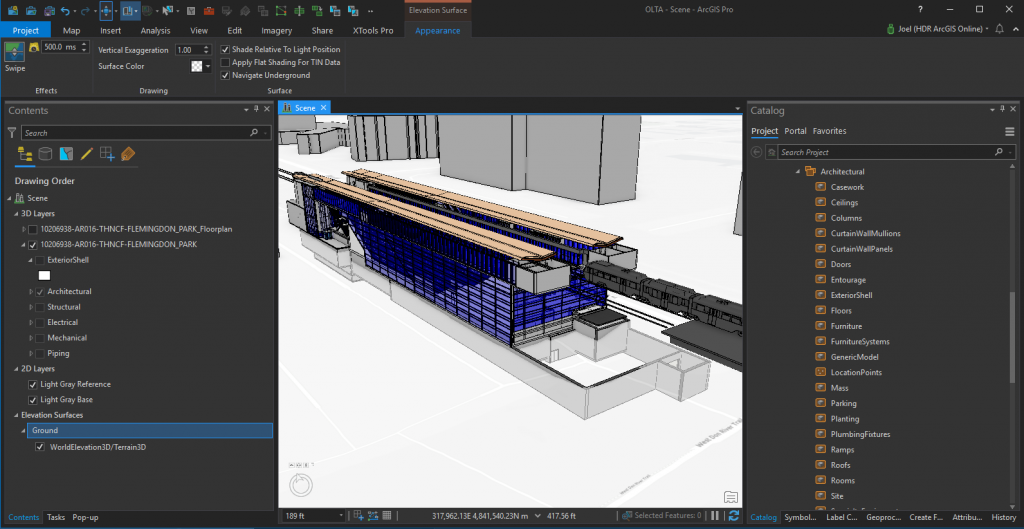 Are you seeking a way to convey how teams use the rooms, resources, and equipment inside your facility? Maybe you have a series of presentations and meetings with community stakeholders and elected officials who will better understand the project impact by placing the evolving design models on-location and in-situ.
BIM Is What You Build – GIS Is Where You Build!
Whatever your purpose, take the time to optimize the model for that purpose. Before receiving models from designers and engineers, develop processes for minimizing the "garbage in" so you'll reduce or eliminate the problem of "garbage out" from unoptimized BIM data.
Geolocate Your BIM!
Your project exists in a location; with a couple of clicks, you can place your BIM at the correct longitude, latitude, elevation, and orientation. By doing this, the benefits are enormous, and the effort is small – Shadow studies, viewshed analysis, light availability, weather trends, to name a few; and better integration with applications such as FME®, Escape, Infraworks, and of course ArcGIS.
Your effort upfront pays it forward to your colleagues down the line who will eventually be tasked with geolocating a disoriented project. Just do it, and insist all projects are correctly geolocated!
Clean Up Your Act!
I'll bet your BIM has unnecessary sheets, views, property sets, and other extraneous data. Purge that from your models, wipe them clean of unnecessary info to set up your import for success. Drawing and model clean-up functions have always been amongst the most valuable tool of the CAD/BIM Manager – all users should know how to keep their BIM lean.
3 Ways to BIM Your GIS
Assuming your purpose is clear, and your data is clean, you have a few ways to BIM your GIS. The most straightforward approach is to directly import the RVT (or IFC) models into ArcGIS Pro.
Raw File Import
ArcGIS Pro reads BIM files as an ArcGIS workspace organized into feature datasets named after construction disciplines: architectural, structural, electrical, mechanical, and piping. You can add the entire BIM file to an ArcGIS Pro map or scene. Feature layers are presented and usable like other GIS data sources, or in the case of the entire BIM file, as a special ArcGIS Pro building layer.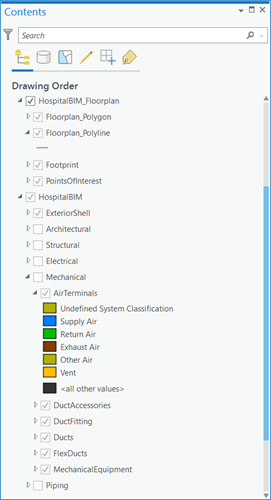 All the BIM objects and their parameters are placed in feature layers and included in the ArcGIS Building Layer. As a result, they are valid inputs for ArcGIS Pro tools as layers and geoprocessing models, geoprocessing tools, and scripts.
If your purpose is merely to bring a complete 3D model and its parameters into a GIS environment, with this basic approach, you have your BIM (RVT or IFC) ready to be visualized and shared in context with our other GIS project data.
Use Your Geoprocessing Tools!
You probably have a greater (or at least a more specific) purpose for marrying BIM and GIS than just getting the models into a map. For example, it's likely your interest in bringing BIM into GIS is to deliver business value, improve understanding, and create clarity for specific project stakeholders.
You've taken the time to understand how a fully articulated building or infrastructure model in GIS can improve various workflows; you should probably use the Geoprocessing Tools in ArcGIS Pro to address your specific needs.
The Geoprocessing Tools allow for automated converting, merging, appending, editing, and improving the structure of the feature classes to serve your BIM in GIS purpose better.
These tools allow you to add and remove fields and populate fields with additional information not originally included in the BIM data. With this method, you can use the Make Building Layer and Create Building Scene Layer Package tools to create a shareable Building Scene Layer. You can also use these tools combined with Python scripts or ModelBuilder models to further optimize and automate the effort.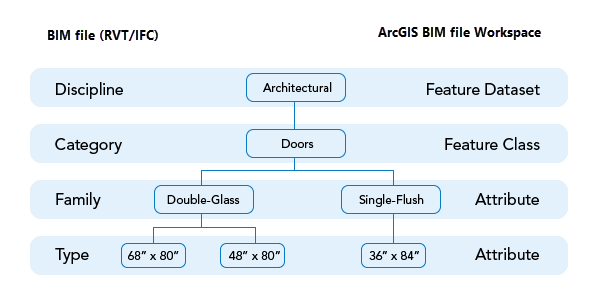 And Then Came ArcGIS GeoBIM
When we got to the third approach to BIM your GIS, Joel from HDR sounded like a kid describing his favorite birthday present. HDR had an early interest in ArcGIS GeoBIM since first learning about the product announced nearly a year ago. With the ongoing need to BIM their GIS for transportation, healthcare, and other large project types, the appeal of ArcGIS GeoBIM for Joel and his team was great.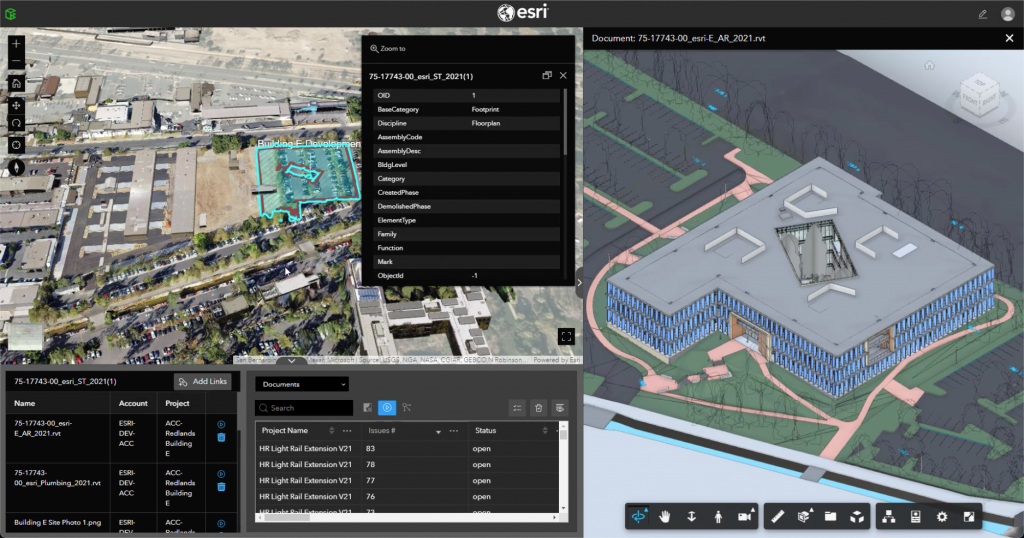 ArcGIS GeoBIM delivers an easy-to-use web experience for teams to explore and collaborate on BIM projects using data from multiple systems in a geospatial context. Users create GeoBIM apps visually, configured to easily connect the richness of BIM data with the power of the ArcGIS platform.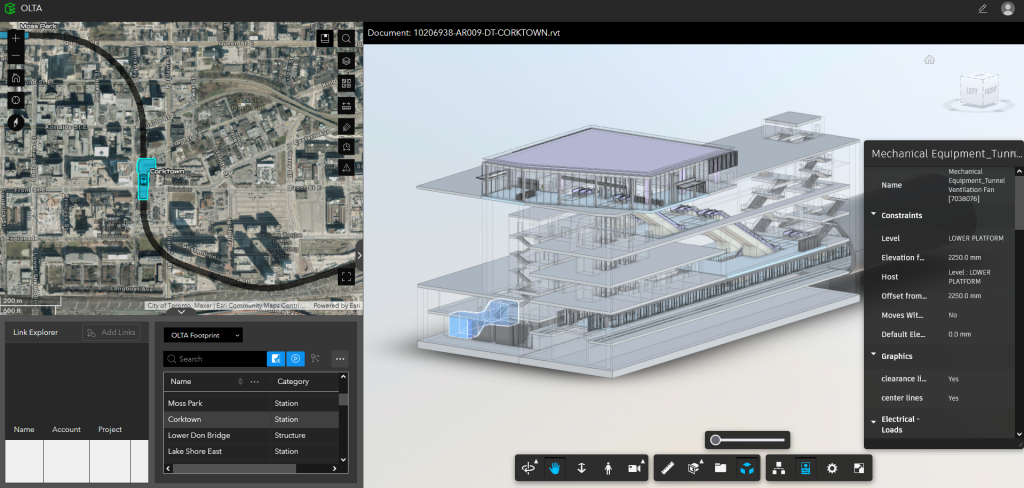 This new solution connects the models, documents, and other records in Autodesk Construction Cloud or BIM360 to all the layers and analysis capabilities of ArcGIS.
Tell Me More
The purpose of bringing GIS and BIM together (with many other data sources) for HDR was varied, but their approach across many projects was similar. They leveraged their expertise and tools in ArcGIS, connected the data from various sources, and delivered BIM in GIS to serve their clients needs.
To learn more, be sure to register for the upcoming ENR Webinar, where Joel will be highlighting a number of projects where BIM, CAD, LiDAR, and more come together. Joel from HDR will be joined by Jeff Siegel from HNTB at this session.
If you made it to the end of this BIM your GIS blog, the webinar is one you won't want to miss.
Register here.