In this Faces of YPN article, we are highlighting Chima Okoli, a graduate student from North Carolina Central University and two-time Esri student assistant. We sat with Chima at the 2023 Esri User Conference to learn about his geographic information system (GIS) journey and aspirations.
Chima had the opportunity to partake in more than four internships during his academic career studying GIS. He recounts his time spent as a student assistant for the Esri User Conference (Esri UC) and Federal GIS Conference that led to life-changing networking opportunities and lasting connections.
Keep reading to learn how Chima got his start in GIS, his journey into internship opportunities, and his advice to other young professionals and students.
I used to feel I wasn't qualified for the opportunities I had. However, as I put myself out there, I figured out that the little I thought I knew was more than enough.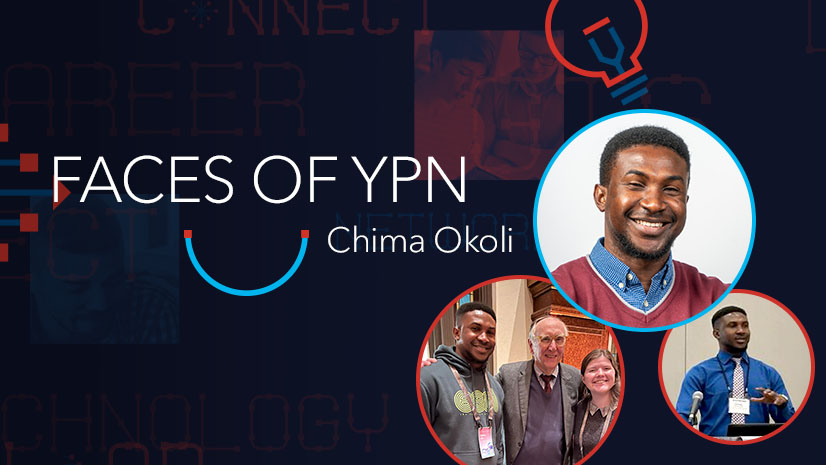 Q: How did you get your start in GIS?
A: I have my bachelor's degree in Materials and Metallurgical Engineering , and after I graduated, I wanted to pursue a kind of science where I could be creative and think outside the box instead of being limited to some rigid and cost-intensive system. I had a mentor during my undergraduate studies who was a power user of Esri software and had a background in engineering and recommended I look into GIS as he "felt it was [the] future." I took his advice and researched GIS and learned it can be used in many industries, but I still didn't know how I would use it.
I applied to North Carolina Central University's School of Environmental, Earth, and Geospatial Sciences. Soon after being accepted, I met with an advisor to direct me toward a GIS track. During my first year, I discovered GIS came naturally to me since I took coding courses like Python, PHP, and HTML during my undergraduate studies, and that's when it clicked—I knew the career path for me. I also had a professor who pushed me to learn and grow with GIS. He suggested project ideas, introduced me to paper presentation submissions for conferences, and overall helped me to discover ways to put myself out there. Now I am getting a master's degree in GIS and graduate in December 2023.
Q: Did you do any GIS internships while in college?
A: Right now, I am working on two internships. The first internship is in GIS education. We develop materials to educate people in rural communities about stormwater runoff and erosion . We used Esri tools to conduct our needs assessment, which gave me hands-on experience using ArcGIS StoryMaps and ArcGIS Survey123.
The second internship is in health equity mapping. We made maps for seven different counties in North Carolina with over 25 indicators to trace and track health disparities in places with high rates of cancer, obesity, opioid deaths, diabetes, and high blood pressure and how they correlate with major industries in the areas, educational attainment, healthcare availability, and other socio-economic indicators. . With this internship I use ArcGIS Online, ArcGIS StoryMaps, ArcGIS Dashboards, and ArcGIS Hub.
I was also a student assistant at the 2022 Esri User Conference and 2023 Federal GIS Conference. I presented a paper at a symposium during my first year in my graduate program, and afterward my professor said I did a great job and that I should go to the next Esri User Conference. He suggested I apply to be a student assistant, so I applied and got accepted!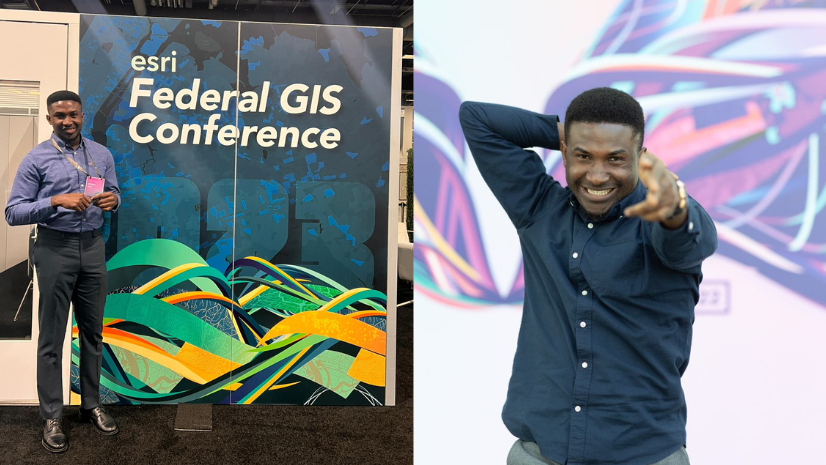 Q: What's it like being a student assistant at an Esri conference?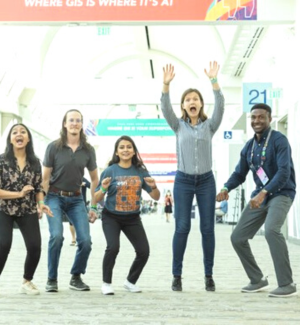 A: I was a student assistant for both the Esri User Conference and the Federal GIS Conference. When I arrived at the Esri User Conference, I never knew that Esri was such a huge company and there is so much more to do in GIS—more than I have already done. Being a student assistant, I was doing a lot of event management like working with Esri event staff to ensure the event runs smoothly. It was a lot of work, but it was fun. I had the opportunity to network with great people and learn more about how Esri technology is used. The best thing to come out of the student assistantship for me was meeting various government agencies that use GIS. This was truly a dream come true.
Q: What opportunities came out of your student assistantship?
A: During my time as a student assistant for Esri, I wanted to learn how to work with ArcGIS Enterprise. I knew that this was a skill needed in the industry, and if I was going to transition from student to industry professional, I need to know how to use ArcGIS Enterprise very well. I was able to get connected with someone at Esri to help guide the best path for me to learn the ins and outs of ArcGIS Enterprise. I had the opportunity to make a good impression with that connection, which made me stand out.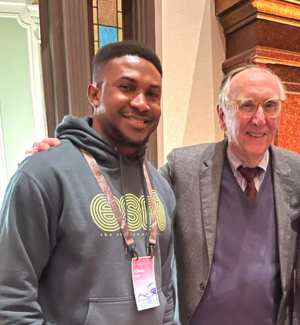 There were many opportunities to meet people from various industries as a student assistant through attending Esri socials. For example, at the FedGIS conference in February 2023, I attended a government social and had ample time to speak with people from National Geospatial-Intelligence Agency (NGA). I would've never dreamed of having that opportunity but there I was talking to many people in government positions about GIS!
At the 2022 Esri User Conference, I was able to get connected with Esri's Young Professionals Network (YPN) at a large networking event where we met Jack Dangermond. During the 2023 Esri User Conference, I reconnected with Esri YPN at in the Expo hall, and now we're here interviewing about my GIS journey that will be shared with everyone.
Q: How has being a part of Esri YPN benefited you?
A: Esri YPN has given me opportunities to network at conferences such as in socials and in the Expo booth at Esri UC. Esri YPN has also helped to prepare me to enter the workforce through articles, blogs, webinars, and conference sessions. This Faces of YPN article also benefits me in sharing my story to others who would find it inspirational and valuable along their own GIS journey.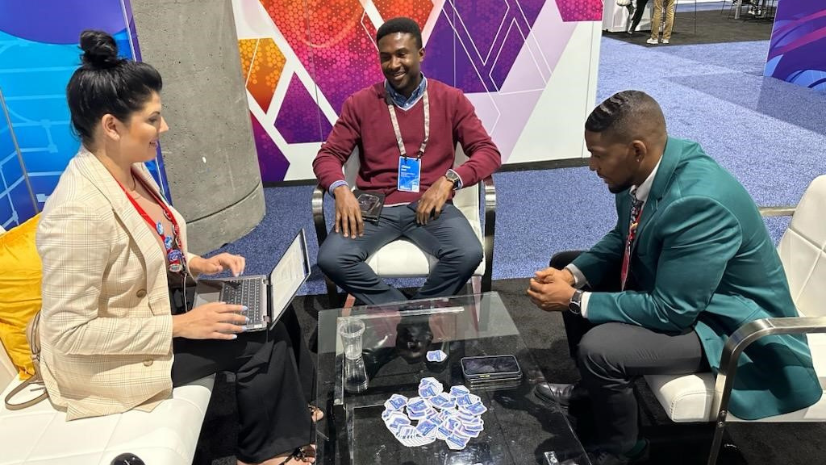 Q: What's your best advice to other students or young professionals?
A: I used to feel I wasn't qualified for the opportunities I had. However, as I put myself out there, I figured out that the little I thought I knew was more than enough. Just face your fear and put yourself there and keep putting yourself out there.
Do as many things as possible wherever possible. You never know exactly what you do that stands out to others that will lead to the opportunity or moment you've been looking for. Keep putting yourself out there. Trust your gut and make the move any chance you get.
Take on self-motivated challenges to get better at your skills. I currently work as a Teaching Assistant to my professor. I didn't think I would be teaching freshmen while in a graduate program and doing so has helped to boost my communication skills as well as confidence.
Make sure your preparation meets with opportunity. Prepare as though you would be called for the job on the spot. A great resource is the Esri YPN website. It is a rich pool of resources to assist anyone on their journey to becoming a working professional.
Q: What's next for you in the future?
A: My university will sponsor furthering my education, so I would like to pursue a PhD in spatial data science. I look forward to having a career in GIS consulting. I'm very passionate about getting people in developing countries to know the value of GIS technologies and deploying them in their day-to-day governmental policy procedures. I look forward to expanding GIS into regions of Africa that are yet to embrace its possibilities.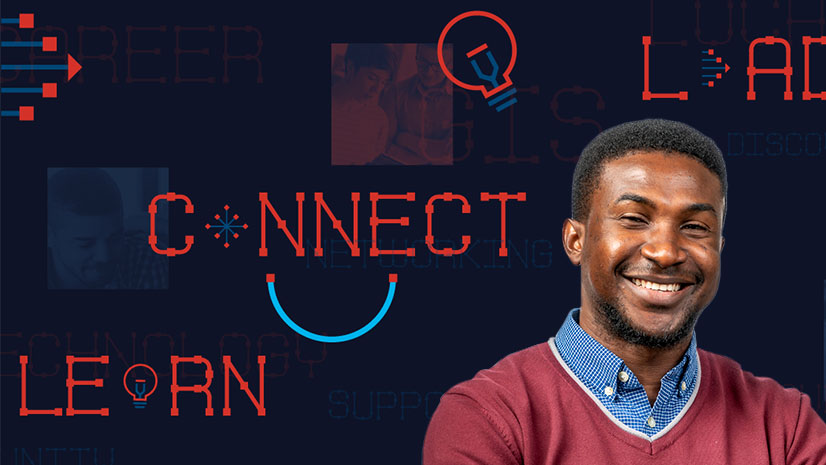 You can learn more about Esri Young Professionals Network (YPN) and our upcoming events on our web page.
Check out these additional resources for students in higher education or young professionals entering geospatial technology careers: