Utah, USA: When the Greater Salt Lake Municipal Services District (MSD) decided it was time to improve its addressing functions, Chief Operations Officer Izabela Miller and Senior GIS Analyst Joe Borgione turned to Esri's new Address Data Management solution to help make it happen.
The district faced multiple challenges, ranging from georectifying images to serve as a background on new plat maps to adding streets in a manner compliant with their existing centerline schemas. Borgione wrestled with a better way to modify and split intersecting roads on street centerlines and created his own schema (Available in the GIS Community).
After considerable testing, the MSD successfully deployed the solution for production. The Address Data Management solution assigns and validates proposed addresses and new street centerline data and takes advantage of attribute rules that were modified while adjusting workflows to meet MSD specifications. A typical deployment of the Address Data Management solution occurs when a new subdivision is proposed.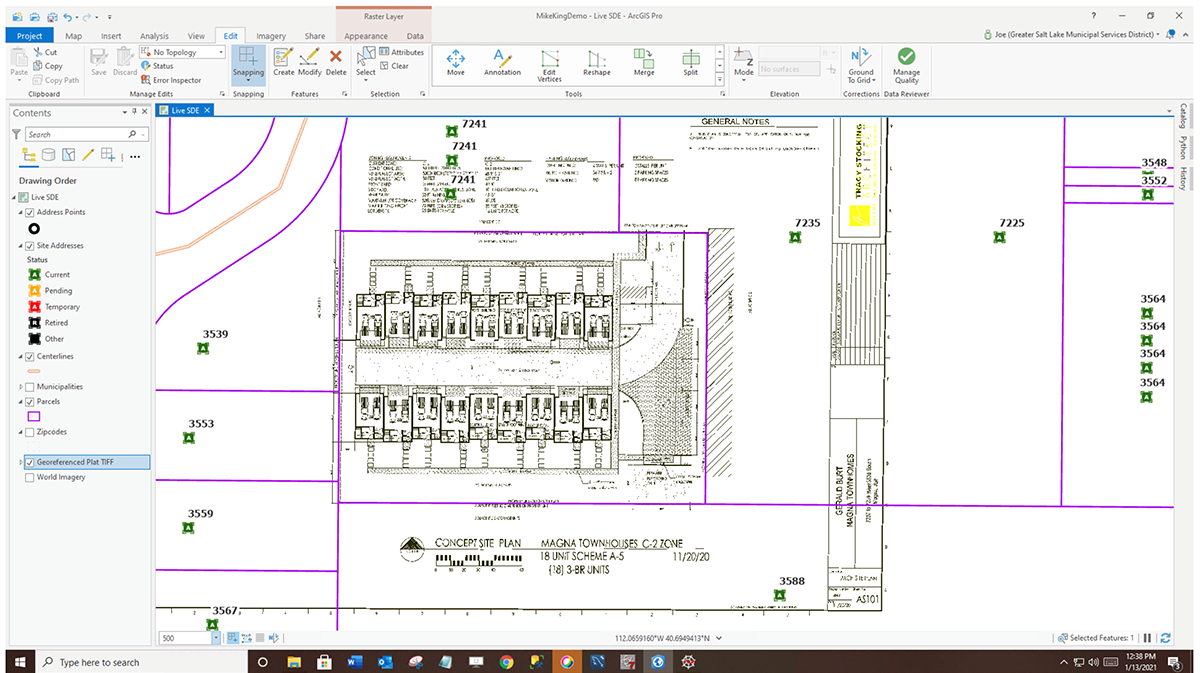 But Borgione didn't stop there. He also created rules that update the solution's new centerlines. Some of these rules "grab" the jurisdiction and ZIP codes from underlying polygon features, while others modify field values based on other field values. For example, for 9-1-1 purposes, a three-letter city code needs to be generated based on the city jurisdiction.
The site address points are created when the new centerlines are entered, and the address points are added. Borgione commented, "I have found this step extremely helpful as the associated address rules generate a house number based on the actual street. Often, this step is more or less a verification phase if a developer has already assigned house numbers. If not, then the house numbers generated from the solution are submitted back to the developer for adoption. Once approved, the site plat is submitted for recordation with the county recorder, and the street names and associated addresses are officially adopted."
Miller added, "Additional site address attribute rules ensure the MSD's needs are met. These rules populate some fields with underlying jurisdictional values, while other rules concatenate multiple fields into one. We also pick up the parcel id from the parcel layer."
This creative workflow is now live in MSD, and Miller's team has added several new streets and dozens of address points. What's next? The MSD team is working on a cloud deployment of its enterprise solution, expected to roll out in the second quarter of 2021. Testing will include several other agencies, each managing their own data. From there, MSD will tackle branch versioning, a framework where multiple editors can work simultaneously on a single feature class in a highly isolated fashion, without creating copies of the data.
MSD is also exploring how it will prepare the address database for z-axis information once it becomes available in the 9-1-1 packet provided to the public safety access point (PSAP) by the telecom providers. The year 2021 is going to be an exciting one in the Salt Lake Valley.
For information on how you can leverage the Address Data Management solution from Esri, contact Mike King at mking@esri.com.