NRF 2023 is in the books. This was the first "live" NRF in three years, and the reaction from the retail community to be back in person was ecstatic. Big crowds, attendees, retailers, and technology providers were delighted to return to face-to-face interactions.
What were the overarching themes at NRF this year?
Planning for a downturn
Retailers are concerned about the prospects for growth in 2023. The general feeling is that the recession that most economists have warned about for the last six months is coming and will affect consumer spending and retailers' bottom lines. Most retailers plan for slower growth in 2023, and consumers are curtailing expenditures. Their savings, which swelled during the pandemic due, are dwindling thanks to inflation and increased spending over the last year.
For retailers, this means a heightened focus on customer engagement and retention. Esri partner Jakala gave a presentation with the world's leading eyewear provider, Luxottica, about how they're using location intelligence to understand their customers better and how they use our technology to inform critical decisions about market development and customer acquisition.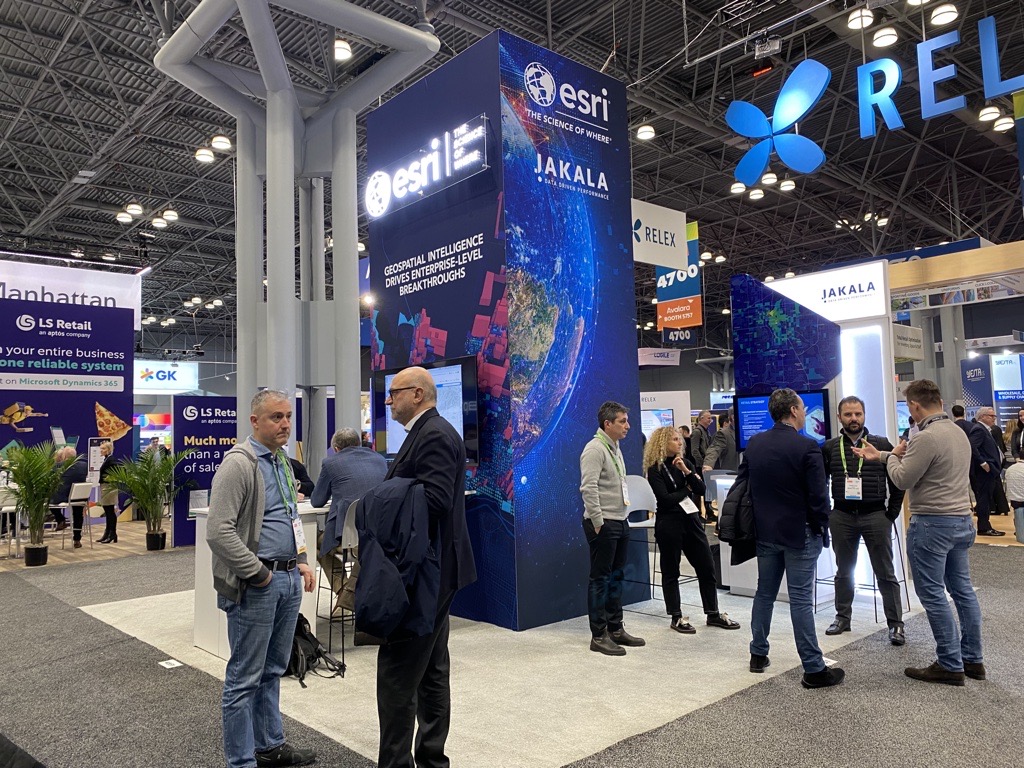 The Rise of Resale
Many retailers have stepped into the resale market. Ikea, Nordstrom's and others have begun to sell reused products on their websites. To be efficient and profitable in this business, retailers need robust reverse logistics capabilities to allow customers to return products, evaluate them and then be able to see resell and deliver them to new customers. To be profitable in this business and to meet customer level of service expectations, retailers need to understand and track products from a customer to a return center, through a fulfillment process, and back to a new customer. This has been done successfully in high-ticket retail, like electronics and furniture. The richer margins with these products allow more flexibility in inventory and handling. That's not going to work with lower-priced items. To be profitable in this space will require real-time, advanced analytics around product location and disposition to reduce handling and drive expenses out of the logistics chain.
Smarter Merchandising
Localization continues to be essential for retailers. From pricing to assortment planning, having the ability to account for local market conditions is critical. Post-pandemic, digital and physical channels become blurred as customers engage with their favorite brands across different channels. Research has shown that customers who engage on multiple channels are more valuable to the retailer than those who only visit stores or only shop online. Technologies that help retailers understand where people are when they purchase, what sorts of items are trending, where and when, and how they like to engage allow retailers to deliver better the products they want, when and where they want them.
Retailers Marketplaces
One of the biggest booths at NRF this year was Walmart. This is the first time I can think of a retailer having a booth presence at this event. More and more, retailers are realizing and monetizing the value of their brands and customers in their online marketplaces. This provides advertising opportunities for smaller companies wanting to reach a massive customer base inside a branded ecosystem.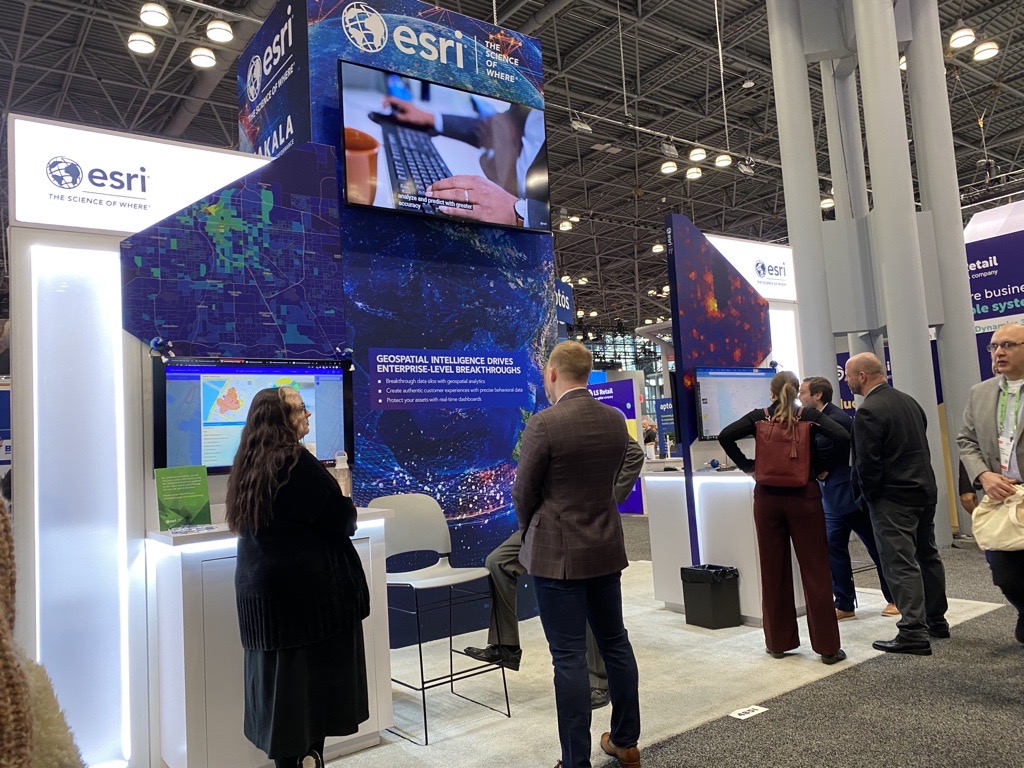 But what about the Metaverse
In 2022 there was a tremendous amount of buzz in the market about the emerging metaverse. From all accounts, there was minimal discussion at NRF this year. I believe that there are a couple of reasons for this.
As retailers are thinking about an economic downturn, I suspect their focus is on the technology they believe will help in the short term. Technology that supports customer engagement, pricing optimization, and workforce solutions were hot topics this year. Evidence shows retailers are interested in proven solutions that can quickly deliver delivery ROI. Companies like Esri, with proven track records in speed to value, continue to attract attention, especially in this economic environment.
My option is that the metaverse hasn't been defined enough for most retailers to strategize how it will change their business. They know it's coming, and I suspect best-in-class retailers will be ready to invest in this space as the technology and capabilities become more tangible.
Loss prevention and ORC
Organized Retail Crime is a hot topic in the retail space today. Retailers have stepped up their investments in loss prevention and asset protection technology. Location intelligence is critically important to find patterns of criminal behaviors and help mitigate exposure and risk to retail crime. NRF has a separate event in June that focuses specifically on loss prevention. I expect to see increased investments in these technologies as the issue of shortage grows and affects their bottom lines. The economic headwinds that we're expecting will require increased focus on margin drivers as top-line sales soften.
Conclusion
In the last three years, retail has seen tremendous changes in customer behaviors and the adoption of new selling channels. Technology providers have worked hard to help them understand these changes and be more agile in business operations to adapt to change quickly. NRF 2023 was the first time the business and technology community could connect in person.