The Cary Utilities Department provides drinking water to the communities of Cary and Morrisville, North Carolina. Located in North Carolina's Research Triangle, this area is an IT hub and home to many notable tech companies and research divisions. These include Epic Games, Lockheed Martin 3D Solutions, and SAS (the world's largest privately held software company, regularly rated among the best employers in the world).
Although the Town of Cary was founded in 1750 and incorporated in 1871, most of its expansion has been recent, attributed to Cary's increasing prominence as a tech hub. Cary grew from just 7,686 residents in 1970 to 174,721 in 2020—more than a 22-fold growth over only 50 years. Today, the Cary Utilities Department is responsible for over 75,000 laterals and serves a combined population of around a quarter million.
Challenge
In many regards, Cary and Morrisville are extremely fortunate communities. First and foremost, the bulk of their residential development has been relatively recent, after the heyday of lead water infrastructure. More importantly, Cary proactively addressed the risks associated with lead drinking water service lines. While the Environmental Protection Agency (EPA) ban on lead service lines went into effect in 1986, Cary began mandating the exclusive use of copper for domestic water lines five years earlier, in 1981.
Cary and Morrisville could be considered "low-lead" communities—areas where the timing of development makes it extremely unlikely for customers to have lead laterals. But low lead is not the same as no lead. Cary Utilities Department is determined to track down and remove any remaining lead lines and all galvanized service lines from its system (in addition to delivering an accurate lead service line inventory to EPA by October 2024).
While tracking down a small number of lead service lines in a large water system can be difficult, Cary Utilities Department faced an additional challenge, one familiar to many utilities: capturing and organizing institutional knowledge as staff retire. This process is especially important in low-lead communities, where the recollections of experienced workers deeply rooted in the community are often the key to finding those remaining lead lines.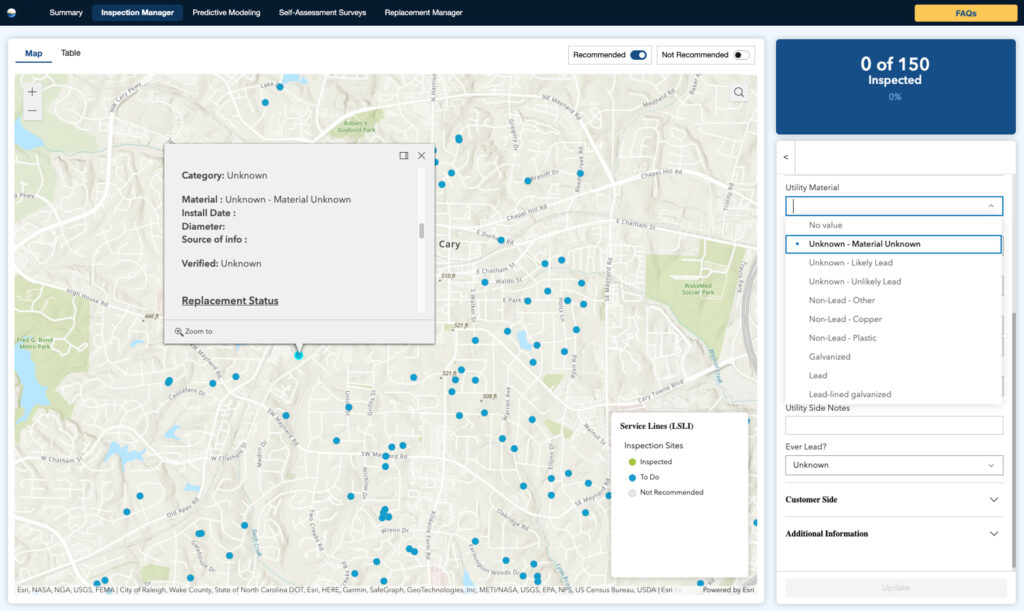 Solution
On the recommendation of water analytics company BlueConduit, Cary implemented Esri's Lead Service Line Inventory (LSLI) solution. BlueConduit had already been coordinating closely with the North Carolina Department of Environmental Quality on other projects, prompting the Cary Utilities Department to seek the company's assistance as well.
For this project, the LSLI solution proved invaluable. It gave Cary a centralized place to collect information and organize its body of knowledge. It also allowed the Cary Utilities Department to build user-friendly applications so that its Public Works department can quickly capture data in a familiar tool without replicating effort.
The Cary Utilities Department further enhanced this tool by adding the Esri-BlueConduit integration. BlueConduit is known as a pioneer in validated predictive modeling for water service line identification, and Esri is the global market leader in geographic information system (GIS) software, location intelligence, and mapping. The Esri-BlueConduit integration dynamically updates the user dashboard with new data such as data from completed inspections, leveraging a community's existing ArcGIS technology and BlueConduit's machine learning-driven predictive analytics. The integration streamlines service line inventory creation, accelerates service line replacement, and improves staff efficiency.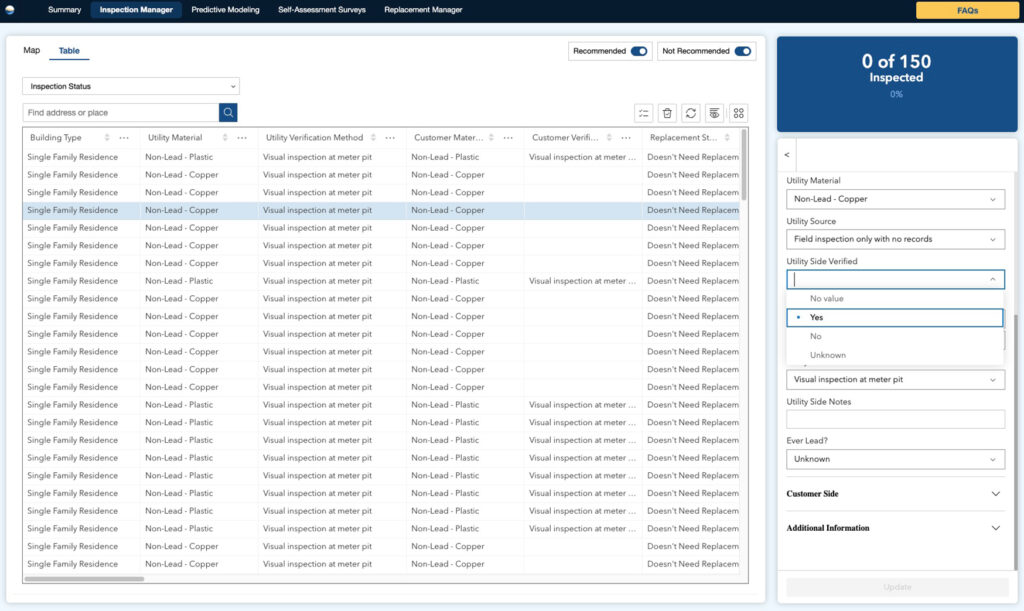 Partner
BlueConduit is a water analytics company based in Ann Arbor, Michigan. In 2016, the BlueConduit team originated a trailblazing predictive machine learning approach to determining service line material, locating lead service lines, and prioritizing action based on the risk of lead exposure. When water utilities can focus their resources on digging where the lead is and beginning where they can do the most good, lead removal projects get better results more quickly and save millions of dollars. Since 2016, the BlueConduit team has worked with more than 200 communities and inventoried over two million service lines serving more than five million people.
BlueConduit embraces an integrated, comprehensive approach to water safety and quality. Its teams work flexibly with municipalities and their agencies, geospatial information companies, engineering firms, residents, community groups, and other stakeholders.
I can't stress enough the importance of GIS in determining service line material for thousands of locations. It would have been difficult to fulfill the EPA's requirements and keep track of the data without the GIS tools that we have available nowadays. Here at Cary, we are dedicated to using the best tools available to achieve our goals. I'm really excited to see the [BlueConduit integration] in production and can't wait to see how it dynamically updates.
Result
While these solutions have only been in place recently, the Cary Utilities Department is already expanding and enriching its knowledge base using a variety of sources. This includes regular subsurface utility engineering (SUE) work to visually confirm main locations, service line materials and dimensions, and so on. It is also producing a training video for self-assessment, guiding community members through doing their service line material inspections via the Water Service Line Material Survey in ArcGIS Online.
BlueConduit has provided the Cary Utilities Department with an initial inspection list via ArcGIS Online. The service line materials found on these parcels—along with other information that the Cary Utilities Department has gathered, verified, and loaded to the Esri LSLI solution—will form the basis of BlueConduit's initial service line material predictions. These will ultimately be delivered through Esri ArcGIS Online and periodically updated as new data enriches the predictive model.
BlueConduit's teams "have been very good with communication," according to Dylan Wingler, Utilities Engineering GIS coordinator at Cary Utilities Department. "And they've been delivering on timelines. That's been a huge, huge help."
Combining the Esri LSLI solution with the Esri-BlueConduit integration has proven to be a one-stop solution for Cary, where staff can capture and organize vanishing institutional knowledge, integrate that knowledge into evolving predictive models, and share those findings and the underlying knowledge base within a single system everyone can access.
Stay Connected with Esri's Water Team
ArcGIS is an extensive information system that enables modernization of workflows with easy-to-use applications for the field and office. Strengthen your organization with smart water solutions that will increase efficiency and provide insight for decision-makers.
Learn more about Mapping and Analytics for Lead and Copper Rule Compliance.
Join the Water Utilities Community
Follow #EsriWater on social media: Twitter | LinkedIn
Subscribe to the Water Industry newsletter "Esri News for Water Utilities and Water Resources"