The buildingSMART Fall Summit, held in Lillestrøm, Norway, Sept 18-21, brought together a global community of AEC and technology professionals committed to advancing open data standards in the built environment. With a specific focus on digital products and openBIM workflows, this summit delved into some of the most critical topics shaping the industry today. Esri, a leading supporter of digital transformation and data analysis, was a highly-visible and vital sponsor of the event, reaffirming its commitment to sustainability and industry innovation.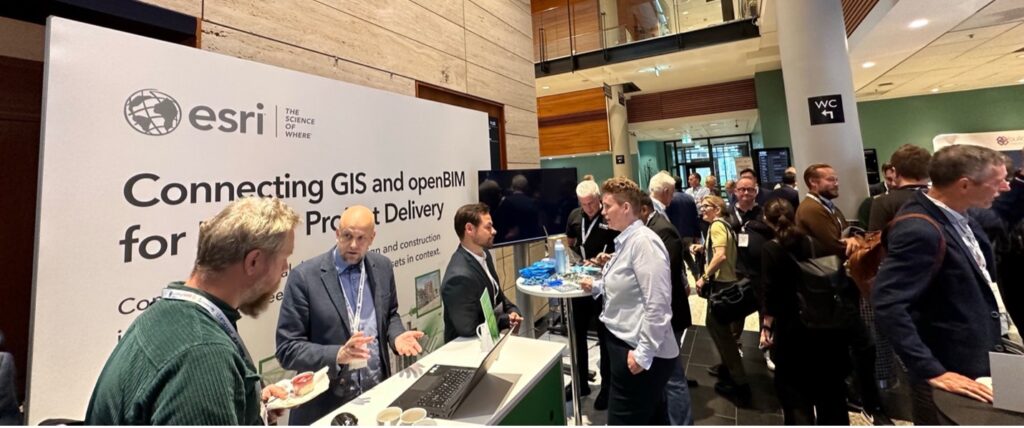 The Rising Demand for openBIM™
The demand for open standards is rapidly escalating worldwide, with governments, commissions, and commercial clients recognizing the importance of adopting open data standards to enhance infrastructure project delivery and long-term management of those assets. This adoption facilitates seamless information exchange throughout the entire value chain, and buildingSMART is on a mission to make this possible. As the world seeks to enhance the efficiency and sustainability of designing, constructing, and operating buildings and infrastructure, the buildingSMART Fall Summit served as the ideal platform to address the essential requirements and demands associated with open data standards' development, testing, and global implementation towards those goals.
Key Highlights from the Summit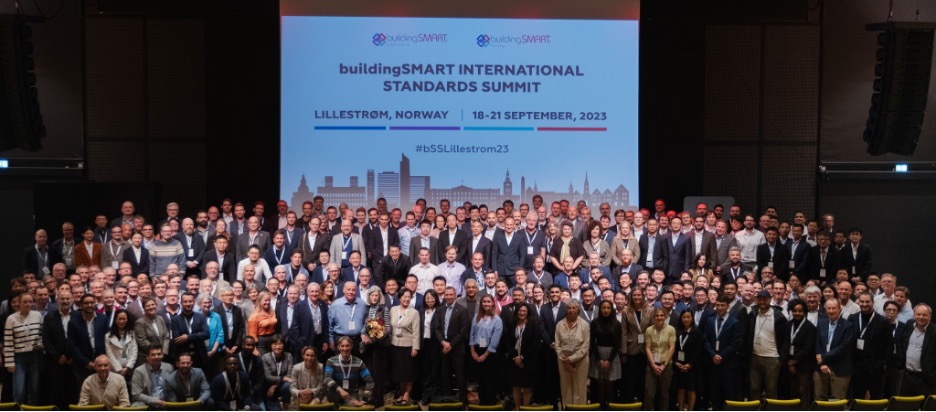 With attendees from 39 countries, the event drew nearly 450 attendees in person, with almost 200 more participating virtually in various sessions that explored critical topics and showcased innovation within the industry.
Digital Workflows: Closing out the first day was a panel discussion convened to address the growing need for openBIM digital workflows, emphasizing their critical role in ensuring data usability and accessibility across diverse project disciplines and stages of the project lifecycle. The session featured a lineup of buildingSMART sponsors and industry experts, including Wong Wei Loong (JTC Corporation) and Will Sharp (HDR), followed by a panel with Michelangelo Cianciulli (ACCA Software), Andrew Gamblen (Dalux), Rupert Hanna (Rendra AS), Frank Weiss (Oracle) and me (Director AEC Industry Solutions at Esri). We provided our unique perspectives and insights into strategies, technologies, and implementation approaches that support open digital workflows in the architecture, engineering, and construction industry, emphasizing their significance in today's infrastructure and built-world businesses.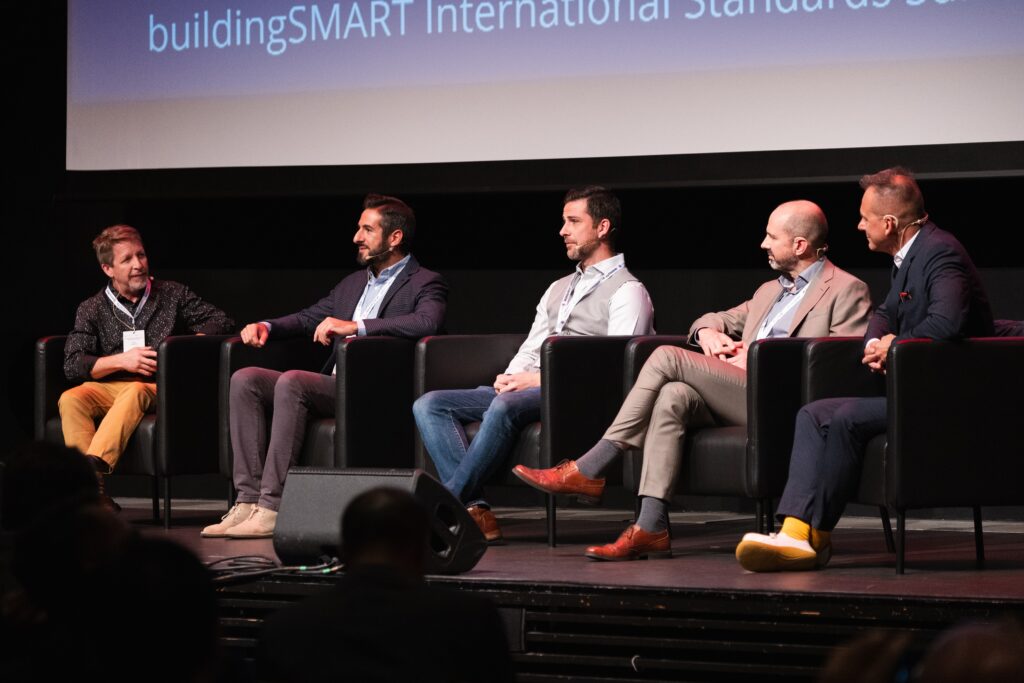 Digital Product Passports: Day two included a full day of sessions and workshops dedicated to exploring the concept of digital product passports. These passports have the potential to revolutionize information flow and contribute significantly to circular economy initiatives within the architecture, engineering, and construction (AEC) sector. The sessions emphasized the need to connect products with the openBIM workflow to enhance transparency, identification, and reportability, ultimately addressing climate change challenges.
Digital Twin Workshop: Also on day two, the Digital Twin interactive workshop was a standing-room-only event, featuring contributions from the bSI Digital Twins working group. The workshop was divided into two sections, with the first providing a comprehensive "scene-setting" discussion of digital twins from various perspectives. The latter part involved interactive roundtable discussions exploring the topic of openBIM and its relationship with digital twins.
GIS & BIM Interoperability: Industry leaders, including representatives from Esri, WSP, HOK and others participated in discussions aimed at improving GIS and BIM interoperability. A Strategic Working Group comprising the Open Geospatial Consortium (OGC) and buildingSMART outlined a practical roadmap to achieve this goal.
Collaboration Meetings: Autodesk and Esri teams held a meeting that brought together owners, construction professionals, and designers to explore what's working and areas requiring improvement in the industry.
Award Ceremony: The summit included an award ceremony that celebrated outstanding examples of Information Delivery Manual (IDM) and Building Collaboration Format (BCF) usage to enhance project delivery and collaboration. ACCA Software received a special mention award for their groundbreaking product, usBM.geotwin, which has revolutionized the industry.
Maritime Domain: A new Maritime Domain was established to focus on the infrastructure and management of the "blue economy," recognizing the growing importance of maritime projects.
Networking and Community Building: The summit also emphasized the value of networking and community building. A memorable team dinner with the Infrastructure Domain Steering group was a reminder of the importance of connecting with peers in person, and "breaking-bread" together to foster the collaboration and innovation which typically occurs long-distance through virtual meetings.

Domain Updates: buildingSMART is organized into domains (Building Domain, Railway Domain, Airport Domain, Product Domain, Construction Domain, Regulatory Domain, Technical Domain & Infrastructure Domain) – which focus on the unique needs of the public and private organizations that comprise their group. While there is no way to attend the meetings of every domain at the Summit, through hallway discussions and informal networking, it is possible to hear updates from on these important efforts.
Infrastructure Updates: As a member of the Infrastructure Domain Steering Committee, I was able to participate in the updates on their roadmap, listen-in on bridge projects, see the work of the Tunnel projects, and the "BIM for Bridges" initiative led by the American Association of State Highway and Transportation Officials (AASHTO).
Looking Ahead to the Spring Summit
This buildingSMART Fall Summit 2023 in Lillestrøm served as a hub of innovation, collaboration, and knowledge sharing. It reinforced the industry's dedication to open data standards and digital transformation, paving the way for a more efficient and sustainable built environment. With the support of key sponsors like Esri, the buildingSMART community and global infrastructure industry is well-equipped to address the challenges and opportunities ahead.

As the Fall Summit drew to a close, attendees heard about the plans for the eagerly anticipated Spring Summit in Valencia, March 12-15, 2024. The momentum generated in Lillestrøm is set to continue, driving progress in the development and implementation of open data standards for the built environment. This global community remains committed to shaping a sustainable and digitally advanced future for the industry.