This is Part 2 of a 4-part series rounding up the latest features related to data interoperability, enterprise integrations, ArcGIS extensibility, and open source analytics. These features highlight key advantages of the ArcGIS open platform architecture. With the distraction of global pandemics and all the other feature goodies, we wanted to make sure you chief data officers, data scientists, developers, educators, and others didn't miss these new features and how-to's from across the ArcGIS platform. We've looked back through the past several months of blogs and videos and picked out the most important announcements highlighting ArcGIS's open platform architecture.
Part 2 focuses on how ArcGIS works with other software products and in-house enterprise systems. If you want all the recent updates by product instead, see this Q1 ArcGIS Release roundup.
Streamline Workflows with Enterprise Integrations
One advantage to the ArcGIS platform is that it directly integrates with several leading software products through technical alliances with Microsoft, Autodesk, Adobe and SAP. Esri also enables thousands of other partners to create custom integrations through robust RESTful APIs and Software Development Kits for desktop and mobile applications. These integration options for spatial data and analytical tools allow organizations to leverage the unique strengths of each tool and streamline organizational workflows.

Improving the Map Experience in Microsoft Power BI and Excel
Analysts in organizations using ArcGIS Enterprise (10.7.1+) can now connect their accounts to use their private, secure GIS data and maps in dashboards and reports within Power BI (license required). Learn more about what's new in ArcGIS Maps for Microsoft Power BI.
Using Excel? Using the ArcGIS Maps for Office plugin, you have always been able to visualize location data. This how-to walks through decluttering your map visual to share just key details with colleagues. Learn how to configure pop ups.
Bring your AutoDesk Revit Model Directly into ArcGIS Desktop
For many the architectural, engineering and construction industries, working with AutoDesk design products like Revit are essential. ArcGIS Pro 2.5 now includes support for Revit Version 2020 files through new tools for easy ArcGIS importing and exporting. When adding a Revit file, ArcGIS Pro allows you to choose the data you want to use, and translates it on the fly to be represented in a data model, like CAD data. This allows users to then use it as a direct input to a few key geoprocessing tools that then allow that file to display in your maps and be used by other analytical and visual tools.
The new key tools include:
BIM File To Geodatabase—A new tool that imports the contents of one or more BIM file workspaces into a geodatabase feature dataset.
Make Building Layer—A new tool creates a composite building layer from a dataset, usually from the output of the BIM File To Geodatabase tool.
Learn more about the Esri / Autodesk integration vision. Learn more about ArcGIS Pro enhancements.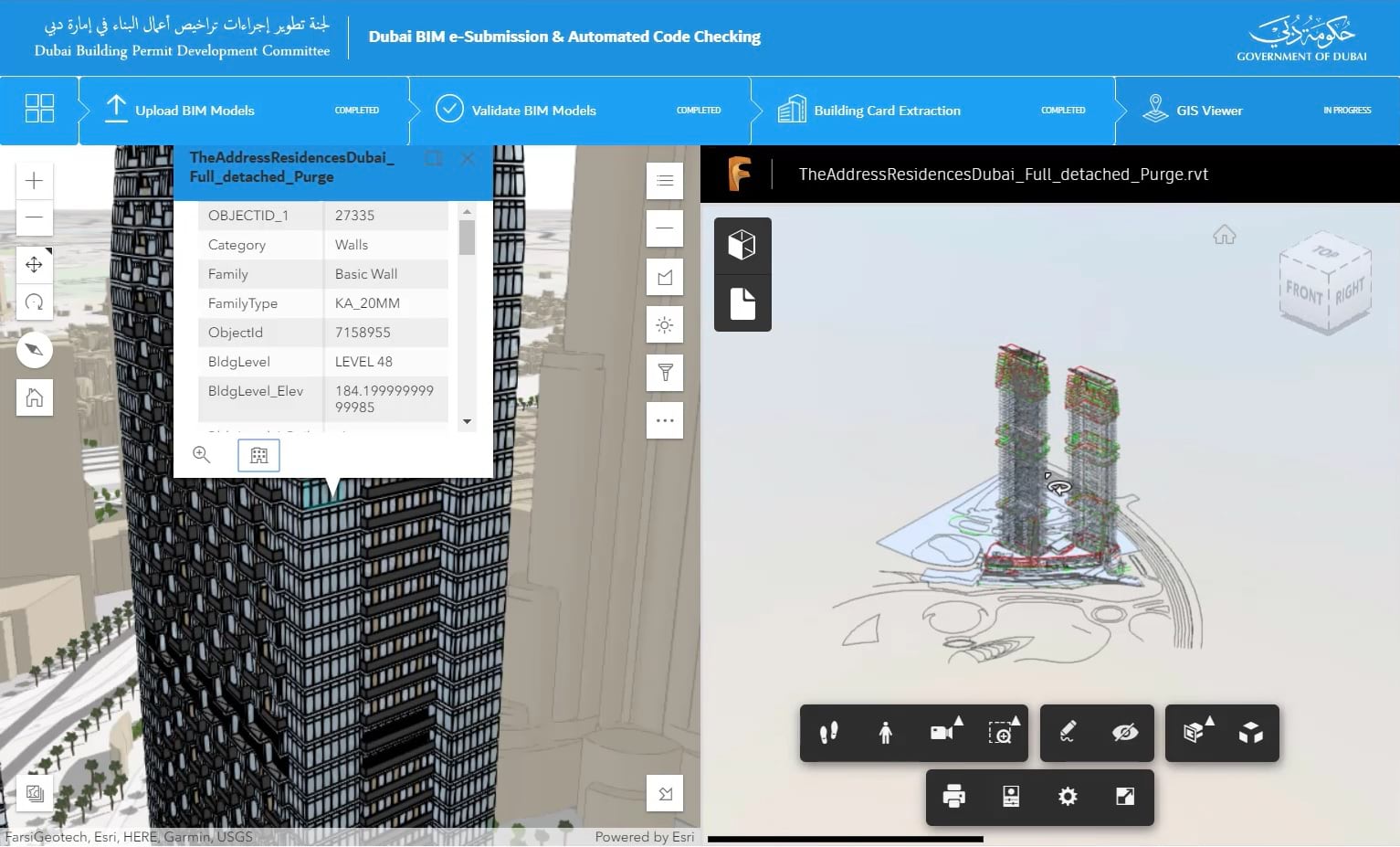 Location Supercharged Business Applications with SAP + Esri
A new QuickStart program got underway last month to let GIS teams experience Esri's native support for SAP HANA. Deploying ArcGIS Enterprise with SAP HANA, SAP's flagship multi-model in-memory database, allows GIS and IT teams simultaneously to reduce data silos and data management tasks and to enable ArcGIS applications with real-time business data. QuickStart participants were given free, virtual access to a cloud hosted environment to experience the combo for themselves.
This deployment allows technical teams and business leaders to re-imagine how location context can streamline workflows that involve SAP Business applications. With transactional business data and location data combined, teams can quickly launch focused analytical, visualization, and operational applications from both platforms to meet their specific use cases. Leveraging configurable, no-code web applications or custom built with Esri's JavaScript API, teams can answer questions faster and make better decisions. Find out more about Esri + SAP HANA, and explore the QuickStart webinars and guides.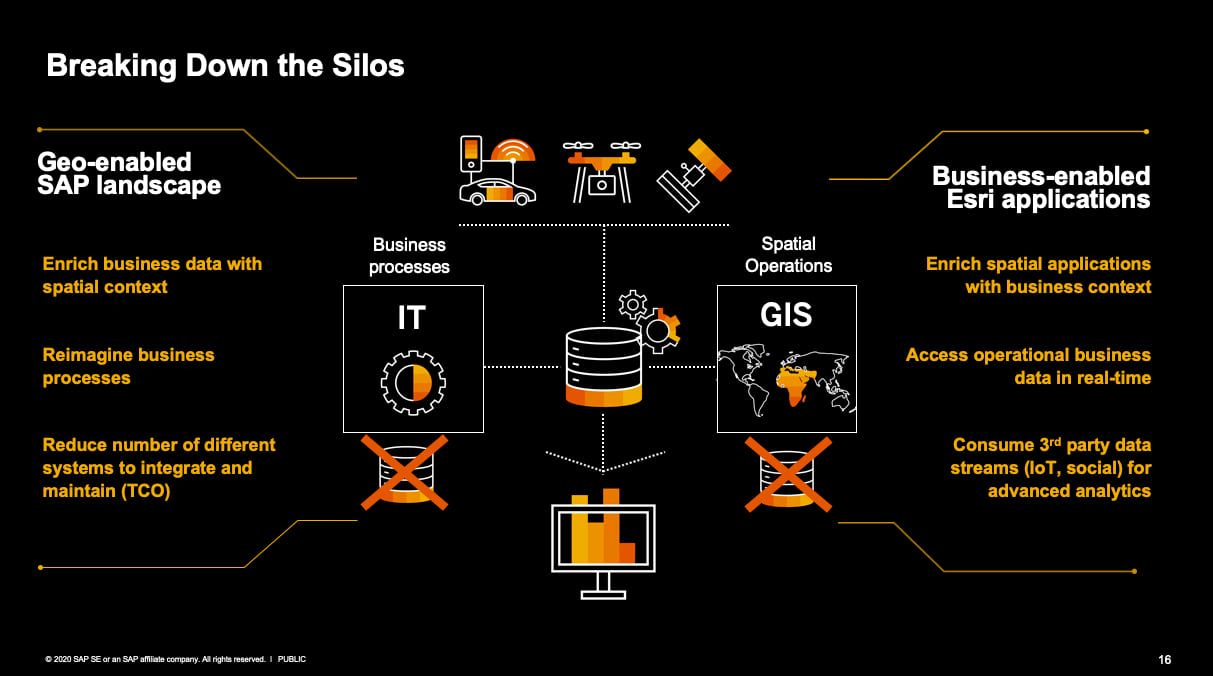 Migrate Enterprise Data Connections
Different enterprise integrations may be needed at multiple levels – database, services or identity. For data tier integrations, ArcGIS Enterprise now allows easier migration of existing data connections. Many professional GIS users may start a new project working from an ArcGIS desktop application and a standalone ArcGIS Server, where they register connections to any of the existing supported database and cloud store connection types. When migrating to an ArcGIS Enterprise deployment, with version 10.8, now users can more easily create data store connection items from those previously registered databases and folders in ArcGIS Servers. This greatly speeds up the process of integrating enterprise data connections across your organization from ad hoc implementations to a truly enterprise approach. To learn more, see the first item of What's New in ArcGIS Enterprise 10.8 Data and Publishing.
Trigger user-based integrations
Webhooks in ArcGIS Enterprise support new events around user types and roles to allow you to streamline more administrative tasks across platforms. For example, you could trigger users with a new role requests to other enterprise APIs or IT ticket systems (like ServiceNow) to provide access to other tools and systems. Learn more about how to leverage webhooks with the ArcGIS Enterprise API.
Send Design-Ready Maps from ArcGIS Desktop into Adobe Creative Cloud
GIS professionals and map makers within your organization can share content directly with designers and marketers for editing without extra transformation steps needed inside Adobe Illustrator. The new export type, the Adobe Illustrator Exchange .AIX format, has been added to ArcGIS Pro, Esri's premier desktop product. This export type converts vector and raster map content into editable, layered artwork for a more streamlined handoff to Adobe Illustrator. Once opened in Illustrator using the ArcGIS Maps for Adobe Creative Cloud free extension (v2.0 Beta), the file can be used for high-end graphic design or map finishing workflows and migrated across the other Adobe Creative Cloud applications. Learn more about this beta feature and register for the upcoming webinar.
Supporting Accessibility Standards
Many organizations require content and new software functionality to be readily available to all users, and also comply with WCAG or Section 508 and ADA in the United States. A guest blogger recently described some of the in-built accessibility features within ArcGIS StoryMaps, like accessible color themes and keyboard navigation. She also shares best practices on how users can write accessible StoryMap content, including for:
Those with impaired vision,
Those who are non-sighted, and
Those with limited mobility.
Learn more about accessible StoryMaps. Or, learn more about how other ArcGIS products support the latest accessibility standards.
Up Next
So that rounds out Part 2. Go back to Part 1 or stay tuned for the rest of the series.
Part 2: Streamline Workflows with Enterprise Integrations
Commenting is not enabled for this article.