I had the opportunity to participate as a subject matter expert and panelist in two very different events one day in late January. The morning session was an informal chat plus a couple of short presentations conducted as a Zoom webinar from my hotel room in Washington, DC. The afternoon session, a live panel discussion at George Washington University sponsored by Zpryme, focused on the city-scale application of digital twins.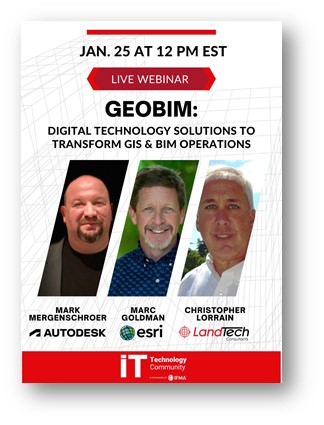 The morning virtual event sponsored by the International Facility Management Association (IFMA), focused on the micro-level application of digital twins. My digitally connected co-panelists included Chris Lorrain, president of LandTech Consultants who discussed how reality capture hardware is used in conjunction with Esri's GIS (Geographic Information System) and Autodesk's BIM (Building Information Modeling) solutions to create digital twins of individual buildings and campuses. We were joined by Mark Mergenschroer from Autodesk who shared his perspective on the topic of GIS + BIM by highlighting one of Autodesk's newest solutions, called Tandem – a building-scale digital twin offering.
This session was technical with specific details on digital twins created using the technologies from all three companies. Topics included integrations with existing systems, getting started with a pilot project, and focusing on specific workflows and value propositions which can be easily articulated and measured. The session was very interactive with the three of us building on the responses of the others, leading to some great insights and discussions.
The afternoon session focused on the macro-level application of digital twins and was moderated by Erin Autin, Senior DiThe afternoon session focused on the macro-level application of digital twins and was moderated by Erin Autin, Senior Director of Research & Content at Zpryme. I was on the panel with Anil Sawhney, a construction and infrastructure expert and educator, Matt Sokol, the Interim Chief Data Officer for the District of Columbia, and Brian Dillard, the Chief Innovation Officer at the City of San Antonio.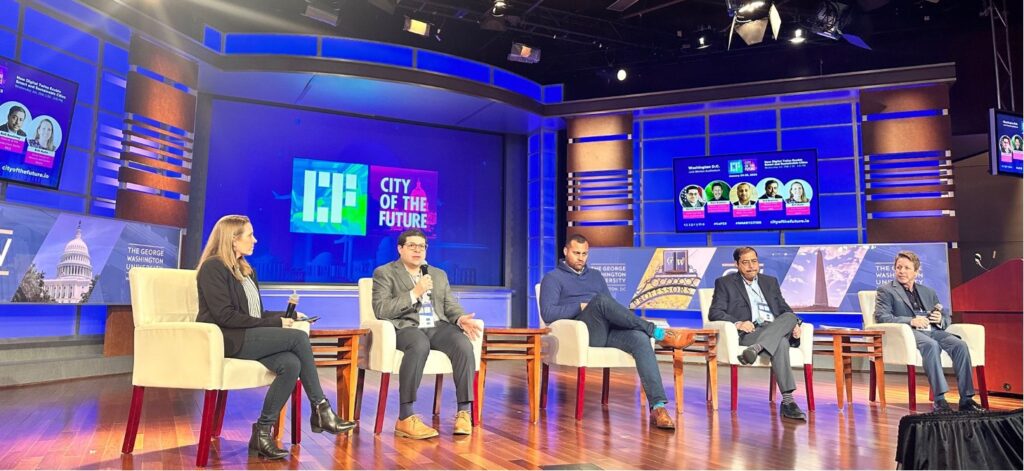 The topic of our live panel discussion – "How Digital Twins Enable Smart and Sustainable Cities" – was part of the three day "City of the Future" conference. We discussed digital twins enabling smart and sustainable cities. We shared examples of how GIS, BIM and various technologies can be used to optimize energy consumption, improve public transportation, and enhance urban planning. The group discussed matters such as sustainability, costs of implementing digital twins, community engagement and the resiliency of public assets.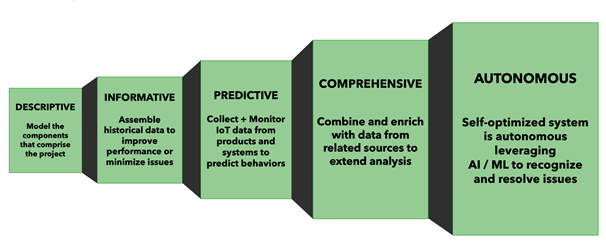 One of the key takeaways from both events was the versatility of digital twins and the concept of digital twins being a journey more than a destination. The morning session highlighted how digital twins can be used to create highly detailed and accurate representations of individual buildings, while the afternoon session demonstrated how digital twins can be used to create smarter and more sustainable cities.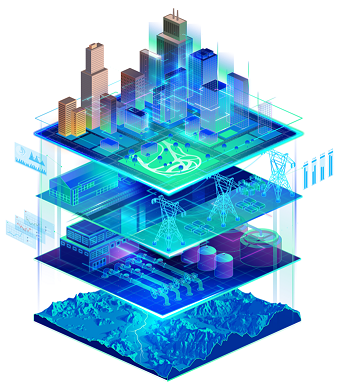 What is a digital twin?
Over the past few years, digital twins have become an increasingly popular topic amongst architects, engineers, construction, and capital project operators.  The term "digital twin" has been used in many industries for decades; in AEC (Architecture, Engineering, and Construction) the idea is relatively new. While the definition continues to have a wide range of understanding amongst professionals, there is general agreement that a digital twin is a virtual representation of a physical asset or environment that can be used to simulate and analyze real-world conditions.
They are created by combining digital models of physical assets with historical data and real-time sensors. Digital twins are a powerful information and analytics tool that can be applied to both individual buildings and entire cities.
The combination of GIS and CAD/BIM processes are typically used to create built or natural world digital twins. The interoperability of these technologies is an underlying enabler of digital twins, which can revolutionize the way we design, construct, and operate our built environment used for a variety of purposes at a range of scales.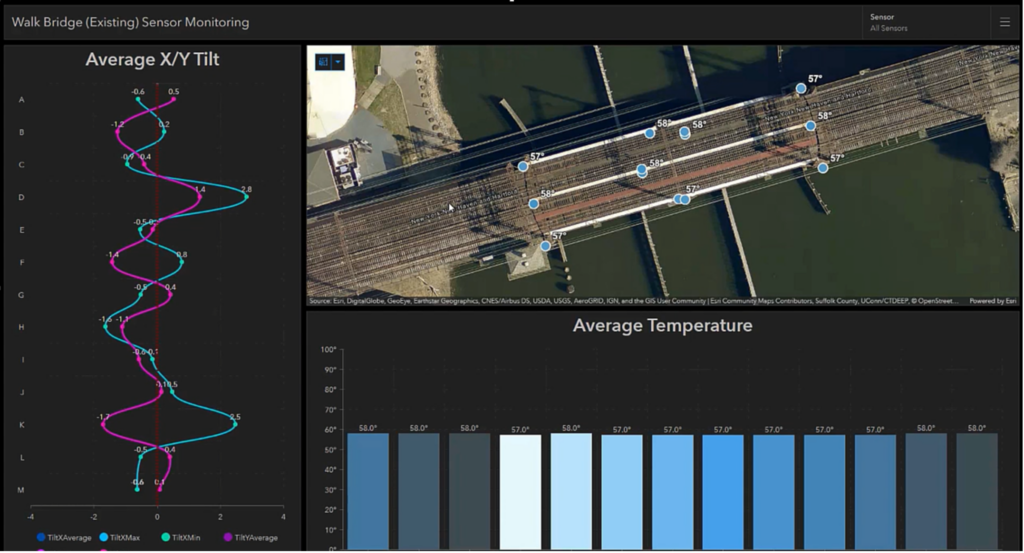 Building-scale digital twins
When applying the concepts and practice at the building-scale, digital twins deliver many benefits. They can be used to optimize building performance, improve operations and maintenance, and increase collaboration among design, construction, and maintenance professionals. Several benefits of building-scale digital twins were discussed in the morning webinar session:
Optimized Building Performance: Digital twins are being used to monitor building performance in real-time, allowing for proactive maintenance and the identification of potential issues before they occur. This helps reduce energy costs and improves the efficiency of a building or piece of infrastructure. They can be used to simulate and test different scenarios, such as energy efficiency measures, before implementing them in the physical building. This can lead to cost savings, increased energy efficiency, and improved safety.
Improved Operations and Maintenance: Digital twins are used to schedule maintenance and repairs more effectively, ensuring that work is done at the right time and in the most cost-effective and safe way. This can help to reduce downtime and prolong the life of a building's assets while ensuring a safe environment for those who need to perform the maintenance. By having a virtual replica of a building with connections to asset data, facilities managers can easily identify and address issues before they become major problems. Digital twins allow owners and managers to have a complete and accurate digital representation of their facility, which can be used to optimize the physical plant operations and maintenance.
Increased Collaboration: Digital twins are used to share information among stakeholders, including architects, engineers, owners, and operators. Numerous examples have proven improved communication and coordination, leading to better decision-making and more successful projects of all types and sizes. Digital twins enable different teams and stakeholders to work together more effectively by providing a common platform for communication and decision-making. This can improve the speed and quality of project delivery, and lead to better outcomes for all parties involved. Digital twins can be used to create virtual walkthroughs and interactive simulations of a building, bridge, or roadway intersection, which can help users to better understand the environment. This can improve the functionality, aesthetics, and overall user satisfaction of the project.
Improved Design and Construction: Digital twins are used for simulating building performance during design and to better understand construction processes, allowing for the identification of potential issues during the build phase and into the operation phase of the project. Building-scale digital twins can help with space management and occupancy planning by providing accurate information about the usage of the building before it is occupied. This can help architects, engineers, and contractors to identify and solve problems early in the project delivery process, leading to more efficient and cost-effective long-term operations.
City-scale digital twins
The afternoon session dove into broader and wider level city-scale digital twin topics. Their creation and use have similar benefits as buildings, but on a larger scale. In the live panel discussion, I shared a few project videos where Esri's ArcGIS-based digital twins are used for environmental management, urban planning, design & engineering, and construction management.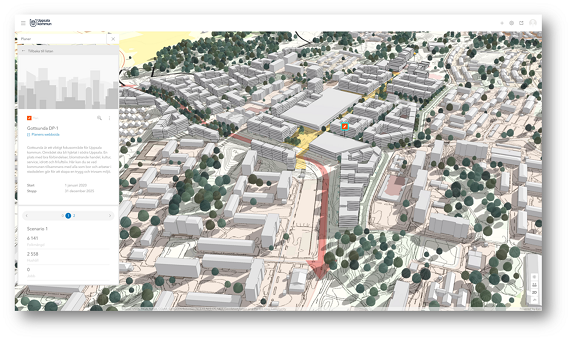 The group came together with a variety of perspectives, and we zeroed in on a few common understandings. Through specific examples, the panel was able to refer to several opportunities where digital twins can address city-scale issues. We discussed how digital twins can be used to improve the livability of cities, increase the efficiency of urban systems, and support the development of smart and sustainable environments. Additionally, city-scale digital twins can be used to improve the resilience of cities.
A few topics from the session on city-scale digital twins include:
Improved Livability: Digital twins can be used to monitor and manage the quality of life in cities, including air and water quality, noise levels, and traffic flow. This can help to make cities more livable for residents and visitors alike. Digital twins can be used to create interactive and immersive visualizations of a city's infrastructure. This helps citizens to better understand and participate in the planning and management of their city.
Increased Efficiency: Digital twins can be used to optimize the performance of urban systems, such as transportation, energy, and water. This can help to reduce costs and improve the overall efficiency of cities. Digital twins allow cities to have a comprehensive and up-to-date view of their services and resources. This can enable more effective decision-making, resource allocation, and service delivery.
Sustainable Cities: Digital twins can be used to support the development of smart and sustainable cities, by including IoT (Internet of Things) sensors, edge computing, and big data. These capabilities are combined to better understand existing conditions and make predictions to help reduce the environmental impacts and improve the quality of life for residents. Digital twins can be used to simulate the impact of different policy and infrastructure decisions on the environment, energy, and water use. This can help cities to identify and implement more sustainable solutions.
Improved Resilience: Digital twins can be used to improve the resilience of cities, including the ability to respond to and recover from natural disasters. Elected officials and city managers are often held accountable for a city's response to natural disasters. Digital twins can help to protect residents and reduce the overall impact of disasters by modeling scenarios and improving the city's readiness. Digital twins can be used to simulate the impact of different hazards and emergencies on a city's infrastructure and services. This can help cities to identify vulnerabilities and develop plans for mitigation and recovery.
Overall, digital twins offer benefits at both the building and city scales. They can be used to improve facility management, enhance collaboration, improve design and construction, and enhance user experience at the building scale. At the city scale, digital twins can be used to improve city planning and management, enhance sustainability, improve resilience, and enhance citizen engagement.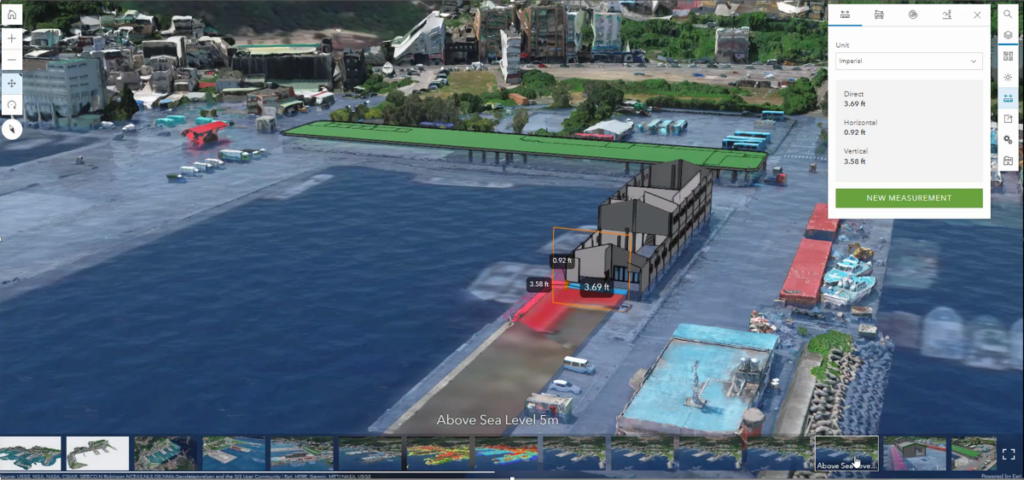 Both sessions provided a great introduction to the capabilities and potential for digital twins in both areas.
If you missed either session, the links below will take you to recordings:
For more information about Esri's approach to enabling Digital Twins, visit
To connect with an expert at Esri on this topic or any other, take a moment to share your contact information with us here: