The 45th anniversary of the deadliest construction incident in U.S. history was observed last Thursday, in which 51 workers lost their lives within seconds due to the collapse of a 170-foot-tall scaffolding inside a cooling tower.
The construction of 36 other cooling towers had safely utilized the same process and methods. However, the final report identified a multitude of contributing factors that led to the May 1st tragedy, which prompted changes to OSHA regulations.
This serves as stark reminder that tragedies often necessitate regulatory changes.
As we commence this year's Construction Safety Week, the discussions will revolve around leading and lagging indicators, preventive measures, and the Fatal Four. The theme for this year is "Strong Voices, Safe Choices," emphasizing that safety is the responsibility of every individual at all times. Speaking up for safety can make a significant difference in ensuring that every worker returns home safely at the end of the day.
Situational awareness is paramount to a field worker's safety.
Although new regulations can enhance construction safety, waiting for the next tragedy to occur before implementing safety improvements should be avoided. It is crucial to provide the right information to the appropriate individuals at the right time to establish a secure worksite.
Here are three ways to support construction safety:
1. Provide clear instructions to team members
Ensure that all team members are familiar with the general operations of the construction site.
To maintain safety as a priority, it is necessary to conduct toolbox safety talks with the team before starting the shift. These talks emphasize the risks associated with the work planned for the day, specific PPE requirements, or any other relevant topics.
ArcGIS Dashboards can effectively present information about the team's planned work for the day by emphasizing associated risks and PPE requirements, along with summarizing project safety statistics in a visual manner.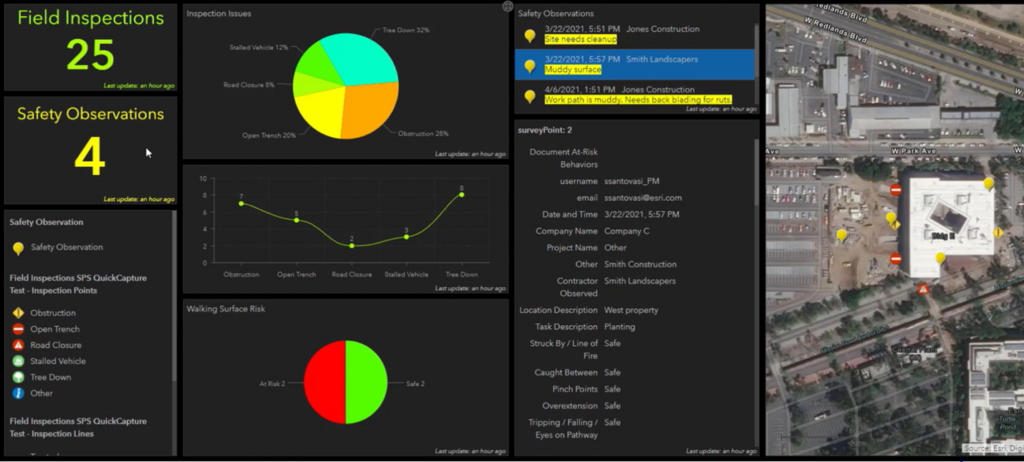 2. Have an emergency response plan
Keeping the team safe requires a crucial understanding of what to do in the event of a natural disaster, fire, hazardous material spill, or worker injury.
Knowing the location of critical equipment, such as AEDs or fire extinguishers, and where to go during an emergency can prevent injury or loss of life.
Presenting information visually is an effective way to explain and retain knowledge on what to do in various scenarios and locate specific equipment. ArcGIS mobile web applications offer an intuitive and straightforward method to share such information visually and efficiently.

Learn more about how Esri tools can help support this
3. Report issues immediately
Reporting defects and near-misses promptly is the most effective approach to prevent them from affecting your teammates.
The jobsite does not become safer on its own; it is critical to report safety issues as soon as possible to ensure the safety of everyone.
Any team member with a mobile device can use mobile reporting tools such as ArcGIS Survey123 or ArcGIS QuickCapture for easy and timely reporting. These tools instantly aggregate safety issues and present them visually in a dashboard, allowing management to take corrective action.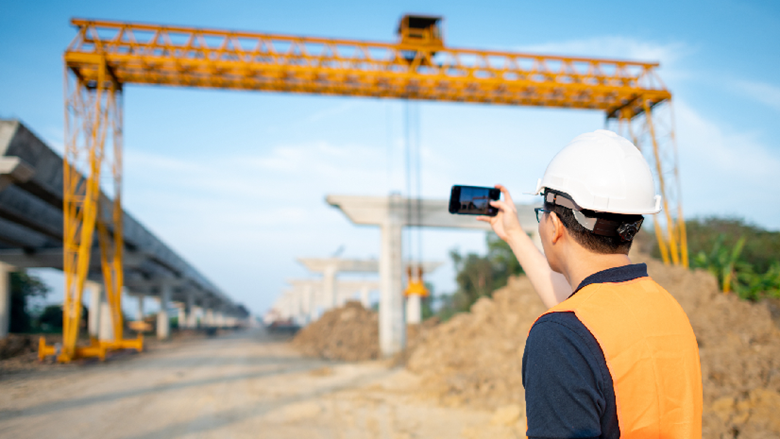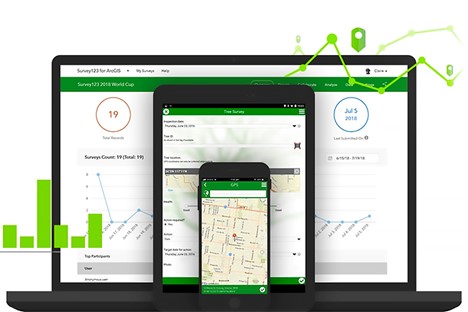 Although the goal is to have zero incidents, accidents can happen, as anyone who has ever broken a glass knows. It is important to work together to prevent, prepare for, and reduce the severity of accidents. Most importantly, the focus should be on ensuring that everyone returns home safely.