If you're planning to attend the 2022 Esri User Conference, July 11-15 in person in San Diego, CA, or online, and you apply GIS to the Public Works discipline, here are some recommended activities to consider for your agenda. Here is a link to a flier containing these recommendations that are outlined below.
Visit the Public Works Showcase to see GIS solutions for asset management, field and fleet operations, and real-time operations and maintenance. At Esri, we believe that GIS is a critical tool to prioritize investments; rethink current infrastructure to meet socioeconomic needs and changing lifestyles. GIS helps public works and engineering professionals keep the balance between their project investments to be equitable, resilient, and sustainable. Please visit us in the Public Works Showcase in the Exhibit Hall during the following hours (all times Pacific time zone), the map below shows our location:
Tuesday, July 12 – 9AM-6PM
Wednesday, July 13 – 9AM-6PM
Thursday, July 14 – 9AM-4PM

Join the Esri Public Works Team and your fellow Public Works GIS professionals at the Public Works Special Interest Group (SIG) meeting as we share best practices and success stories and showcase the latest GIS technology you can leverage to address emerging trends and challenges the industry is facing. The SIG is Tuesday, July 12, 7-8AM in the San Diego Convention Center (SDCC) Room 28 B.
Socials are a great way to expand your professional network, so please join us at the State and Local Government Social on Wednesday, July 13 from 6-8PM on the Hilton Lawn at the Hilton San Diego Bayfront hotel.
The Demo Theater presentations in the Expo are highly valuable for staying updated on the latest developments. Here is a list of recommended Demo Theater presentations by Esri staff: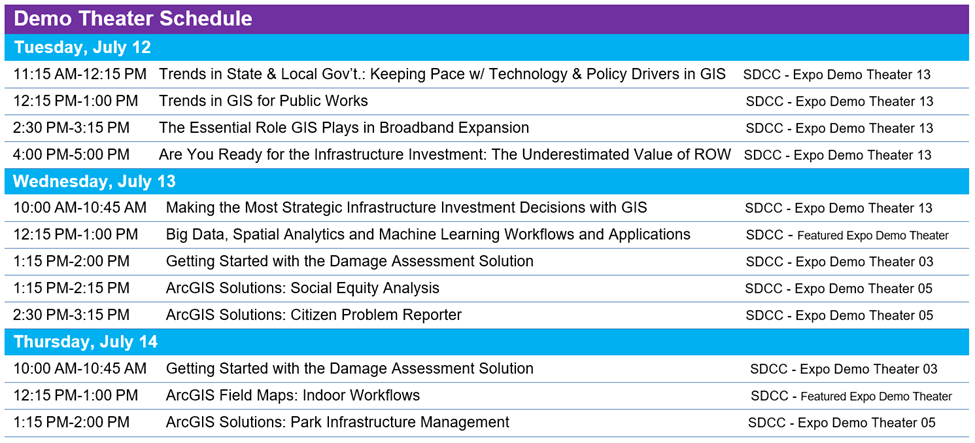 Technical Workshops and Sessions are delivered by Esri staff on various subjects. Here are some recommended workshops and sessions: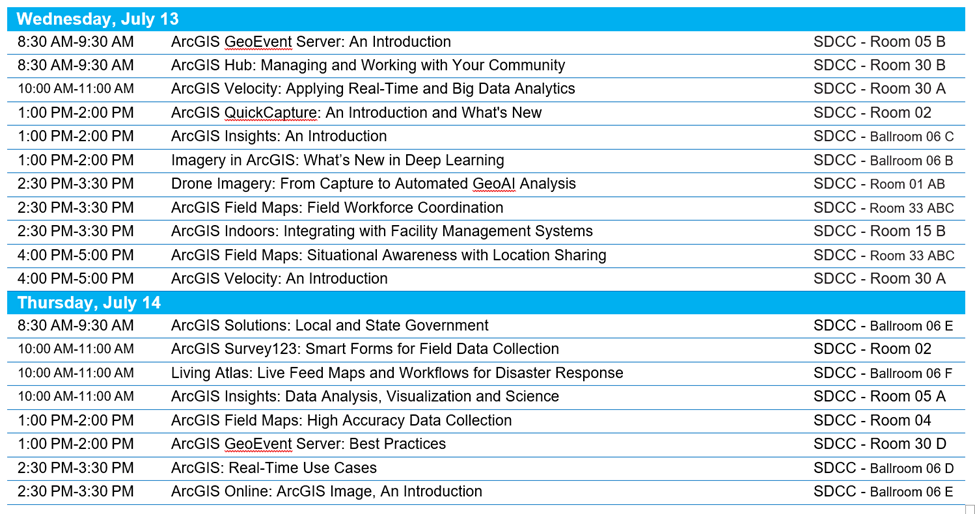 Moderated Paper Presentations are those given by your peers, fellow ArcGIS users. Here are some recommended presentations:

Here are some other don't miss activities:

For other specific recommendations related to User Conference events and activities, you can find additional fliers here. The online detailed agenda is available here. You should also consider attending some preconference seminars. There are fifteen to choose from, it's a great way to add some training to your trip. Other great opportunities are the Esri Services Appointments. These are scheduled, one-on-one appointments with an Esri subject matter expert to review your GIS. There are six to choose from:
Architecture maturity review
Geospatial Strategy
Solution brainstorming
Workflow diagramming
Change management
Workforce development planning
Don't forget to set aside at least half a day of your week to visit the Expo for lightning talks, partners, specialty zones, networking, industry neighborhoods and product areas.
We're looking forward to seeing everyone at the 2022 Esri International User Conference! Travel safely!